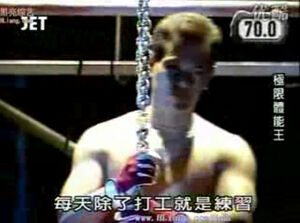 Yamada Katsumi's Glove Disqualification occured during SASUKE 12's Second Stage. Yamada Katsumi was disqualified for failing to remove his gloves before the Spider Walk.
For safety reasons, the use of gloves for the Chain Reaction is mandatory, but must be removed before attempting the Spider Walk. Yamada did not know this (and the rule was never explicitly stated), and thus was given a do-over of the Second Stage, and after a second run ended in another dispute, a second do-over, resulting in three runs in total. Most people have only seen his first run, due to the fact only the first run was shown on the original broadcast, and the other two were exclusively shown on an episode of the magazine show ZONE.
Yamada's First Attempt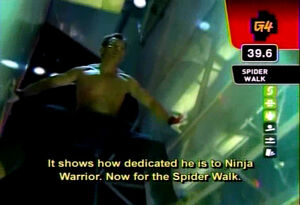 This was the only run shown in the TBS broadcast and all other broadcasts there after. During his introduction to the stage, Yamada is shown wearing his red and white gloves for his iron works job. Nervous about the Chain Reaction, Yamada brings these gloves to the course. He uses those own gloves on the Chain Reaction obstacle, but forgot to take them off before the Spider Walk obstacle, thus triggering a disqualification. He goes on to defeat the Balance Tank that he failed in SASUKE 11, and ultimately clears with 3.64 seconds left. However, the judge rules that Yamada has been disqualified as he failed to remove his gloves before the Spider Walk as required.. Yamada appealed, stating he was unaware that removing the gloves was compulsory before the Spider Walk, as it wasn't explained to him beforehand. As a result, the judge gave Yamada a rare second attempt at the course.
Yamada's Second Attempt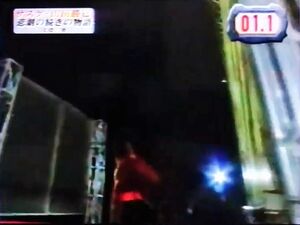 Yamada's second run was cut from the TBS broadcast, but shown on an episode of ZONE, a magazine show similar to the future show SASUKE Maniac. In this run, Yamada cleared most of the Second Stage, but despite seemingly pressing the button with a second left, timed out on the Wall Lifting obstacle. Yamada again protested in response, claiming there was a mechanical problem with the button. After review, the judge then awarded him an unprecedented third attempt of the Second Stage, after Nagano Makoto ran.
Yamada's Third Attempt
Yamada's third and final attempt was, like his second run, also shown exclusively on ZONE, and never shown in the original TBS broadcast in full. The only official SASUKE footage of this run was shown during SASUKE 12's introduction, where Yamada was shown climbing the Brick Climb but slipped and fell to the bottom. Yamada suffered a foot injury as a result of the fall, and struggled to continue, taking several seconds to recover before eventually completing the Brick Climb with 20 seconds remaining, before timing out midway through the Spider Walk. However, he continued to run the rest of the course, similar to what had happened in SASUKE 8. Ultimately, the judge ruled that Yamada's first run would be his official result.
Timeline
| Number | Name (Age) | Profile | Result | Notes |
| --- | --- | --- | --- | --- |
| 98 | Yamada Katsumi (37) | Ironworker | ② Disqualified on Spider Walk スパイダーウォーク | First Attempt. Most people have seen this and this is the official ruling. Yamada clears the stage with 3.64 seconds left. However, he was disqualified for using his gloves on the Spider Walk. |
| 98 | Yamada Katsumi (37) | Ironworker | ⑤ Wall Lifting ウォールリフティング | Second Attempt. Time Out. All Cut. Yamada made it to the Wall Lifting obstacle, pressed the button but ran out of time. Claimed a mechanical problem. |
| 99 | Jordan Jovtchev (30) | Olympic Gymnast | Clear (02.68 seconds left) | Digest. |
| 100 | Nagano Makoto (30) | Miyazaki Prefecture Fisherman | Clear (14.6 seconds left) | |
| 98 | Yamada Katsumi (37) | Ironworker | ② Spider Walk スパイダーウォーク | Final Attempt. Time Out. Run all cut, only part shown during SASUKE 12 introduction. |
Community content is available under
CC-BY-SA
unless otherwise noted.