Yamada Katsumi (山田 勝己) is a SASUKE competitor, a SASUKE All-Stars member and the leader of the Black Tigers who first competed in SASUKE 1, making it to the Second Stage but ultimately failing the Goren Hammer. He would go on to compete 26 more times, missing SASUKE 13, SASUKE 25, and SASUKE 29 up until he was banned after SASUKE 30. His ban was lifted in SASUKE 33, which allowed him to compete to commemorate the show's 20-year anniversary, as well as SASUKE 38 where he competed for the COVID-19 relief, and SASUKE 39.
Yamada has held many nicknames over the years, including "Mr. Banzuke", "The Naniwa Terminator" and "The Black Tiger of Nagina", the inspiration for the name of his team. However his most famous nickname by far is "Mr. SASUKE", bestowed upon him because he was once thought to be the most likely competitor to clear all four stages. From SASUKE 14 until his unofficial retirement in SASUKE 28 and later temporary ban in SASUKE 30, he had been plagued with a string of First Stage failures. Since then he has only competed sporadically and devoted his time to training the Black Tigers starting from SASUKE 29.
Personal History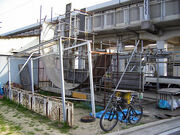 He is particularly notable for his unusual devotion to SASUKE. He has sworn to retire several times after failing to complete the First Stage, but the draw of Kanzenseiha is too great for him and he always manages to resurface again. Earlier on, he competed with the support of his family, but after he lost his job prior to the fifth tournament because the factory where he worked (as a propane tank delivery driver) was closed, he did nothing but train for SASUKE, alienating his family in the process. He continues to train at his home even today. He has constructed several SASUKE obstacles and trains there daily.
He has held various jobs over the years, including delivering propane tanks and working in the steel industry, but he now devotes all his time to SASUKE training, only holding a part-time job. He has also vowed to retire several times (after SASUKE 8, SASUKE 17, and SASUKE 24 for example), but had always returned later on. Out of the 30 tournaments he has participated in, he has cleared the First Stage 10 times, the Second Stage four times and the Third Stage once. Though he showed good consistency in the early tournaments, since his comeback in SASUKE 14, he has never cleared the First Stage.
SASUKE History
Yamada was one of the strongest competitors in the early tournaments, showing his success in the first six tournaments. In the first tournament, he cleared the First Stage with just under six seconds remaining, but was tripped up by the Second Stage's Goren Hammer.
In an All-Cut performance in SASUKE 2, he cleared the First Stage yet again. In the Second Stage, it was shown in a digest that he struggled on the Spider Walk and failed there.
After this, Yamada went to building. To avenge his past failure, he created a homemade Spider Walk and homemade Pipe Slider to train on. His training paid off in SASUKE 3, where he not only beat his previous foe, but even cleared the Second Stage. In a debut performance in the Third Stage, he used an unorthodox but now vastly familiar cross technique on the Pipe Slider, and though at first he had trouble, he soon became one of five to clear and reach the Final Stage. Yamada ran fourth, and not only did he have the best attempt, but was also the closest at the time to Kanzenseiha, missing the button by just tens of centimetres.
Following this, Yamada once again went to training, this time, with a crane. To practice for the Tsuna Nobori, he hooked up a rope to a crane 20 metres up and climbed it all the way to the top, without a safety harness. In SASUKE 4, he would wear his first #100. Having to take two attempts at the Sosoritatsu Kabe, he cleared the First Stage with just under seven seconds remaining. Having cleared the Second Stage with ease, Yamada faced the revamped Third Stage. He had a slight stumble on the Pole Jump, but the next obstacle, the Propeller Untei, is where he had the most trouble. Failing to transfer to the second bar twice and to the final bar once, Yamada used up most of his grip strength. Having cleared the new Arm Bike like most with ease, Yamada came face to face with the new Cliffhanger. Like most others, Yamada struggled throughout, and by the time he transferred to the final ledge, he ran out of strength.
In SASUKE 5, the tournament after Akiyama Kazuhiko's Kanzenseiha, Yamada once again wore the #100 due to Akiyama being absent. When he attempted the Rolling Maruta, the log fell off the track towards the end, but Yamada barely missed touching the water. Nonetheless, clearing both the Jump Hang and Soritatsu Kabe, he became just the third competitor who advanced to the Second Stage. Yamada was thought to be a big favourite to clear the stage, but shocked everyone when he failed the revamped Spider Walk.
The day after, Yamada once again went to building, all within his property. Adding a Spider Walk, a Cliffhanger, and a Spider Climb, Yamada would train six hours a day. In SASUKE 6, he joined four others before him and cleared the First Stage, then took his revenge on the Spider Walk and became the fifth and final person to clear the Second Stage, finishing out a perfect clear rate. In the Third Stage, Yamada got his revenge on the Cliffhanger. On the Pipe Slider, he cleared the final jump and landed on the goal mat, but he lost his balance and fell on the ground. The Final Stage was once again out of reach. From this tournament on, the water pits were extended to the sides to prevent this from happening again.
SASUKE 7 would see Yamada bring his wife, kids, and his big family to watch him attempt the course. He reached the Soritatsu Kabe with 27 seconds remaining, which at that point, would mean clearing it first try to have time to clear. However, Yamada was turned back not once, but twice by the wall. By the time he had climbed up it, he just couldn't recover. He attempted to hurry, but time ran out on the Rope Climb. For the first time in his career, Yamada had been rejected from clearing the First Stage. A very emotional Yamada returned to Soritatsu Kabe and attempting it again, but despite clearing, he know it was no use. He sat down on Soritatsu Kabe in pain, with his son and his Mom came to cheer him up. He just apologised to his son for his failure. The first spark of the long war began.
Prior to SASUKE 8, Yamada had taken his family's advise and announced that this tournament would be his last. It was all or nothing, do or die, Kanzenseiha or retirement. He took on the First Stage, and once again faced the Soritatsu Kabe at the same pace as last time. The slippery elements had taken a toll on everyone before him, and Yamada was no exception. Taking two attempts, he came nowhere near close to the top. Recoiling in disbelief, Yamada knew his time on the course was over. Taking the remainder of his time to check how slippery the wall was, he timed up on the very demon that would plague him for years. He took another attempt on the wall after time had expired, and although he was able to grab onto it, he let go. He gave it one more shot and climbed up it with ease. A bittersweet ending to Yamada's career, he attempted and cleared the Tarzan Jump and Rope Climb. In the end of it all, he had finally bowed out of SASUKE with his dream unrealised.
The next day, Yamada had completely torn down his home-made set, expecting to stay true to his word, but his love of SASUKE was too strong. He wrote a letter to the program's staff just two months before SASUKE 9, he was ready to return. He even went to meditate at Fudo Waterfall to help him get his mind prepared for his return. The day before filming, he wrote a letter to his family, stating that "I may be unqualified as a Husband or Father, but I can't give up my dreams after all". Yamada was quick throughout the course, and although he once again took two tries on the Soritatsu Kabe, he was able to take revenge and clear the First Stage with ease. Once the Second Stage had begun, it was clear the problematic obstacle was the Spider Walk and after seeing fellow competitor Nagano Makoto struggle through it, despite clearing, Yamada came up with an idea. He first put on adhesive spray to test it out, but that didn't stick much, so then he decided to put duct tape on his shoes to help stop from slipping off of the walls. When it came time to run, however, this plan failed, as he spent at least 17 seconds both taking the tape off of the shoes and applying adhesive spray to his hands. Less than 20 seconds remained when he cleared past the Spider Walk and due to his time loss in the first half, Yamada ran out of time on the second wall on the Wall Lifting.
In the 10th Anniversary tournament, his friends before him had all failed, including big favourite Nagano, who ran right before Yamada, going out on the Jump Hang. Yamada, however, didn't let the new course phase him. He had been tripped up by the new Daasu Bridge, though he prevailed. Yamada cleared the Soritatsu Kabe on his first try and despite running low on time when he reached the new Tarzan Rope, he use the plan he and Yamamoto Shingo discussed earlier (grabbing the first rope, swinging back as far as possible and then trying to use momentum to grab the furthest rope possible) to beat the obstacle with the fastest way, which turned out to be successful as he cleared it within five seconds, which is the fastest time in the tournament. He then rushed his way to cleared First Stage with under two seconds remaining, which prompted him to do one of the most iconic moments in SASUKE, turning around to scream to the audience. In the Second Stage, he opted only to spray his hands and got revenge on the Spider Walk that cost him time previously. He had slight trouble with the Wall Lifting and had to dive for the button, but he was still clear with 2.3 seconds left. Most of the Third Stage would be new for Yamada and it showed. He first had a slight slip at the end of the Body Prop, and would begin to show fatigue during every obstacle after, but he prevailed onto the Pipe Slider. Once again using a reverse grip for both tracks, he made it to the final gap between him and a chance at glory. After multiple swings, Yamada jumped for the end, and although he had one foot successfully on, it wasn't enough. Yamada had dived back into the murky waters of Midoriyama. Having come so close to the Final Stage, a clearly emotional Yamada exited the pond. In an interview after his failure, these emotions prompted him to say one of the most famous lines in the history of the show, "俺には…、SASUKEしかないんですよ" which literally means, "For me, there is nothing else except SASUKE". This would be Yamada's last official attempt at the Third Stage.
In SASUKE 11, Yamada came back seemingly stronger than ever, everything went smoothly in the First Stage, clearing the Soritatsu Kabe on his first attempt and finishing the course with 4.55 seconds remaining. On the Second Stage, however, he was super nervous to attempt the Balance Tank and it was shown why as he slipped up there, landing with one leg on each side of the tank, a rather painful ending to Yamada's day.
In SASUKE 12, he easily made it through the First Stage, but he had a slow pace throughout, causing him to finish with less than a second remaining, the only time that happened. In the Second Stage, before both ran the stage, he and Nagano had promised each other to eventually make their dreams come true, which is attempting Third Stage together. Yamada, who dealt with a tiny malfunction in the previous tournament on Chain Reaction, was super nervous about it, so he brought his own work gloves to use instead of the ones traditionally provided. He cleared the Balance Tank that took him down previously and cleared the stage with 3.55 seconds remaining, however, the finish gate would not open. Turns out, he was disqualified. The gloves are used for safety purposes during the Chain Reaction but must be taken off before attempting the Spider Walk. Yamada, however, forgot to remove the gloves, and was thus disqualified. Despite coming close a few times, this would be Yamada's final attempt at the Second Stage.
Yamada would compete in the SASUKE 13 Trials, aiming for a fast time. However, he stumbled on Soritatsu Kabe and was visibly frustrated when he finished in 12th place with a time of 10.58 seconds remaining (he even complained that he was slower than Akiyama Kazuhiko, who finish it 0.43 seconds faster months ago). Interestingly, despite being visibly upset with his time, this would be the most known time Yamada left remaining for a clear in his entire career. Despite earning a spot in SASUKE 13, Yamada decided not to compete in order to spend more time with his family and even considered retiring. However, after watching the broadcast, he was ashamed by himself as he "wasn't in the place that I had been fighting in for a long time" and decided to train again for the future tournaments.
Yamada would finally re-appear again at SASUKE 14. He was very confident about his chance of clearing given how there are 13 clears before his run, so he started to get cocky. Added by his smooth start on the course (even though he had a small slip-up on the Cross Bridge), he arrived at the Jump Hang, which he had always cleared before. He then shocked everyone by failing to get a good grip on the obstacle, probably due to his powerful jump to the trampoline that make him bounce too fast. Standing inside the water, he put his hands on his head, still trying to figure out what went wrong. He had just failed the First Stage for the first time since 2001 and turns out, this would not be the last of his woes.
First Stage Failures
After SASUKE 14, Yamada had a long string of First Stage failures, most of which involved time-outs. In SASUKE 15, he failed the Cross Bridge in a way similar to his failure in SASUKE 6, falling off the side of the obstacle just after clearing (which probably attributed by him being nervous to go as fast as he can as several top competitors that day timed-out). He was close to falling on the Sandan Rolling Maruta and had another close call on the Reverse Fly in SASUKE 16, but time proved to be his biggest issue, as even though he cleared the Soritatsu Kabe in one shot, his slow pace from before (especially during Jump Hang and Rope Reverse) saw him run out of time at the top of the Rope Climb. In an interview, he stated once again that "this is the end. Even if I fall, I've decided this is my last", however, because he is still participating in events and starring in a commercial for a game, Yamada realised he had to overturn his retirement once again.
Yamada returned, wearing the #100 for the last time, in SASUKE 17. Although he was close to touching the water on the Jump Hang, he was still on good pace to clear had he cleared the Soritatsu Kabe on his first try, but was turned back three times on the wall, and by the time he had cleared it on his fourth try, the timer had already expired.
Yamada faced an entirely renewed First Stage in SASUKE 18 and despite getting all the way to the Rope Ladder, he could only begin climbing up as his slow pace throughout the course caused him to run out of time.
In the 19th tournament, Yamada showed great speed through the first two obstacles, but was hung up on the renewed Pole Maze, which had tougher track and thicker pole. Combined with having to go back for a second attempt and being unable to move the pole once he went too far to go back, he spent around 75 seconds on the obstacle. He only had 20 seconds remaining when he cleared the obstacle and with the warning buzzer sounding, Yamada wasn't able to stick the landing on the Jumping Spider.
Before the milestone SASUKE 20, Yamada had injured his face during training. Despite this, he still decide to compete, wearing #1999. He had initial difficulties getting the log on the Log Grip to go down the track (given that at this time, competitors still had to slid the log on to the track themselves rather than the log already attached to an automatic machine to get the log moving), but was able to clear it nonetheless. He got revenge on the Pole Maze, but on the Jumping Spider, he was only able to stick inside the walls for a second before plummeting into the water, failing it twice in a row.
Yamada was not in his best condition in SASUKE 21, appearing with tape around his shoulders and legs. It appeared to be a case of how much he could worsen this condition, as he started limping after clearing the Rokudantobi. He got revenge on his previous foe, the Jumping Spider and was slow throughout the Spider Walk section, but his condition worsened once he got off, practically falling down in pain. With no chance to clear, he returned to the Soritatsu Kabe, but was nowhere near close on either of his two attempts. He stated in an interview that he wanted to try again in his best condition.
Also in this tournament was Miyagi Takuya, who had won first place in that year's SASUKE Trials. He had trained with Yamada at his house before the tournament and although he showed great speed, he was unable to stick the jump into the Jumping Spider.
In SASUKE 22, more pressure was added onto him than usual. Before the tournament, Yamada had received a letter from a child with leukemia, saying that he had "a bone marrow transplant in May. Having seen everyone do their best in SASUKE, I did my best. I want Yamada to make it to the Second Stage this time", however, he can't make his dream realised as even though he sped through the first three obstacles, he once again went down on the Jumping Spider after not getting a good enough jump into it.
Yamada once again trained someone in this tournament, this time in the form of actor Nakao Akiyoshi. In Nakao's previous attempt in SASUKE 20, he had fallen on the Jumping Spider and unfortunately, he was once again unable to make the jump inside.
In SASUKE 23, Yamada would move easily through the first half of the course, beating the Jumping Spider which felled him previously. On the Half-Pipe Attack he would carry too much momentum, and almost go off the mat. On the Soritatsu Kabe he would take three attempts at the wall, each of them getting closer and closer to the top and despite finally clearing it on his fourth, Yamada was already nearing the end of his run. When he reached the Slider Jump he slid down the track with a reverse grip, but similar to Nagano Makoto in SASUKE 22, he was unable to grab hold of the net and went in head first into Midoriyama's muddy swamp, making it his tenth consecutive First Stage defeat. Even if his attempt at the Slider Jump was a success, his run would've been over by time. In his interview afterwards, Yamada announced that he would do his best in half a year and that the next tournament, he intended to be his last.
In SASUKE 24, Yamada had once again stated that if he didn't clear the First Stage, he would retire. He sped through the course, clearing the Jumping Spider and the Half-Pipe Attack with relative ease. However, despite coming close multiple times and having both hands on the top at least once, Yamada was unable to scale the Soritatsu Kabe again. Walking off the set in tears, his dream went unrealised.
Staying true to his word, Yamada did not appear in SASUKE 25. However, when SASUKE 26 came around, many All Stars were unable to appear, with Akiyama, Takeda, and Shiratori all being unable to compete. To keep the name of the All-Stars alive, he again wrote a letter to TBS, he was ready to return. Narrowly beating the Rolling Escargot which felled fellow All Star Yamamoto Shingo, he once again faced the Jumping Spider. It looked like he had stuck into the walls, but he slipped and jumped into the water.
Before SASUKE 27, Yamada competed under the moniker of "complete recovery". He had finally raised his Soritatsu Kabe 20 cm higher, but he kept grasping the lower bar before scaling it. On the course, he went smoothly and quickly throughout the course. He had taken revenge on the Jumping Spider that felled him before and despite taking two attempts on the updated Half-Pipe Attack, he was able to clear it, leaving him with 45 seconds for the remainder of the course, enough to clear due to the lenient time limit that day. However, he took four attempts on the Soritatsu Kabe and despite coming close, he was unable to scale it. The Soritatsu Kabe remains his foe.
Before SASUKE 28, Yamada's home course had not been maintained, as it decayed and rusted, prompting Yamada to take it down. In the tournament, Yamada had difficulties moving the Rolling Escargot and even had his foot come loose, spending over 20 seconds on the obstacle. This left him with little time left for the course. On the Ni Ren Soritatsu Kabe's first wall, he had failed to scale it on his first attempt, but was able to regain his composure and get one foot on top just as the clock hit zero. In an All-Cut interview, he stated that he was known as SASUKE cry-baby at that point and he didn't want to cry during his retirement. He also revealed that he injured his leg prior to the tournament, explaining why he was slow throughout his run.
As this tournament stated that the All-Stars would be retired (and one, Akiyama Kazuhiko, followed through), this ending would seem rather bittersweet. Yamada had struggled with his demon for years and on the tournament expected to be his last, he had finally conquered it. However, despite saying on set that he didn't know if he'd compete or not and that if he can "just express to everyone how much I love SASUKE, then I'm ready to hand over", he stated in a post SASUKE 28 exclusive interview that he will not retire yet and he will return when he feels he's ready.
Yamada Black Tigers
Yamada did not compete in SASUKE 29, but before the tournament, he formed a team of four newcomers to SASUKE; Yamamoto Hiroshige, Watanabe Yousuke, Okada Satoma, and Mizukawa Keishi. These four were called the "Black Tigers" and wore #47 to #50, respectively. However they all failed the First Stage, with Watanabe doing the best out of the four by getting to the Ni Ren Soritatsu Kabe.
Yamada then competed in SASUKE 30, alongside the four other All-Stars, including Shiratori Bunpei. He wore his second lowest start position to date, #2934 (he would have been #34 in a regular tournament). Unfortunately, his run was completely cut, though it is known that he failed on the Ni Ren Soritatsu Kabe due to an injury. Through sources, it is known that he was cut because he was banned from SASUKE because of a bad argument with Inui Masato. Through Yamada, however, he just simply asked to be cut from the broadcast. Despite this, one of his protégés, Yamamoto Hiroshige, was able to reach the Second Stage, but was disqualified on the Swap Salmon Ladder due to the bar being uneven.
Yamada appeared once again in SASUKE 32 to cheer on the Black Tigers, although this time none of his protégés cleared the First Stage for the first time since their debut in SASUKE 29.
Yamada competed in SASUKE 33 for the 20th Anniversary of SASUKE. He managed to navigate his way past the Quad Steps and the Rolling Hill, but was unable to complete the TIE Fighter. Here, he was given his lowest starting number, #33 which corresponded with the 33rd tournament for SASUKE.
In May 2020, Yamada created a YouTube channel, where he expressed that he wanted to return to SASUKE. This would come into fruition as he would finally compete in SASUKE once again in SASUKE 38 wearing #97, his highest number yet since SASUKE 28. This time, he managed to beat the third obstacle (which is now an easier Silk Slider). He also beat the Fish Bone for the first time. However, he was slow throughout his run and he failed the Dragon Glider as his grip gave out from the drop down the first track.
Yamada returned once more in SASUKE 39 wearing #96, but due to the rainy conditions his foot slipped on the non-tarped part of the fourth step of the Quad Steps, ending his run early. Afterwards, he continued his run much like SASUKE 8 and SASUKE 12, but unlike those attempts where he was able to finish the course, he fell when he dismounted the Rolling Hill.
VIKING
Yamada competed on the second and third VIKING tournaments together with several All-Stars and familiar SASUKE competitors.
In VIKING 2, he would have a decent pace in the First Marine Stage. But when he reached the Cannonball, he would lose his footing and fell in the water.
Looking to avenge his fall from the previous tournament, Yamada would compete in VIKING 3. He would almost fail on the Island Escape but managed to regain his balance on the floating island to complete the obstacle. This would cost him a lot of time and with a few seconds remaining he managed to clear the Cannonball and eventually timed out on Captain's Cabin.
Variety Shows Appearances
Due to his notability on SASUKE as one of the most popular competitors, he would appear on various shows outside of SASUKE as part of promotional videos.
Yamada would appear on a variety TV show known as Suiyoubi no Downtown in the lead up of SASUKE 31 to SASUKE 33
During SASUKE 32, Yamada was entrusted with the production of promotional content, including 360° Video Walkthroughs of the course. According to the Japanese Wikipedia page for Yamada, he concludes these videos by expressing a desire to return to competing on the course.
In KUNOICHI 9 and 10, he was entrusted as an analyst for the runs of the competitors.
Trivia
Up until his absence in SASUKE 13, Yamada and Yamamoto Shingo are the only two competitors who managed to compete in every tournament up until that time.
As part of the camera rehearsals in SASUKE 29, Yamada attempts the Third Stage (in the daytime), this would be his first attempt at the Third Stage since SASUKE 10, albeit considered informal.

He did well throughout the first two obstacles (he did however dismount the Iron Paddler by using the supports, which in a normal tournament, would result in a disqualification), but ran out of stamina on the second ledge of the Crazy Cliffhanger.

With Yamada receiving #97 in SASUKE 38, he would become the second competitor who would wear all of the last five numbers. Akiyama Kazuhiko is the first one who wore all of the last five numbers from #96 to #100.
During Yamada's run in SASUKE 39, it is known that he continued his First Stage run despite being disqualified from the Quad Steps as his left foot skimmed the water. But according to him, he did not know that he was disqualified and continued his run until he failed the dismount to the Rolling Hill.

As a result, he became the first known competitor to have made contact with the water twice.

An interesting error occurred during one of SASUKE 37's pre run video introduction for Yamada's Black Tigers prior to the start of the Third Stage. During the beginning of the package was a quick recollection of Yamada's career, which for some reason also included the Pipe Slider failure of Asaoka Hiroyuki in SASUKE 4 - better known as the original SASUKE Sensei - but not Yamada's actual Third Stage failure in the same tournament on the Cliffhanger. It's worth noting that both competitors wore similar attire as well as no shirt when they both attempted the Third Stage, leading one to believe that this was a case of mistaken identity.
Although he's failed the First Stage the third-most times out of any competitor, only behind Torisawa Katsuhide and Yamamoto Shingo, he still holds the record of the most consecutive First Stage clears since his first appearance, with six. The record broke when he failed in SASUKE 7.
He is the only person to have ten or more First/Second Stage clears and never have a known clear with more than ten seconds remaining.
In a recent two-part interview, Yamada mentions the Dragon Glider, Rolling Escargot, Quad Steps, Soritatsu Kabe, and Pipe Slider as the top five obstacles he dislikes attempting in SASUKE.
In the same interview, Yamada mentions the Spider Walk and any obstacle that involves a trampoline like Jumping Spider and Jump Hang as his favorite obstacles to attempt in SASUKE.
Results
SASUKE
VIKING
External Links
All-Stars