Not to be confused with the Ring Swing.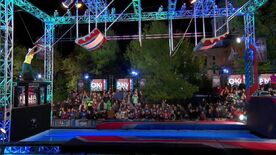 The Wing Swing is an obstacle, firstly introduced as the second obstacle on American Ninja Warrior 11 in Oklahoma City.
It consisted of 2 trapeze swings and a bar place in the middle of the swing. Each swing had an airplane's wing-shaped barrier in front of it.
Competitors must grab the first swing and generate enough momentum to reach the bar. Then, they must grab the second swing and do the same process as the first swing to reach the landing platform. The placement of the barriers prevented the competitors to swing further and disrupted the momentum for the competitors.
A total of 12 competitors failed the obstacle during Oklahoma City qualifiers, including Nicole Martinez, Kevin Jones, and Clay Raterman. Typical errors on the obstacle involved not being able to generate enough momentum. Some competitors also lost their grip from swinging.
A surprising completion of the obstacle occurred during Karsten Williams' run, where he accidentally nudged the second swing with his legs. Because the swing was not set in a fixed location, his legs caused it to swing. He was luckily able to jump to the next swing and consequently complete the obstacle.
During Oklahoma City finals, the transition bar was removed, forcing the competitors to make a bigger laché from the first trapeze to the second trapeze with no rest. Despite that, no competitor fell on the obstacle.
Other Appearances
Ninja Warrior Poland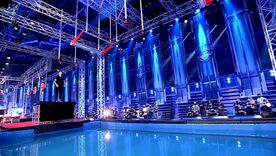 On Ninja Warrior Poland 5, the Wing Swing appeared as the fourth obstacle in Heat 2 and Heat 6.
Competitors' Success Rate
All results based on the NBC broadcast and external information found
| ANW | Clears | Attempts | Percentage |
| --- | --- | --- | --- |
| ANW11 (qualifiers) | 74 | 86 | 86.05% |
| ANW11 (finals) | 31 | 31 | 100% |
| Total | 105 | 117 | 89.74% |
External Links