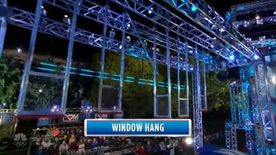 The Window Hang is an obstacle, firstly introduced as the ninth obstacle during Oklahoma City finals on American Ninja Warrior 8.
The obstacle is composed of 5 windows, each with a ledge that range from 1.5 to 2.5 inches on either side and is embedded on the bottom of the wall. In this obstacle, competitors must cross the walls using the pinch grip or using only their fingertips and their legs to reach the landing platform.
The ledges vary in distance and height, making it even harder to make it across. The first, second, fourth and fifth windows run lengthwise along the course, while the third window is facing perpendicular to the others, making the difficulty even greater.
Competitors may use their legs on the ledges, but not all did. Competitors such as Daniel Gil and Grant Clinton used pure grip strength the whole way across. Interestingly, more competitors were successfully completing the obstacle by using just their grip instead of both grip and legs.
The obstacle was proven to be brutal, as it eliminated 5 out of 8 competitors who attempted it, including Karsten Williams, Jon Stewart, Mitch VeDepo, and Thomas Doweidt.
Other Appearances
Ninja Warrior Poland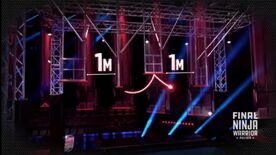 On Ninja Warrior Poland, Window Hang appeared in the final as the fifth obstacle in the stage one. Each of the 4 windows was 1 meter apart and each of them was hung at different heights. The distance between the last window and the safe landing was 3 meters. The obstacle was one of the most difficult in Poland - it overcame as many as 9 participants.
Then, on Ninja Warrior Poland 5, Window Hang appeared as the fourth obstacle in the semi-finals. This time the obstacle consisted of three windows.
Trivia
The idea for this obstacle was a combination of the Flying Shelf Grab, Floating Boards and the 6 feet transfer of the Ultimate Cliffhanger on American Ninja Warrior 7's Stage Three or the Crazy Cliffhanger from SASUKE.
The original concepts of this obstacle were a series of perpendicular panels, then series of parallel panels at different heights which would lead to the current concept of the Window Hang.
The design of the obstacle was similar to the Vertical Limit from SASUKE, as the obstacle was also a flat wall with a ledge embedded on the bottom of the wall, albeit that the ledge was protruding outwards.
Competitors' Success Rate
All results based on the NBC broadcast and external information found
| ANW | Clears | Attempts | Percentage |
| --- | --- | --- | --- |
| ANW8 | 3 | 8 | 37.5% |
| Total | 3 | 8 | 37.5% |
External Links