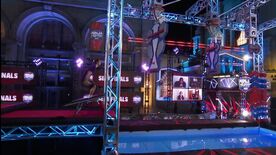 Wall to Wall is an obstacle, firstly introduced as the fifth obstacle in first episode of the semifinals on American Ninja Warrior 13, and then appeared back in the second episode of the semifinals.
It consisted of three walls with ledges embedded for competitors to hold onto. Competitors would have to:
Rotate the first wall in a counter-clockwise direction which allowed the first wall to be facing the ledges on the second wall.
From there, they must make a transition from the first wall to the second wall in a similar fashion to the Crazy Cliffhanger.
Then, they must rotate the board once again and make the 90-degree transition to the ledge on the third wall to allow them to make the dismount.
The number of ledges varied per wall:
The first wall consisted of three ledges with two ledges serving as footholds for competitors to place their feet onto.
The second wall was similar to the first wall, but smaller and only featured one foothold.
The third wall consisted of one ledge that would drop eight inches and bounced up and down once the competitors applied their weight onto it.
This obstacle eliminated some notable competitors such as Jody Avila in the first semifinal episode and Luciano Acuna Jr. in the second semifinal episode.
Competitors' Success Rate
All results based on the NBC broadcast and external information found