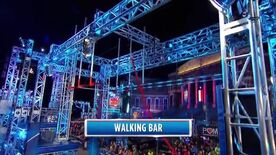 The Walking Bar is an obstacle, firstly introduced as the eighth obstacle on American Ninja Warrior 7 during Houston finals. It consisted of six set of staggered rests, a bar, and a rope.
After completing the Salmon Ladder, competitors must make a transition to the bar, which was positioned on the first two rests. Since the rests were staggered, competitors must alternately move each side forward to the next rest, until the bar was on the last two rests. Once there, they must swing forward to a rope, which they could climb down to reach the landing mat.
In its debut during Houston finals, the obstacle was proven to be brutal, as several competitors failed to land the bar on the rests and slipped, while others overshot the bar on the rests. In the end, this obstacle had taken out 12 competitors, such as Brent Steffensen, Abel Gonzalez, Kevin Klein, David Yarter, Thomas Stillings, Anthony Scott, Geoff Lancaster, Dillon Gates, Joe Calderon, Jonathan Parr, and Jon Horton. Only 5 competitors could get past this obstacle (Karsten Williams, Jeremiah Morgan, Tremayne Dortch, Daniel Gil, and Sam Sann). In the end, the Walking Bar became the cut off for advancing to Las Vegas national finals.
Other Season Appearances
American Ninja Warrior 8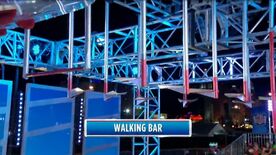 The Walking Bar returned on American Ninja Warrior 8, as the sixth and penultimate obstacle in Stage Three, after the Hang Climb.
In this version, the rope was not presented. Instead, when competitors reached the bar into the last two rests, they must go to the resting bar that would lead to the next and final obstacle, the Flying Bar. Also, the last few rests were arranged in a curve to help competitors to go to the resting bar easier, but in contrast, made the obstacle itself harder.
Due to Drew Drechsel and Daniel Gil being the only two competitors to attempt Stage Three, with both of them failing on the Hang Climb and Ultimate Cliffhanger respectively, no one had attempted this obstacle on the regular season.
However, it was attempted during USA vs. the World 3, when Josh Levin (Team USA), Drew Drechsel (Team USA), Alexander Mars (Team Europe), and Diego Gonzalez (Team Latin America) attempted the obstacle, with Alexander Mars and Diego Gonzalez failing to complete it.
The obstacle was replaced by the Time Bomb on American Ninja Warrior 9.
Competitors' Success Rate
All results based on the NBC broadcast and external information found
External Links