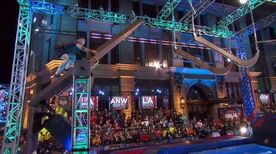 Walk the Plank is an obstacle, firstly introduced as the second obstacle on American Ninja Warrior 11 in Los Angeles.
Competitors must crawl up a see-saw board, which would gradually start to tip. Then, they must time their jump from the board to grab a bar, which would slide down a track (similar to the second track on the Double Dipper or Dragon Glider), and finally made the dismount to landing platform.
During Los Angeles qualifiers, the obstacle was proven to be brutal, as several competitors either misjudged their timing to grab the bar or lost their grip after grabbing the bar. In the end, the obstacle eliminated 31 out of 70 competitors who attempted it, including Tiana Webberley, Anna Shumaker, Benjamin Humphrys, Jesse Orenshein, and Cheyenne Arrington. 
In a strange reversal, during Los Angeles finals, the obstacle eliminated Rebekah Bonilla, Samantha Bush, and Emmi Rose, who were the only three female competitors to complete the obstacle during Los Angeles qualifiers. Whereas, Tiana Webberley and Anna Shumaker (whom both failed on the obstacle during Los Angeles qualifiers) were the only women who completed the obstacle. 
Giant Walk the Plank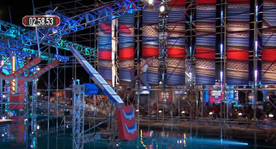 A variation of Walk the Plank, (called as Giant Walk the Plank), appeared as the first obstacle in Stage Two on American Ninja Warrior 11, replacing the Epic Catch & Release from the previous season.
This version involved a rope at the start as a medium to reach the plank. In addition, the plank and the track were made bigger and longer than the original counterpart.
The obstacle only eliminated two competitors: Dave Cavanagh (who later completed the obstacle, thanks to the Safety Pass that earned during Baltimore finals) and Ben Wales.
Competitors' Success Rate
All results based on the NBC broadcast and external information found
Walk the Plank
| ANW | Clears | Attempts | Percentage |
| --- | --- | --- | --- |
| ANW11 (qualifiers) | 39 | 70 | 55.71% |
| ANW11 (finals) | 30 | 33 | 90.91% |
| Total | 69 | 103 | 66.99% |
Giant Walk the Plank
Trivia
External Links
Community content is available under
CC-BY-SA
unless otherwise noted.