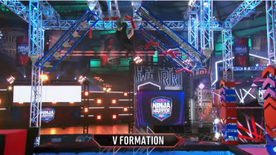 The V Formation is an obstacle, firstly introduced as the fifth obstacle during the first episode of qualifiers on American Ninja Warrior 13, and then appeared back on the second episode of qualifiers.
The obstacle consisted of three different sections. On the first section, competitors must move a triangular-shaped hoop onto five hooks upwards. These hooks are 18 inches apart and would have a mechanism that competitors can push upwards so that the hoop will lock into the hook. The second section consisted of a small ledge competitors must use to transfer onto the third section. The last part consisted of four inverted-V shaped handles bearing similar appearance as the Spinball Wizard that would move in a similar fashion to the Spin Hopper. Competitors must traverse these handles that are arranged in a way that two handles are on the right side and two handles are on the left side. Competitors can skip a handle but they are required to make a transition to the last handle before being able to make a dismount.
During the first episode of qualifiers, this obstacle was proven to be brutal, as 21 competitors failed on it, including Lindsay Eskildsen, Isabella Wakeham, Isaiah Wakeham, Abel Gonzalez, Sam Sann, Brian Burkhardt, Jeremy Clark, Adam Naids, Josh Norton, Alex Blick, Caleb Dowden, Ryan Meeks, Nate Pardo, Bryan Billigmeier, Christian Youst, Wade Lopp, Karman Shelby, Caleb Benson, Dan Wentworth , and most shockingly, Daniel Gil. Another 17 competitors failed on it during the second episode of qualifiers, including Lance Pekus, Julius Ferguson, Zhanique Lovett, Sandy Zimmerman, Cody Johnston, Ruben Arellano, Will Schlageter, Deren Perez, DC Banks, Jonah Bonner, Jason Grossman, Vincent Pane, Michael Larlee, and Xavier Dantzler.
Later on the same season, the obstacle reappeared as the third obstacle in Stage Two, replacing the Snap Back from its past recent appearance.
This time, it featured a slanted pole as a medium that competitors must utilize after completing the Double Salmon Ladder. In addition, the small ledge was now placed on the left side of the competitors' position after completing the first section instead of it being placed on the right. Due to this, competitors would have the tendency to directly transition to the second handle, making it easier for competitors to transfer the section.
In contrast to its appearance on qualifiers, multiple competitors completed the obstacle with only Enzo Wilson failing the obstacle.
Competitors' Success Rate
All results based on the NBC broadcast and external information found
| ANW | Clears | Attempts | Percentage |
| --- | --- | --- | --- |
| ANW13 (QF EP 1) | 5 | 26 | 19.23% |
| ANW13 (QF EP 2) | 7 | 24 | 29.17% |
| ANW13 (Stage Two) | 20 | 21 | 95.24% |
| Total | 32 | 71 | 45.07% |