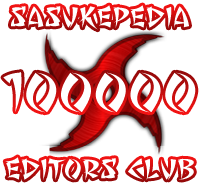 This user is a godlike member of the
Sasukepedia Editors Club
!
For that, I need to contribute for a century XD.
Admins available
Deleting Pages
I will normally give a page around 48 hours to settle each user's view on the talk page of each page when it appears on the Candidate of deletion and Category of speedy deletion. If no one were to voice out his/her opinion within the said duration. I will delete the page.
Note: THIS DOES NOT APPLY TO OTHER ADMINS AND HAS NO CORRELATION TO THE STANDARD OF PROCEDURE (SOP) ON ADMINS DELETE PAGES.
Community content is available under
CC-BY-SA
unless otherwise noted.