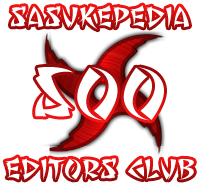 This user is a notable member of the
Sasukepedia Editors Club
!
RCPlanes59 is a Sim SASUKE competitor who has competed in 14 tournaments but has yet to clear the First Stage. His early tournaments were marred by early failures and off-course controversy, but through persistent training has evolved into a serious competitor.
Early Tournaments
After trying for numerous competitions, RC was able to determine what the trials formula was and as a result earned #3967 in SASUKE 40. There, he wiped out on the drops of the Flying Log. In the SASUKE 41 course trials, he cleared Stage 1 on the SASUKE 8 course but failed the Chain Reaction. He was unable to match this success on the other three courses and did not earn a spot in the finals. However, he caught trip 8's in the chat trial and won a spot in SASUKE 41. In that tournament he was cut from the broadcast but revealed to have fallen off the first track of the Broken Slide, which is the first obstacle, and likely did the worst out of all 100 challengers.
It was announced that RC would be attending SASUKE 51 as a celebrity host. Despite getting fast forwarded, RC had the best run of his career, ultimately failing at the midway point of the first stage, the Super Hang. He competed again as a celebrity host in SASUKE 52, but was all cut; however, he announced that he failed the Circle Twist.
He finally qualified through the main qualifier in SASUKE 57, making his way to the finals of the dodgeball tournament and earning a spot in SASUKE 57. His team (RC's Planes) was defeated by Arty's Fowls 2-1 in an epic championship match, denying him a spot in SASUKE 58. He received #32, next to Aoki Yasuo, Harashima Masami, and Kuramochi Minoru. He eventually failed the See-Saw Bridge.
Account Deletion
RC announced on December 24, 2009 that he would delete his account after SASUKE 24 aired. He changed that to "retirement" on advice from TheAmazingOti. However, shortly after retiring, RC began frequently posting, much to the dismay of the other users. After a controversial SASUKE 25 wishlist and his dislike for Nagano Makoto coming out, RC deleted his account on February 11, 2010. He rejoined SMF five months later.
During his deletion he still followed Sim SASUKE and participated in the trials. He failed the Pipe Slider in the first round of SMFNW (SASUKE 53 trials).
SASUKE Elite
RC won two separate trials for SASUKE 58, one for getting the closest to predicting the new Shin-Cliffhanger Elite, and another for winning the name competition. For the second win he chose IntelligentInfer and Arsenette to join him for the tournament. He drew #82 out of the lottery, his highest number ever. In the tournament, he cleared the first four new obstacles with ease but slipped at the very beginning of the Half Pipe Assault. This success however would be far unmatched as RC caught a streak of failures. RC qualified three times in a row by being chosen (once by Myjr1 as a prize, the other two by Supersheep). Fittingly, he got #59 in SASUKE 59 and #5959 in SASUKE 60. He failed the Angle Rider both times. Having been a representative of the Eastern US in SASUKE 61, he failed the Ensuidantobi, despite much practice on the obstacle.
RC returned for SASUKE 64 and once again failed the Angle Rider. However, four tournaments later, he finally avenged his Angle Rider failures but fell to the Spin Hang.
Whammy!
For SASUKE 69, Sim TBS announced that a tournament of Whammy! The All New Press Your Luck would be held. Twenty-seven entrants were split into three rounds of competition. RC won the first competition, acquiring a berth in SASUKE 69 and 70. It was during SASUKE 70 that RC nearly cleared the First Stage, but in a time crunch rushed the Launch Pad and failed there. Astonishingly, RC won again the next tournament, acquiring berths in SASUKE 71, 72, and 73. RC's Whammy performance led to the show's theme song being used as his own personal theme song for Sim SASUKE. He was not invited for the final Sim SASUKE tournament, SASUKE 74, in which trials were not held.
Results
| SASUKE | # | Result | Notes |
| --- | --- | --- | --- |
| 40 | 3967 | Failed Flying Log (First Stage) | Drops |
| 41 | 40 | Failed Broken Slide (First Stage) | First track. All Cut |
| 51 | 27 | Failed Super Hang (First Stage) | Digest |
| 52 | 40 | Failed Circle Twist (First Stage) | All Cut |
| 57 | 32 | Failed See-Saw Bridge (First Stage) | |
| 58 | 82 | Failed Half Pipe Assault (First Stage) | Slipped at the beginning of the obstacle |
| 59 | 59 | Failed Angle Rider (First Stage) | |
| 60 | 5959 | Failed Angle Rider (First Stage) | |
| 61 | 59 | Failed Ensuidantobi (First Stage) | |
| 64 | 33 | Failed Angle Rider (First Stage) | |
| 68 | | Failed Spin Hang (First Stage) | |
| 69 | | Failed ?? (First Stage) | |
| 70 | 69?? | Failed Launch Pad (First Stage) | |
| 71 | | Failed ?? (First Stage) | |
| 72 | | Failed ?? (First Stage) | |
| 73 | | Failed ?? (First Stage) | |
Community content is available under
CC-BY-SA
unless otherwise noted.