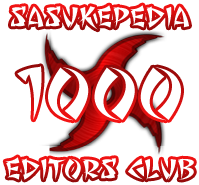 This user is a respected member of the
Sasukepedia Editors Club
!
D.C. Lundberg (D・C・ランドバーグ) is SASUKEPedia's resident grammar nazi. He has been a SASUKE fan since January, 2008 after seeing Ninja Warrior's broadcast of SASUKE 2. He also, obviously, is a tremendous geek (or jerk, take your pick) since he's formatting his user page this way. From here on out he will refrain from referring to himself in the third person.
About a week before SASUKEPedia came to be, I started my own little SASUKE Wiki. It didn't get very far because shortly so after its launch, I was contacted about this Wiki, so I abandoned that project and helped found this one. I've enjoyed watching grow over the many months it's been active.
It was my brother actually got me watching SASUKE. He was channel surfing one day, saw the title Ninja Warrior, saw that it was listed as a "game show," and decided to check it out. He described it as a "human platformer" (a la "Super Mario Bros.") and recommended that I tune in. The first episode I saw was actually Women of Ninja Warrior, KUNOICHI 6, I believe. On the upcoming weekday schedule, they started over with SASUKE 2; I was hooked.
The first SASUKE tournament that I saw before G4 aired it was SASUKE 22. I had to go to work the next morning, so I turned on TV Ants, captured it with VLC Media player (which absolutely bites, by the way), and watched it that weekend. The first one I saw live was SASUKE 23.
I'm a former college television writer and the brother of a college newspaper copy editor. As such, I am a stickler for proper grammar, capitalization and spelling. I get annoyed when I see sentences that aren't constructed properly, people using incorrect words (Saddlecloth bothers me to no end!), and I believe that brevity is the best way to go when writing. If something is stated once in a piece, it need not be repeated.
Aside from SASUKE, my other interests are rock and roll (exclusively old stuff, love 80s heavy metal, hence my user name), Major League Baseball, bowling, old video games, NFL Football and karaoke.
You can find out more about me (if you care) at my web site; a link is provided above.
Also, you can see my SASUKE 23 predictions here, my SASUKE 26 predictions here, and go here to see how much of a geek I really am.
Community content is available under
CC-BY-SA
unless otherwise noted.