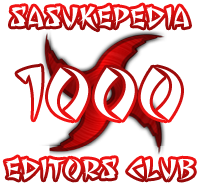 This user is a respected member of the
Sasukepedia Editors Club
!

Kenji Yamaguchi (山口 健二 Yamaguchi Kenji, born July 17, 1988) is one of the admins of the Sasuke Maniac community, the community that created Sasukepedia. From San Diego, CA, Kenji has been a fan of SASUKE since 2004 via the internet, and Ninja Warrior since 2006 via G4.
Sasukepedia contributions
I'm one of the wiki admins here on Sasukepedia.
I'm also the resident template creator, Infobox extraordinaire, Navbox connoisseur, Policy wonk, and sculpteur de sasukepedia.
You can find me staring at the Recent Changes on a fairly regular basis, even on days I don't edit at all. To clear up some things; I am a minor content editor, meaning I don't really don't contribute to competitor, competition, or obstacle content often unless it's for a specific reason. This is due in part to the fact that I focus primarily on the back-end functionality and design of the wiki, in order to make it easier for editors to work with, and for visitors to navigate the wiki in a simpler manner.
For every template, infobox, or navbox that is made, I attempt to write up documentation that is easy to read and understand when implementing them in articles around the wiki. There are obviously, problems, with getting them to work properly the first few times you use them, and in these cases it's usually best to refer to the documentation for that template to double check your work. If you are stuck, you can leave a message on the template's discussion page and I'll look into the issue as soon as possible.
Recent Activity
Over the past few months, I've been relatively inactive in terms of updating articles, creating new articles, etc, etc. I have, however, maintained a habit of watching the Recent Changes for anything that may be spam or vandalism. As busy as I am these days, I still take time out of my days to at least do that.
Contact Me
As I don't edit the wiki on a daily basis, I do make a habit of checking the Recent Changes as often as possible (at least once a week). With that in mind, you can use the following to contact me.
Posting on my message wall
Posting on the Sasuke Maniac forums
Privately messaging me on the Sasuke Maniac forums.
Sending me a tweet, @Anshinritsumai
Sending me an email, my username at gmail
See Also
Anshinritsumai's links

Wiki Dev
Other Stuff