Ultimate Plank (アルティメットプランク), called Ultimate Plank in broadcast, was a VIKING obstacle originally located in the Third Fantasy Stage for VIKING 1, however, due to the difficulty of the Second Adventure Stage, it wasn't attempted until VIKING 2. In VIKING 3, this obstacle was now located as the third obstacle of Final VIKING. It was one of the few physically demanding obstacles in VIKING, with the others being the Rope Maze (Second Adventure Stage in VIKING 1-3) and Heartbreaker (Second Adventure Stage in VIKING 1 and 2, Final VIKING in VIKING 3).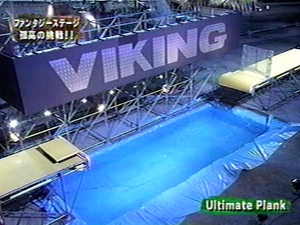 In the first two tournaments, the competitors could elect to try either this obstacle or Steady Voyager for the first obstacle of Third Fantasy Stage, whichever suited their strengths more. If the competitors elect to attempt this, they had to traverse a wall that was 8-metre long, that spelled out VIKING (despite looked similar, it was widened to 11.2 metres in VIKING 3).
This obstacle got its first attempt in VIKING 2 after Nagano Makoto electing to attempt this over Steady Voyager. He make it look like a child's play, clearing this obstacle in less than two minutes, becoming the only one to do so. Due to this, a prize of ¥500.000 was awarded to him, as well as a choice to either give up and take the prize right away or proceed to Bio Clock in order to have a shot at Final VIKING, which Nagano choose to proceed.
There is one more attempt on this obstacle by Minamide Kimihiro in VIKING 3, however, his attempt didn't last long as he fail it almost immediately after starting.
Competitors' Success Rate
All results based on the Fuji TV broadcast and external information found.
| VIKING | Clears | Attempts | Percentage |
| --- | --- | --- | --- |
| 1 | 0 | 0 | N/A |
| 2 | 1 | 1 | 100% |
| 3 | 0 | 1 | 0% |
| Total | 1 | 2 | 50% |
See Also