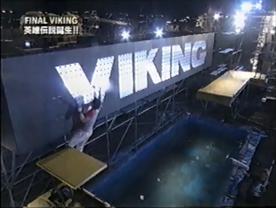 The Ultimate Plank (Ultimate Plank, katakana:アルティメットプランク) is an obstacle from the three Regular VIKING tournaments. It was initially in the Third Fantasy Stage in VIKING 2, when competitors had a choice between attempting this obstacle or the Steady Voyager for the first obstacle. On VIKING 3, it was sent to Final Viking, as the third obstacle.
It is a long wall which spelled VIKING with holes in the letters; the competitors were to cross the length of the wall using two metal pegs, placing the pegs in the holes of the letters to traverse the obstacle. It was 8 meters long for VIKING 2, and despite little difference in the look, widened to 11.2 in VIKING 3. Along with the Rope Maze and Heartbreaker, this obstacle was one of the more physically draining ones on the course due to the competitors only having their arms support their weight, especially by one hand when having to place the peg in a new hole.
After electing to attempt this obstacle over the Steady Voyager, Nagano Makoto was able to clear this obstacle, the only to do so. The only other attempt of this obstacle was the attempt by Minamide Kimihiro in VIKING 3 during Final Viking, who failed immediately after starting when he failed to position his hands correctly to allow the pegs to go inside the holes significantly.
This obstacle served as the basic concept of Monkey Peg(s), which was used as the fifth obstacle on American Ninja Warrior 5 in Miami, American Ninja Warrior 6 in Venice Beach, and as the fourth obstacle on American Ninja Warrior 7 in San Pedro (Military). The differences were this obstacle was combined with the monkey bars (for American Ninja Warrior 5 and 6), and the pegboards and pegs were much smaller and shorter than in VIKING version. Later, a revamped version (called as the Swinging Peg Board) debuted as the eighth obstacle in Los Angeles on Celebrity Ninja Warrior (during Stephen Amell run) and American Ninja Warrior 9.
Competitor's Success Rate
All results based on the Fuji TV broadcast and external information found
| Regular VIKING | Clears | Attempts | Percentage |
| --- | --- | --- | --- |
| 2 | 1 | 1 | 100% |
| 3 | 0 | 1 | 0% |
| Total | 1 | 2 | 50% |
See Also
Community content is available under
CC-BY-SA
unless otherwise noted.