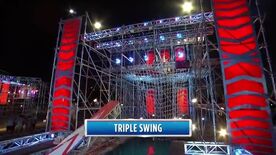 The Triple Swing is an obstacle, firstly introduced as the eighth and final obstacle on American Ninja Warrior 7 in Stage One, replacing the Tarzan Rope section of the Final Climb from the past three American Ninja Warrior seasons.
Competitors must run up an angled platform and leap to a hanging bar. From there, they must swing to the other two bars and then to the Rope Ladder. Once on the Rope Ladder, they must climb up to the top and hit the buzzer before the time ran out, in order to advance to Stage Two.
This obstacle had a similar concept with the Jumping Bars into Cargo Net, which was used as the fourth obstacle on American Ninja Warrior 6 in Venice Beach.
Only four competitors failed on this obstacle, Paul Kasemir, Gordon White, Preston Griffall, and Benjamin Barrett. With the obstacle having a low knock-out rate, as 38 competitors could complete it within the time limit and moved on to Stage Two, it was only used once and replaced by the Flying Squirrel on the next season.
Flying Triple Swing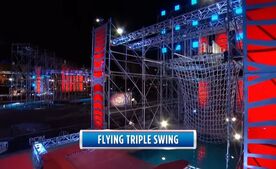 The Triple Swing was modified into the Flying Triple Swing during USA vs. The World 2, in which the angled platform was replaced with a large trampoline. Only one competitor (Tim Champion from Team Europe) failed on this version of the obstacle.
Other Appearances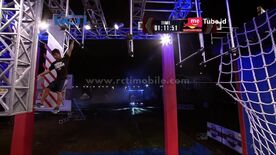 On SASUKE Ninja Warrior Indonesia 2017, the Triple Swing appeared as the sixth and final obstacle during Semifinal Stage 2.
However, unlike on American Ninja Warrior 7, the obstacle featured 4 bars instead of 3, with the first bar acted as an intermediary between the previous obstacle (the Salmon Ladder) and the obstacle itself, and the gap between the third and fourth bar was made shorter. Among the 4 competitors who attempted it (Muhammad Ibnu Rusdy, Angga Cahya, Yosua Laskaman Zalukhu, and Tri Mardyanto), 3 of them (except Muhammad Ibnu Rusdy) could complete it and advanced to Final Stage.
During SASUKE Ninja Warrior Indonesia: International Competition, the obstacle took out Hioki Masashi from Team Japan, when he tried to grab the Rope Ladder with one hand, but failed to do it, resulting him swung back from the fourth bar and fell into the water. Also, a unique completion of this obstacle occurred when Jake Murray from Team USA make the transition from bar to bar and to the Rope Ladder with just one hand (in a similar fashion with monkey bars).
Competitors' Success Rate
All results based on the NBC broadcast and external information found
External Links