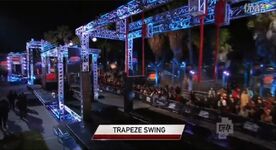 The Trapeze Swing is an obstacle first introduced as the fifth obstacle during Venice Beach finals on American Ninja Warrior 5, replacing the Flying Nunchucks during Venice Beach qualifiers.
Competitors must jump from a trampoline and grab the first trapeze bar. Then, competitors must build enough swing and momentum to make the transition to the second trapeze bar, and finally to the landing platform to advance.
Unlike the Flying Nunchucks, the Trapeze Swing was an extremely easy obstacle, as no competitor failed on this obstacle.
Other Appearances
Ninja Warrior UK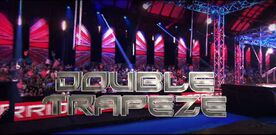 On Ninja Warrior UK 5, the Trapeze Swing (called as the Double Trapeze) appeared as the second obstacle in Heat 3. This time, the obstacle eliminated several competitors.
Australian Ninja Warrior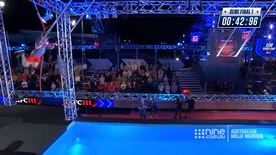 On Australian Ninja Warrior 5, the Trapeze Swing (called as the Twin Trapeze) appeared as the third obstacle in Semifinal 1, with a rope as the medium to reach the obstacle. The distance between two trapezes was revealed as two meters.
Ninja Warrior Germany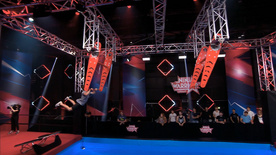 On Ninja Warrior Germany 6, the Trapeze Swing appeared as the third obstacle in Stage Two. Compared to its appearances in other competitions, the handles would have a similar appearance to the Flying Squirrel, albeit the handles are connected together instead of being separate.