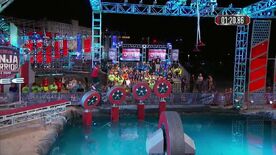 The Tire Run (formerly known as the Jeep Run) is an obstacle, firstly introduced as the fifth obstacle in Stage One on American Ninja Warrior 10, replacing the Parkour Run from the previous season, which didn't eliminate any competitor.
Competitors must run across 4 angled vertically-placed tires, which were in a curved pattern. Then, they must jump and grab a circular handhold, resembling a steering wheel, and ride it around the curve. From there, they must make the transition to another handhold to reach the final tire, which would spin in the direction of the landing platform, and finally made the dismount from the final tire to the landing platform.
Overall, only 3 competitors (Davyon Hancox, Barclay Stockett, and Ryan Stratis) failed on the obstacle. However, it was a still a threat to contend with and much harder than its predecessor Parkour Run, as many competitors stumbled on either the run-up to the first handhold or on the spinning tire, or struggled to build momentum between jumps.
Other Season Appearances
American Ninja Warrior 11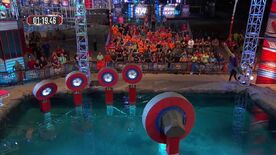 On American Ninja Warrior 11, the Tire Run returned as the fifth obstacle in Stage One. This time, the big tire was placed in the middle, meaning competitors had to swing from the first steering wheel and then balance themselves on it before transitioning to the next steering wheel.
The obstacle became more dangerous, as it eliminated 8 competitors, including Ronald Washington, Conor Galvin, David Wright, Allyssa Beird, Jody Avila, and most shockingly, both Najee Richardson and Drew Drechsel (who later completed the obstacle, thanks to the Safety Pass that he earned during Atlanta finals).
Competitors' Success Rate
All results based on the NBC broadcast and external information found
Trivia
The obstacle was also the third obstacle in American Ninja Warrior history to use a copyrighted name with the other two obstacles (both were used to promote the upcoming movies) being the Ninjago Roll (which was used to promote The Lego Ninjago Movie) and Fallout (which was used to promote Mission Impossible - Fallout). However, this obstacle is the first of the three to promote a product/brand, which in this case, promoted the Jeep Cherokee.

Furthermore, during USA the World 5, the obstacle was renamed Tire Run, due to the fact that it was no longer served to promote Jeep Cherokee.

The second half of the obstacle (the presence of two handholds) resembled the Prism Strike from Ultimate Beastmaster, as both obstacles involved the competitors to ride horizontal-placed wheels across the curved tracks.

This was likely due to the fact that the obstacle courses for both competitions were built by the same company, the ATS Team.
Community content is available under
CC-BY-SA
unless otherwise noted.