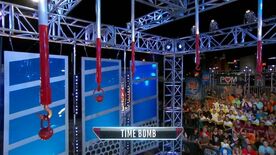 The Time Bomb is an obstacle, firstly appeared on American Ninja Warrior 9 as the penultimate obstacle of Stage Three, replacing the Walking Bar from the previous season.
The obstacle consists of 6 hooks that spin and two rings with spherical handholds 3 inches in diameter. After completing the Peg Cloud, competitors have to hold on to the spheres and must traverse to the hooks using the spheres. After that, they must transfer to the resting bar of the next obstacle, the Flying Bar.
Only Joe Moravsky attempted the obstacle, but failed to complete it. The Time Bomb ultimately concluded his run as the Last Man Standing, making him the only other American besides David Campbell on American Ninja Warrior 2 (SASUKE 26) and American Ninja Warrior 3 (SASUKE 27), to be the Last Man Standing twice.
On American Ninja Warrior 10, the obstacle was replaced by the Cane Lane.
Other Appearances
Ninja Warrior Germany
The Time Bomb appeared as the fifth and penultimate obstacle of Stage Three in Ninja Warrior Germany 5, with only 4 hooks presented. Out of 3 competitors attempted, only Rene Kaselowsky failed, while Kim Marschner and Alexander Wurm could complete it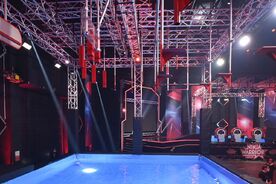 The Time Bomb reappeared at the same position in Ninja Warrior Germany 6, but with more hooks presented. However this time, no one failed here, as Moritz Hans completed and Rene Kaselowsky got his redemption.
Competitors' Success Rate
All results based on the NBC broadcast and external information found
Trivia
This obstacle was similar to the Floating Monkey Bars during Kansas City finals on American Ninja Warrior 9:

Both are upper body obstacles that utilize a pair of apparatus to hold on (bars on Floating Monkey Bars and spherical handholds on Time Bomb)
Both need to place the apparatus on an object (pairs of cradles on Floating Monkey Bars and hooks on Time Bomb)
Both were preceeded by an obstacle with no rests (Salmon Ladder preceeded the Floating Monkey Bars and the Peg Cloud preceeded the Time Bomb)
The last competitor to attempt the obstacle and the course both failed there (Lance Pekus failed on the Floating Monkey Bars and Joe Moravsky failed on the Time Bomb)

So far, the Time Bomb is the only seventh obstacle in Stage Three where a competitor failed to complete it (during American Ninja Warrior's regular season), as Joe Moravsky failed to complete it on American Ninja Warrior 9.

During All Stars Special 3's team competition, two competitors (Jesse Labreck from Team Matt and

JJ Woods

from Team Kristine) attempted this obstacle and both of them could complete it. However, this is most likely to the fact that they did not attempt the earlier obstacles of Stage Three, and consequently had more energy to complete the obstacle.
External Links