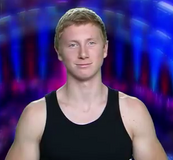 Tim Champion is a British aircraft engineer who competed in the first two Ninja Warrior UK tournaments, reaching the final in both. He has also tested on a variety of Ninja Warrior shows around Europe.
He owns a Youtube channel.
Ninja Warrior UK 1
Tim competed in the first Ninja Warrior UK tournament. He competed in the first heat, and finished second out of 7 competitors who completed the course. He competed in the second semi-final and finished 3rd out of 10 competitors who completed the stage. In the final round, he completed Stage 1 with 53 seconds left, however fell on the Unstable Bridge on Stage 2.
Ninja Warrior UK 2
Tim competed in the second Ninja Warrior UK tournament. He finished first in Heat 4, being only 1 of 3 competitors to complete the stage, out of 50 competitors who attempted it. In the semi final, he finished 7th overall and advanced to the Final. However, in the first stage of the Final, he was disqualified on the Paddle Boards for touching the centre axis, being one of 9 competitors to fall here out of 15.
Ninja Warrior UK 5
After a three season hiatus, due to the show not inviting back the majority of Season 1 and 2's finalists for Series 3 and 4, Tim made his return in Ninja Warrior UK 5 with a bang. He completed his heat yet again and even performed some theatrics at the top of the Warped Wall. In the semi-final, Tim completed the course in 3:31, the 6th fastest time. In his third appearance in the Grand Final, he completed the Eliminator (Stage 1) with nearly two minutes remaining and was one of eight to complete Stage 2. In Stage 3, he was just one of two people to complete the Crazy Cliffhanger and became the first person to clear the Flying Bar, and thus, Stage 3. During the climb up Mount Midoriyama, he noticeably slowed halfway up the tower but kept up enough of a pace to hit the buzzer with just one second remaining, achieving the show's first and only Kanzenseiha.
USA vs. The World
In 2015, Tim competed as a member of Team Europe on American Ninja Warrior's second USA vs. The World Special, taking on Stage 1. There, he performed well, working his way through most of the obstacles with ease and looking set to clear. However, he shockingly fell on the final transition to the cargo net, but despite this, still won the round for Team Europe due to Team Japan's Takahashi Kenji failing the Propeller Bar and Team USA's Kevin Bull failing the Jumping Spider.
Results
| NWUK | Result | Notes |
| --- | --- | --- |
| 1 | Failed Unstable Bridge (Stage Two) | |
| 2 | Failed Paddle Boards (Stage One) | Disqualified. Touched the centre axis. |
| 5 | Kanzenseiha | 1 second left. First to achieve Kanzenseiha in Ninja Warrior UK. |