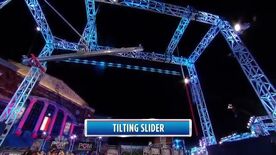 The Tilting Slider is an obstacle, firstly introduced as the second obstacle on American Ninja Warrior 7 in Houston.
It consisted of a see-saw-like suspended track with a set of handles, and a suspended pole. Competitors must grab the set of handles, which could only be moved forward. Then, competitors must work their way up the angled track until it pivoted, allowing them to slide down to the end of the track. Once there, they must make a transition to a pole and swing to the landing platform to advance.
During Houston qualifiers, the obstacle was proven to be brutal, as several competitors had trouble to make a transition to the pole. A total of 51 competitors failed on this obstacle, setting a record as the highest amount of competitors eliminated by one obstacle during city qualifiers in American Ninja Warrior history, beating the Mini Silk Slider from Venice Beach qualifiers of the same season (at 48 competitors).
However, during Houston finals, no competitor failed on this obstacle.
Other Appearances
Ninja Warrior Poland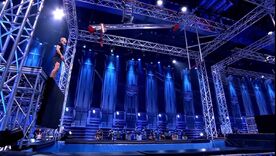 In Ninja Warrior Poland 3, the Tilting Slider appeared as the second obstacle in Heat 3 and 5. The obstacle did not eliminate many participants except two women and a former Polish volleyball player in Heat 3. The obstacle for women was modified; after jumping from the handles of the slider onto the bar, there was a rope in front of it, which the participants could grab to make it easier to jump to a safe platform.
External Links