The Wedge is the 8th obstacle of Los Angeles City Finals of American Ninja Warrior 8. It is officially known for being the toughest city finals obstacle in ANW history. It will also appear as a replacement for Roulette Row in Stage 2, now named the Double Wedge.
Competitors must hop a bar across a wedge-shaped gap, somewhat similar to the Flying Bar, then make the dismount the same distance as the gap. The dismount, however, is made harder by the fact the bar would roll as they swung, because it had a lacrosse ball on both ends. It proved to be incredibly difficult as many competitors fell either from tiring out, keeping the bar even, or attempting to make the dismount. Many competitors, like Ben Melick, Flip Rodriguez, Adam Rayl, Chris Workman, Grant McCartney, Jackson Meyer, Nick Hanson, and even Kevin Bull and Nicholas Coolridge all fell on the obstacle. Only two competitors, Jessie Graff and Josh Levin, were able to get past the obstacle entirely.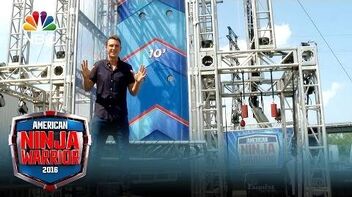 Trivia
The Wedge is officially the hardest known city finals obstacle in ANW history, taking 18 out of the 20 competitors who've faced it, giving it a 90% knockout rate. Shockingly, the obstacle even beats the difficulty of Cannonball Alley in American Ninja Warrior 6, which had four competitors complete it and a 79% knockout rate.
Coincidentally, Ben Melick, who had also fell on Cannonball Alley in season 6 also placed 15th on this obstacle.
The obstacle originally was going to have seperate walls to make it feel more inspired by the Flying Bar obstacle. However, no tester could succeed in getting past that version, so it was scrapped.
The Wedge is actually named after a surfing spot of the same name in Newport Beach, California.