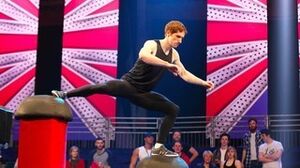 Teige Matthews-Palmer is a micrologist, and a veteran of the first two Ninja Warrior UK Competitions. However, like many other past finalists, he was not invited back to compete in the third or fourth contests but made a comeback in series 5.
Ninja Warrior UK 1
In Ninja Warrior UK 1, he came second place, reaching stage two of the final and ultimately failing the transition from the first to second board on the Unstable Bridge. During the heats and semi-finals he performed well, clearing the Spider Jump in the semi-finals and scaling the Warped Wall with ease.
Fun Facts:
Teige cleared his heat in 51 seconds - a UK record that still stands today!
Teige cleared his semi-final in 2 minutes 30 seconds - a Former UK Record!
Ninja Warrior UK 2
In the second Ninja Warrior UK tournament, he returned with a vengeance, having practiced climbing rope to prepare. He performed well in the heats and semi-finals, achieving the fastest time in his heat and the fastest overall time on the semi-final leaderboard.
Shockingly however, before his finals run he complained of "paddle panic", and ultimately failed the deadly Paddle Boards of stage one, along with eight other finalists that day. In his post-run interview he expressed sadness at his early exit, and apologized to his training partners and friends for his failure.
Fun Facts:
Teige cleared his heat once again in 51 seconds - a UK record tie!
Teige cleared his semi-final in 2 minutes 28 seconds - beating his own UK record!
This record since got destroyed with a 2:09 by Ed Scott the next year.
Teige got disqualified for clinging on the deadly Paddle Boards after a shock fall.
Ninja Warrior UK 5
In Ninja Warrior UK 5, it was said that Teige completed the heats in 1 minute and 8 seconds - the 2nd fastest time of Heat 4. In the semi-Finals, he completed the course in 2:47 coming 2nd, losing only to Paul Allen. In stage 1, he cleared with 2:27 seconds left; clearing with the 2nd fastest time in that stage. In stage 2, his run had close calls while being also sloppy. He almost failed the Cannonball Alley dismount, struggled on the Salmon Ladder, and had trouble placing the pegs while missing a transition as well, but somehow managed to make it with only 3 seconds left. In stage 3, he took on the Crazy Cliffhanger with little energy after making the transition to the 3rd ledge and had nothing left on the 5th transtion and failed.
X-Warrior (极限勇士)
Teige also competed in China's international X-Warrior (极限勇士) competition, as part of Team UK.
Community content is available under
CC-BY-SA
unless otherwise noted.