Tanabe Chie (田邊 智恵), later known during her KUNOICHI days by her married name, Nishimura Chie (西村 智恵), is a former Actress, Stuntwoman, and Suit Actress who is notable for being the first and so far the only Japanese woman to clear First Stage in SASUKE. She is also a member of KUNOICHI All-Stars. However, despite showing potential, she never reached KUNOICHI's Final Stage.
SASUKE Career
She debuted in SASUKE 2, the first ever SASUKE tournament to take place in Midoriyama Studio City. Wearing #41, she impressed many when she clear First Stage with 1.2 seconds left on the clock, becoming the fourteenth competitor that day to do so. However, in Second Stage, her short height proved to be a huge disadvantage, as she can't fit herself inside the walls of Spider Walk. After struggling for around 13 seconds, she finally dropped to the ground, ending her run in the tournament.
She only went on competing once more in the future, competing in SASUKE 3. In a digested performance, she was shown failing the new Rolling Maruta, being one of 41 competitors that day to fail this obstacle. She haven't compete since.
KUNOICHI Career
It was later revealed that her absence in SASUKE is due to her work as Stuntwoman that demanded more of her time, as well as being married and giving birth to her child. However, the desire to compete again can't be prevented and KUNOICHI gave her the opportunity to comeback. She will then sent letter to TBS to invite her for KUNOICHI 2003, which TBS accepted.
In the tournament, given #71, she lived up to everyone's expectation as the only woman competitor to clear SASUKE, clearing First Stage with 9.02 seconds left, despite struggling on Enchū Nori. She would build on this, clearing Second Stage with 2.68 seconds left. She, however, would be the first ever competitor to be disqualified in the history of KUNOICHI after losing her balance while clearing Nirenbou in Third Stage. This would be her best run, turns out, as she never went back to Third Stage since.
The next three tournaments were disappointment for her, as she fail Hasso Tobi in KUNOICHI 2004, then fail Shamenso in KUNOICHI 2006 New Year, and lastly, fail Enchū Nori in KUNOICHI 2006 Autumn, with her performance in KUNOICHI 2006 Autumn even digested. She would however break this chain of failures in KUNOICHI 2007, where she become only one of four competitors to clear First Stage. She then looked on course to another Third Stage attempt, but came agonisingly seconds away, as she was too slow to clear Burandou. She then apologise to her family for being unable to clear Second Stage.
Her last performance will be on KUNOICHI 2009, where she was pitted in a group that involved eventual finalist Arimatsu Tomomi. She was on course to being one of two competitors on her group to clear the stage, but surprisingly went out on Burandou, where she overshot the landing platform. She haven't compete since.
Away from SASUKE and KUNOICHI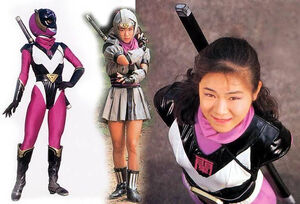 She was perhaps most popular for her time on Japan Action Enterprise, appearing in many of Japanese's Tokusatsu, the most popular one being Ninja Sentai Kakuranger (known internationally as Ninja Rangers), which also starred Kane Kosugi as one of its casts.
Trivia
She is so far the only Japanese woman to clear SASUKE's First Stage. She also for years held the record of being the only woman competitor to clear SASUKE's First Stage, before being broken by Jessie Graff in SASUKE 34, who then went on to be the first woman competitor to clear SASUKE's Second Stage.
She is the first ever woman competitor to have a number in the last ten numbers, wearing #93 in SASUKE 3. This would be the highest number given to a woman competitor until fellow KUNOICHI All-Stars Yusa Masami wore #94 in SASUKE 7. Shimizu Asuka, Izumi Mika, and Jessie Graff will since have higher number than both of them, with Shimizu wearing #95 in SASUKE 8, then #96 in SASUKE 9, Izumi wearing #96 in SASUKE 13, and Jessie wearing #98 in SASUKE 37.
Results
SASUKE
| SASUKE | # | Result | Notes |
| --- | --- | --- | --- |
| 2 | 41 | Failed Spider Walk (Second Stage) | The only Japanese woman competitor to clear SASUKE's First Stage. |
| 3 | 93 | Failed Rolling Maruta (First Stage) | Digest. Highest number given to a woman competitor until Yusa Masami in SASUKE 7. |
KUNOICHI