---
We will be waiting until the official announcement of the tournament by either Monster9 or TBS before creating the article. Anshinritsumai 09:48, September 5, 2010 (UTC)
---

We don't even know if this is gonna happen for real yet. I vote delete until we have airdate, or at least confirmation. TheRCShow 23:34, May 6, 2010 (UTC)
Agreed. Good intentions, but this is just waiting to get spammed by some unregistered idiot. I vote with RC on this one. Scnoi1217 00:33, May 7, 2010 (UTC)
You could lock the page like HairmetalLives did with SASUKE 25 until confirmation as well or I guess you could go with RCShow's prediction. (Iamsofakingcool 05:16, May 7, 2010 (UTC))
I believe the 26th tournament was delayed to the end of october.Bartjks 09:37, September 5, 2010 (UTC)
OMG! Bartjks was right! It is being held in late October thanks to info from Li En Zhi's blog. (Iamsofakingcool 15:25, October 7, 2010 (UTC))
Yes... But I don't know the day of the tape and the day of the broadcast... I'm searching some information for that...Bartjks 13:20, October 11, 2010 (UTC)
I saw the rambling rican blog. Sasuke 26 was officially confirmed: It's going to tape at the end of october. —Preceding unsigned comment added by Bartjks (talk • contribs)
The article has been unlocked to registered users and can be created. On a side note, Bartjks, please don't forget to sign your comments ^^; - Anshinritsumai 22:31, October 12, 2010 (UTC)
Then just leave the writing to me. I know just what to write for it. (Iamsofakingcool 18:06, October 15, 2010 (UTC))
I saw some photos about Sasuke 26: by the photo in http://yfrog.com/eb9btj I saw that there is the return of the sextuple step and immediately after a thing with the scaffolding, and probaly the first stage's colour was returned to the red... I saw other images in the site http://tw.myblog.yahoo.com/n428/article?mid=6298&prev=-1&next=6298&sc=1#yartcmt of Lee En Zhi —Preceding unsigned comment added by Bartjks (talk • contribs)
Competitor Numbers
I re-watched Aoki's run on the SASUKE Navi and now I think he wore #47. Kuramochi is still in his octopus costume in the first picture:
Also, if you look to the left of the truck in the second picture, it looks like Harashima (#46) is walking back to the start line, meaning he just failed.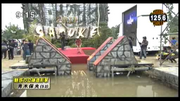 So, I think it went #46 Harashima, #47 Aoki, and Kuramochi was #48.
Also, based on a photo on facebook and at 2:53 of this video: http://www.youtube.com/watch?v=i24gipF-KU4&feature=related It seems Travis Furlanic did not wear #82 and wore no number (however he went between #82 and #83). Scnoi1217 04:49, January 12, 2011 (UTC)
About Brent's run: Yagi was shown right next to Brent while he was about to run. That implies him being 75 instead of 74 unless the guy we "credited" as 74 had the tag. G4fan2007 00:05, January 27, 2011 (UTC)
SASUKE 26 on YouTube
I'd like to add the following under "External Links":
SASUKE 26 can be found on YouTube as a 12-part series. You can find each part here:
71.164.128.197 23:20, July 10, 2013 (UTC)
Community content is available under
CC-BY-SA
unless otherwise noted.