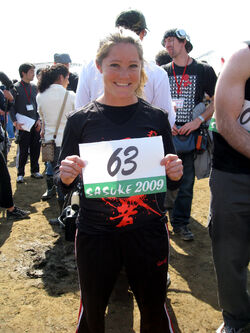 Intro
Prior to each SASUKE competition, every competitor is assigned a number or Start position, which determines their place in the running order. All competitors are given a bib with their number on it; displaying your bib on your person is not required and it has become a recent trend not to do so.
In every stage, entrants start in numerical order. TBS usually runs the competition pretty close to the true running order, while in Ninja Warrior (a G4-edited version of SASUKE that has been shown in most of the countries outside Japan), the runs of competitors were not arranged by numerical order, rather instead in order of who progresses the shortest to the furthest. For example, in SASUKE 14, Kobayashi Shinji wore #68 and was the first to run the Third Stage, but G4 showed his run last as he progressed further than any other competitor.
The start position has even been deviated from in some cases in the main broadcast, particularly between SASUKE 18-27. Digested First Stage fails were often not numbered and were placed out of order from runs not shown, while this even extended to clears in SASUKE 26 and 27. For example, in SASUKE 26, Hashimoto Koji wore 98 but his number wasn't shown (even though he physically wore his number). This was to place his Second Stage run (and fail) before Okuyama Yoshiyuki (who technically went before him as he wore 97), to make it appear as though Okuyama was the last Japanese competitor standing when he cleared Stage 2.
Many SASUKE fans have taken to incorrectly calling the bibs saddlecloths.
Numbering System
Generally, the more skilled and experienced contestants are assigned higher numbers while rookies and joke competitors are assigned lower numbers. However, known celebrities are also consistently assigned higher numbers (e.g. Satō Hiromichi, Wakky, and more recently Darvish Kenji), while some stronger competitors are assigned lower numbers to spread out the clears throughout the First Stage running order (e.g. Hioki Masashi, Black Tigers).
The numbering system we know today evolved over the course of the first handful of tournaments and began to take shape around SASUKE 3 and SASUKE 4. Ōmori Akira was given #100 in SASUKE 3 because of his Final Stage appearances in the prior two tournaments. #100 was awarded to Yamada Katsumi in SASUKE 4 for his near-kanzenseiha in SASUKE 3. Also in SASUKE 4, All-Star Yamamoto Shingo received #98 because of his prior performances.
#100 is assigned to whomever the producers feel has the greatest chance of succeeding. One of the All-Stars always had the number from SASUKE 4 to SASUKE 29, Except SASUKE 18, SASUKE 25 and SASUKE 26; Nagano Makoto has worn it fifteen times while Yamada Katsumi has worn it seven times. Akiyama Kazuhiko -- the first man to achieve kanzenseiha -- has only worn it three times: SASUKE 2, SASUKE 6 and SASUKE 9. Funnily enough, Nagano wore the number from SASUKE 12 to 16, however in SASUKE 17, where he achieved kanzenseiha, he wore #99. This goal was finally achieved in SASUKE 38 when Morimoto Yūsuke achieved kanzenseiha wearing #100.
#99 is generally issued to the second most likely to succeed. It is either given to someone who earned an automatic bid for strong performances in the preceding competition, such as Shiratori Bunpei (SASUKE 13), Levi Meeuwenberg (SASUKE 21), Miyazaki Daisuke (SASUKE 22), Urushihara Yuuji (SASUKE 23) and Kanno Hitoshi (SASUKE 24), or an established competitor, such as Yamada Katsumi who wore the number from SASUKE 14-16, despite failing the First Stage throughout this period.
While the numbering system has remained intact for close to ten years, there have been a few deviations:
Start Position Anomalies
To commemorate the tenth, twentieth, and thirtieth tournaments, SASUKE had special numbering systems. In SASUKE 10, players were ordered #901-#1000 to denote 1,000 First Stage attempts. Likewise, in SASUKE 20, the running order was #1901-#2000 to symbolize 2,000 First Stage attempts. Then again, in SASUKE 30, the running order was #2901-#3000 to symbolize 3,000 First Stage attempts.
A trials competition was held prior to this tournament in which everyone had to compete. The top finishers, despite their experience level, were given the higher bib numbers. Yamamoto Shingo was not among the top 30 to finish (placing 35th) and was assigned the relatively low start position of #76. As an All-Star, he had routinely been given start positions in the 90s. Aoki Yasuo, a scluptor, one of the weakest contestants ever got a high starting position, #79.
After Nagano Makoto's kanzenseiha in SASUKE 17, the entire course was refurbished and it was the plan of the producers that all of the competitors, despite their experience level, would be treated as rookies. All 100 contestants ran a 1200-meter race prior to the First Stage. As people finished, they chose their start position by grabbing their bib at the finish line. The winner, Kato Masafumi chose #77 while Kume Ryouta, who came in second place, chose the coveted #100.
In an attempt to spread out the stronger competitors, All-Stars Akiyama Kazuhiko and Yamamoto Shingo were assigned #20 and #31, respectively. Other skilled but less experienced entrants were also given relatively low start positions, such as Kawahara Takuya receiving #14. The mid-to-high 90s, typically reserved for All-Stars and breakout stars, were assigned to professional athletes, while Takeda Toshihiro, who was the first competitor to clear the Shin-Cliffhanger and made it deep into the Third Stage in the preceding tournament, wore 92, his lowest number since SASUKE 17.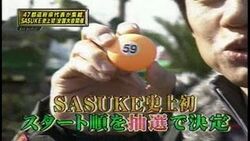 Like SASUKE 18, SASUKE 25 took place after someone (Urushihara Yuuji) achieved kanzenseiha. Instead of a race, however, competitors drew their numbers in a lottery, determining start positions #1-#97. This resulted in veterans Takahashi Kenji, Levi Meeuwenberg and Okuyama Yoshiyuki running in the first half, rather than their customary positions in the high 80s and 90s. SASUKE All-Star Takeda Toshihiro receiving his lowest start position ever, at #70.
The final three numbers were reserved for the three previous champions, Akiyama Kazuhiko (first champion, SASUKE 4; #98), Nagano Makoto (second champion, SASUKE 17; #99), and Urushihara Yuuji (most recent champion, SASUKE 24; #100). In this competition, all competitors wore their bibs, going against the recent trend.
Similar to SASUKE 22, competitors were spread out across the field. Kanno Hitoshi and Hashimoto Kōji, who are traditionally given numbers in the 90's, wore #1 and #20, respectively. Morikami Daisuke, who nearly cleared the First Stage in the previous competition, wore #6. Additionally, veteran competitors who had not progressed far in SASUKE 26 were given low numbers, regardless of their previous performances. Takahashi Kenji, who had made it to at least the Third Stage from tournaments 23-25 and the Final Stage in 24, wore #15, and Tajima Naoya wore #29.
In honor of what was thought to be the final tournament of the All-Stars, the five competing All-Stars - Akiyama Kazuhiko, Takeda Toshihiro, Yamamoto Shingo, Yamada Katsumi, and Nagano Makoto - all received the top five numbers (96 to 100, respectively). Although defending champion Urushihara Yuuji would ordinarily receive a high number, expectantly #100, he was assigned #88, a sacred number in Japan. Other strong competitors were also spread throughout the first 95 numbers; Hashimoto Koji wore #40, while Iketani Naoki wore #76.
In honor of Nagano Makoto's final tournament, the three All-Stars competing received the final three numbers. Takeda Toshihiro was given #98, Yamamoto Shingo was given #99 (for the first time in his career) and Nagano Makoto was given his usual #100.
There were some evident deviations from the typical numbering system in SASUKE 37. Tada Tatsuya and Araki Naoyuki, who had made it deep into the Third Stage in the previous competition, were given numbers 49 and 57 respectively, while Mori Wataru was given number 10. The 90s, while normally saturated with veteran competitors, were mainly reserved for international competitors: Jessie Graff, in particular, wore 98, despite not competing for three tournaments, while Jamie Rahn, who had never competed on SASUKE before, wore 92.
Since SASUKE 30, Hioki Masashi had been rather consistent and he's made it to the Second Stage six times out of the last seven and the Third Stage on four of those occasions, but in order to keep the ratings of the show high, he has routinely been given a number in the 30's to 60's range because he is usually guaranteed to be the first competitor to clear the First Stage. He is usually grouped with the Black Tigers as well as Takasu Seiki (who have also made it to the Second Stage with Black Tigers member Obata Satoshi reaching the Third Stage in SASUKE 34) as the group of competitors who are relied upon to be the first competitors to clear the First Stage. By contrast, Darvish Kenji, since SASUKE 32, has been given numbers exclusively in the 80s and 90s, due to his celebrity status. In SASUKE 36 and 37, he was given numbers 98 and 97 respectively, running after far more seasoned competitors such as Urushihara Yuuji and Drew Drechsel.
Bib Evolution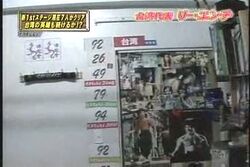 The bibs have gone through very few modifications over the years. The numbers have always been printed in Brush Script, SASUKE 9 excepted. The font has gotten a shade smaller over the years and the material has had different dimensions, as well. A colored SASUKE (year) banner was added in SASUKE 21.
Starting in SASUKE 39, a small star would be added in one corner of the bib signifying a competitor achieving Kanzenseiha, which would be seen in the bibs of Urushihara Yuuji and Morimoto Yūsuke where two stars are added in their bibs signifying both of them achieving kanzenseiha twice.
Saddlecloth Mistranslation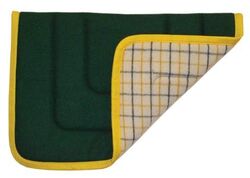 Many fans have taken to erroneously using the word saddlecloth when referring to the bibs. This stems from Google.com mistakenly translating the Japanese word zekken (ゼッケン) as such. A saddlecloth (pictured right) is a piece of equestrian equipment. The correct word, "bib," is used in the English lexicon in sports such as track and field, speed skating, competitive skiing, or any other individual sport that identifies competitors with numbers. This refers to a vest or piece of fabric than an athlete wears with his number displayed.
Best Known Results By Start Position
°Udagawa Keiji,

成尾 英己

,

Takemoto 裕昭

, Itō Yoshiharu, Aizawa Shinichi, Shibada Seigo, Takahashi Toru and

Takimoto 晴夫

are the only competitors with their respective start positions (#5, #9, #14, #23, #28, #32, #35, and another #35) to reach the Second Stage. However, since their runs weren't broadcast, it is unknown which obstacles they reached.
Note: Takeda Toshihiro made it to the Salmon Ladder in SASUKE 18. Due to arriving late to the tournament and missing the race, he was not given a start position. During the broadcast, he was shown in the range of #86 and #87. Also, Satō Hiromichi made it to the Flying Chute in the same tournament, but did not wear a number as he went in between #80 and #81.
Note: There have been several other instances in which a competitor was not issued a start position or had an unknown start position (such as Travis Furlanic in SASUKE 26). On other occasions, some competitors have even been labeled with incorrect start positions; for example, Brent Steffensen was listed as #62 in SASUKE 26, but in actuality, he ran somewhere in the mid-70s.
Other