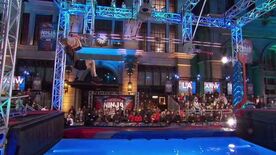 The Spring Forward is an obstacle, firstly introduced as the third obstacle on American Ninja Warrior 11 in Los Angeles.
It consisted of three bars, each was connected to a spring at the end (left side for the first and third bars and right side for the second bar), making it bouncy when the competitors grabbed on them. The first two bars were straight, while the third bar was angled by 20 degrees. Competitors must make the transition from one bar to another and then make the dismount to the landing platform.
During Los Angeles qualifiers, 13 competitors failed the obstacle, including Thomas Kofron, Derek Miyamoto, Anthony Trucks, Emmi Rose, Lee Cates, Steven Barbarito, and Alex Weber. Frequently, competitors would be deterred from the springing of the bar, which would act as an interfering force and cause them to lose their momentum. This obstacle ultimately served as the cut-off for making into the top 30, likely due to the high amount of casualties on the first two obstacles (the Shrinking Steps and Walk the Plank).
During Los Angeles finals, only Thomas Kofron and Steven Barbarito fell on this obstacle.
Other Season Appearances
American Ninja Warrior 12
On American Ninja Warrior 12, the Spring Forward appeared as the second obstacle during the second episode of the semifinals, and later during the finals. This time, the obstacle featured four bars instead of three.
During the semifinals, no competitor fell on the obstacle. However, during the finals, it shockingly eliminated Tyler Gillett from the competition.
Competitors' Success Rate
All results based on the NBC broadcast and external information found
| ANW | Clears | Attempts | Percentage |
| --- | --- | --- | --- |
| ANW11 (qualifiers) | 26 | 39 | 66.67% |
| ANW11 (finals) | 28 | 30 | 93.33% |
| ANW12 (SF EP 2) | 30 | 30 | 100% |
| ANW12 (Finals) | 26 | 27 | 96.30% |
| Total | 110 | 126 | 87.30% |
Trivia
The Spring Forward during American Ninja Warrior 11's Los Angeles qualifiers became the first ever instance in American Ninja Warrior history that the third obstacle became the cut-off for advancing to city finals, as four competitors (Lee Cates, Thomas Kofron, Anthony Trucks, and Steven Barbarito) failed on this obstacle but still made it into the top 30. Because of this, the Spring Forward ultimately has the lowest amount of attempts out of any third obstacle during city qualifiers round, as only 39 competitors attempted the obstacle.
External Links