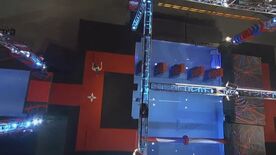 The Split Decision is a new feature, firstly introduced on American Ninja Warrior 13.
In essence, this feature is a point on the course where the competitors will have to pick between two different obstacles, a very similar feature to that of the Crossroads in VIKING, and has been used in multiple international Ninja Warrior formats such as Ninja Israel and Ninja Warrior France, or also can be traced to the split-stage format of SASUKE Vietnam.
This format appears during the qualifiers, semifinals, and Stage One of the national finals:
In the qualifiers, the Split Decision occurred at the third obstacle, in which competitors must choose between two different balance obstacles.
In the semifinals, the Split Decision occurred at the ninth obstacle, giving competitors the opportunity to choose between an intense upper body obstacle or a difficult balance obstacle.
In the national finals, the Split Decision occurred at the eighth and final obstacle in Stage One.
Obstacle List
Competitors' Success Rate
All results based on the NBC broadcast and external information found
ANW
EP
Clears
Attempts
Percentage
ANW13
QF EP 1
33
48
68.75%
QF EP 2
41
52
78.95%
QF EP 3
39
51
76.47%
QF EP 4
43
48
89.58%
QF EP 5
43
53
81.13%
SF EP 1
4
15
26.67%
SF EP 2
5
7
71.43%
SF EP 3
6
9
66.67%
SF EP 4
12
17
70.59%
Stage One
27
37
72.97%
Total
253
337
75.07%