Spider Walk (スパイダーウォーク) is an iconic Second Stage obstacle that has been used in all of the first seventeen SASUKE tournaments, then from SASUKE 28 onwards, however, during the tournaments it was absent, the idea of traversing between two walls were inserted in Jumping Spider, which appear from SASUKE 18 to SASUKE 24, then in SASUKE 26 and 27. It is derived from an Event with the same name in Kinniku Banzuke.
The obstacle requires the competitors to traverse the space between two parallel walls without touching the ground or grabbing the top part of the walls, from right to left. The gap between the walls is 1.2 metres, enough for the competitors' hands and feet to reach, except for for Tanabe Chie in SASUKE 2, when she couldn't prop herself to the walls.
Most of the top competitors have failed here at least once, with Yamada Katsumi being famously disqualified here at one point for failing to remove his gloves while attempting the obstacle. There have been four versions of this obstacle, with Yamamoto Shingo being the only competitor to attempt all four versions at least once.
First Version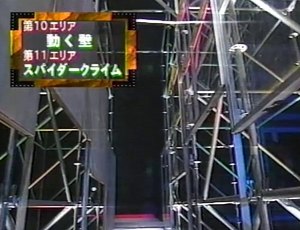 The first version of Spider Walk, appearing from SASUKE 1 to SASUKE 4, was by far the longest out of the four versions existed, with competitors sometimes taking as much as half to almost all of the allotted time limit.
In this version, there are eight medium walls being put horizontally across. Interestingly, in the first three tournaments, it was divided into three parts, being:
Spider Walk (スパイダーウォーク), which is the first two walls, also referring to the whole structure of the obstacle.
Ugokukabe (動く壁), which is the third wall, noticeably being the only non-static wall.
Spider Climb (スパイダークライム), which are the last five walls that has walls built on an incline (not to be confused with Spider Climb that will appeared on Final Stage in the future).

TBS officially counts the three parts as separate obstacles. However, in English broadcasts, both Ugokukabe and Spider Climb were counted as parts of Spider Walk.
In SASUKE 4, possibly due to the introduction of Arm Bike and Cliffhanger in Third Stage, Ugokukabe is no longer counted as an official obstacle, merely being considered as a medium to Spider Climb in a similar fashion of how Taki Kudari is to Free Climbing in SASUKE 2. In its first three tournaments, throughout the entire obstacle, there were only mats to fall on. In SASUKE 4, the bottom of the obstacle's first half was now provided water to fall on, leaving only the obstacle's second half, which is Spider Climb section, to have mats to fall on.
This version was dubbed as the toughest version in SASUKE, as the obstacle eliminated almost half of the competitors who attempted it. It also caused havoc for two future members of SASUKE All-Stars, Yamada Katsumi and Akiyama Kazuhiko, as the former fail on it in SASUKE 2, while the latter struggled on it and timed out later on the stage in SASUKE 2 and 3. However, after Akiyama himself achieved Kanzenseiha in SASUKE 4, Spider Walk will be modified.
Second Version
The second version of Spider Walk appeared in SASUKE 5 and 6, now being placed as the second obstacle. It was shortened to five large sets of glass panels, with the second and fourth panels moved independently and again dubbed as Ugokukabe (動く壁), although like in SASUKE 4, it was not counted as an official obstacle. From this version onwards, the area under the whole obstacle was filled with the water.
In its debut, it took out Takeda Toshihiro and Yamada Katsumi, with the former had his feet slipped right away in the beginning, while the latter had his feet slipped when making transition to the third panel. However, every competitors that attempted Second Stage in the following tournament all manage to clear it easily, prompting another modification from the producers.
Third Version
The third version of Spider Walk appeared from SASUKE 7 to SASUKE 17, making it the version with the most appearances in SASUKE (tied with the fourth version, however, it had received major modification at one point). This time, the panels were arranged like an upside down "J". Competitor must go 3 metres upwards, then 5 metres horizontally, before going 5 metres downwards. After that, instead of reaching for a pole, competitors must reach a horizontal bar to make the dismount to the landing platform, although in its debut tournament, due to its placement that was higher compared to the other tournaments, some competitors skipped it entirely.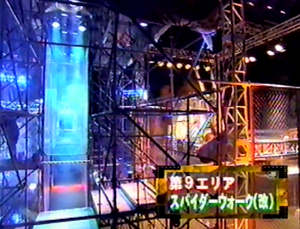 Interestingly, the obstacle was initially named in SASUKE 7 as Spider Walk (Kai) [スパイダーウォーク (改)], literally Altered Spider Walk, but this name was barely used at all during the tournament and it was reverted back to the original naming in the following tournament.
With the introduction of Chain Reaction in the same tournament, competitors were advised to wear gloves for safety reasons while attempting Chain Reaction, but they must discard them before attempting Spider Walk or they will be disqualified. This particular rule came into play when Yamada Katsumi forgot to take off his gloves during his run in SASUKE 12. Even though he later clear Second Stage with 3.55 seconds left, he was then disqualified.
Starting in this version, sticky spray was provided at the start of the obstacle, which competitors could use before attempting the obstacle in order to prevent their hands/feet got slipped. However, several competitors skipped the spray entirely in order to save time, which sometimes proved to be costly as few of them failed after slipped at the panels, most notably Kane Kosugi in SASUKE 7 and Honma Kōta in SASUKE 17.
When Kanzenseiha was once again achieved, this time by Nagano Makoto in SASUKE 17, this obstacle will be replaced by Salmon Ladder, before making its return six years later.
Fourth Version
In SASUKE 28, Spider Walk will returned to Second Stage after a six-year absence. The structure of the panels were the same as the one used on Jumping Spider, but without the trampoline and with a pair of panels added at the end. The extension was placed a few centimetres lower than the fourth panel.
In SASUKE 30, the obstacle was modified with the extended panel being the same height as the fourth panel in order to introduce Spider Drop, where competitors must drop down to another set of panels to reach the end. It, however, wasn't counted as an official obstacle until the following tournament, in which it was modified with the replacement of the black mats with a curved panel.
Seen more as time waster to sapping the time away before Backstream, only three competitors ever fail this obstacle, being Nagasaki Shunsuke in SASUKE 34, Nakagawa Takaharu in SASUKE 36, and Suzuki Yusuke in SASUKE 37.
KUNOICHI Appearance
Spider Walk (スパイダーウォーク) will later appeared as the second obstacle in BLUE Stage (Second Stage) from KUNOICHI 2017 Spring onwards, with the obstacle consisted of three-panel-long straightaway from left to right, which is the opposite of SASUKE. The design was somewhat similar to Spider Wall/Spider Jump, which was used as the fourth obstacle during Qualifying and Semi-Final of American Ninja Warrior 1 and 2, with the walls arranged in a straight line.
It act more as time waster and such, only two competitors ever fail this obstacle, being Asahina Aya and Saiki Reika (both doing so in KUNOICHI 2018).
Competitors' Success Rate
All results based on the TBS broadcast and external information found.
SASUKE
| SASUKE | Clears | Attempts | Percentage |
| --- | --- | --- | --- |
| 1 | 15 | 23 | 65.22% |
| 2 | 17 | 34 | 50% |
| 3 | 9 | 13 | 69.23% |
| 4 | 16 | 37 | 43.24% |
| 5 | 1 | 3 | 33.33% |
| 6 | 5 | 5 | 100% |
| 7 | 5 | 6 | 83.33% |
| 8 | 5 | 5 | 100% |
| 9 | 6 | 7 | 85.71% |
| 10 | 4 | 5 | 80% |
| 11 | 10 | 10 | 100% |
| 12 | 10 | 11 | 90.91% |
| 13 | 10 | 10 | 100% |
| 14 | 11 | 11 | 100% |
| 15 | 7 | 7 | 100% |
| 16 | 16 | 16 | 100% |
| 17 | 10 | 11 | 90.91% |
| 28 | 4 | 4 | 100% |
| 29 | 17 | 17 | 100% |
| 30 | 17 | 17 | 100% |
| 31 | 10 | 10 | 100% |
| 32 | 8 | 8 | 100% |
| 33 | 7 | 7 | 100% |
| 34 | 16 | 17 | 94.12% |
| 35 | 8 | 8 | 100% |
| 36 | 14 | 15 | 93.33% |
| 37 | 8 | 9 | 88.89% |
| 38 | 10 | 10 | 100% |
| Total | 276 | 336 | 82.14% |
KUNOICHI
| KUNOICHI | Clears | Attempts | Percentage |
| --- | --- | --- | --- |
| 2017 Spring | 5 | 5 | 100% |
| 2017 Autumn | 5 | 5 | 100% |
| 2018 | 8 | 10 | 80% |
| Total | 18 | 20 | 90% |
Other Appearances
American Ninja Warrior: Ninja vs. Ninja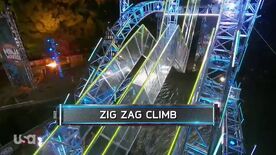 A variation of the Spider Walk appeared on American Ninja Warrior: Ninja vs. Ninja, as the ninth and final obstacle of the extended course during Final Matchup, in the form of the Zig Zag Climb.
On this obstacle, the walls were 57 feet in length and arranged in a zig zag formation, requiring the competitors to go up in an angle first, then go down, and once again go up to reach the buzzer at the top. Also, similar to the Spider Walk used during the first 3 SASUKE tournaments, the area below the obstacle was filled with safety mats. Overall, 9 competitors fell on the obstacle throughout the season, including Sean Bryan, Najee Richardson, Grant McCartney, Jon Alexis Jr., Ian Dory, Mathis Owhadi, JJ Woods, Brian Burkhardt, and Barclay Stockett.
SASUKE Ninja Warrior Indonesia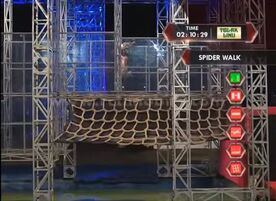 On SASUKE Ninja Warrior Indonesia, the Spider Walk appeared as the second obstacle on Semifinal Stage 1, which was similar to the one used in SASUKE 28.
Ninja Warrior UK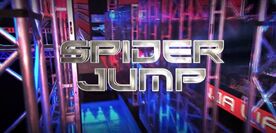 On Ninja Warrior UK 3 and Ninja Warrior UK 4, the Spider Walk appeared as the first obstacle in the finals' Stage 2. However, the obstacle was called as the Spider Jump (not to be confused with the Jumping Spider, in which on Ninja Warrior UK and Ninja Warrior UK 2, the obstacle was called as the Spider Jump).
For the Spider Jump on Ninja Warrior UK 3, the sets of walls were arranged in almost similar fashion to the Spider Walk used from SASUKE 28 onward. While on Ninja Warrior UK 4, the sets of walls were arranged in a similar fashion to the Spider Walk used from KUNOICHI 9 onward, except there was a gap between each set of walls (similar to the Bouncing Spider).