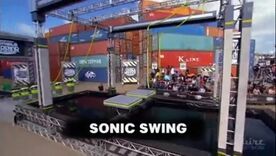 The Sonic Swing is an obstacle, firstly introduced as the first obstacle on every season of Team Ninja Warrior (including its rebranded as American Ninja Warrior: Ninja vs. Ninja).
Competitors have to run full speed across four angled steps (which increase in height), arranged in a straight line, and then grab the rope to swing to the platform (in a similar fashion with the Sonic Curve, except the steps were not positioned in a curve). Then, they must grab another rope to swing to the next platform to advance.
Since Team Ninja Warrior is a competition where competitors compete each other in a side-to-side course, several competitors make mental mistake by grabbing the rope too low and having not enough momentum to swing to the platform.
On American Ninja Warrior: Ninja vs. Ninja, with modifications all throughout the course, during the individual races (the first 3 heats), competitors would run in a longer distance, having to run the runway before attempting the obstacle. However, during the relay races (the last 2 heats), the first competitor from each team would start in the same distance as the previous Team Ninja Warrior seasons.
Community content is available under
CC-BY-SA
unless otherwise noted.