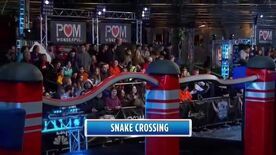 The Snake Crossing is an obstacle, firstly introduced as the third obstacle on American Ninja Warrior 7 in Pittsburgh.
It consisted of two tilted S-shaped balance beams, similar to the Sekisho Michi from KUNOICHI 2, separated by three dancing stones.
Competitors must traverse the stones and beams to reach the landing platform. The first beam was designed so that the competitors began walking slightly downhill, and then uphill in a straight line. The second beam was designed so that the competitor walked right before coming back left, and then right again following the S-shape. Since the beams were tilted, a lot of competitors had trouble getting past the middle of the second beam. To avoid this part, some competitors leaped to the last stone from the first half of the second beam. Competitors were not allowed to use their hands while attempting this obstacle, or they would be disqualified if they did it.
The Snake Crossing was proven to be one of the most tricky obstacles in American Ninja Warrior history, as it was fairly easy for competitors to overthink the obstacle, especially at the second half. During Pittsburgh qualifiers, the obstacle took out 50 competitors, including Chris Wilczewski, Melanie Hunt, Dan Galiczynski, and Najee Richardson in his first American Ninja Warrior appearance.
In the city finals, six more competitors failed this obstacle during Pittsburgh finals, including Michelle Warnky and Miles Avery.