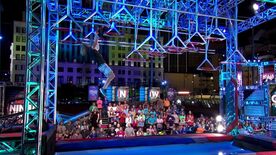 The Slingshot is an obstacle, firstly introduced as the fifth obstacle on American Ninja Warrior 11 in Cincinnati.
The concept of this obstacle was incredibly similar to the Flying Bar or Bar Hop, where competitors must make a transition from one cradle to another by holding onto a bar. However, the Slingshot featured eight cradles, each was made of bungee cords and varied in size. Also, the bar for the Slingshot was attached to a wire in the middle (similar to the bar for the Flying Bar since SASUKE 33, on SASUKE Ninja Warrior Indonesia 2017, and from SASUKE Vietnam 3 onwards).
During Cincinnati qualifiers, the obstacle was proven to be challenging, as it knocked out 16 competitors, including Jeri D'Aurelio, Chris DiGangi, Derrick Pavoni, and both members of the Towers of Power, Brandon Mears and Dan Polizzi. Since exactly 30 competitors attempted the obstacle, every competitor who reached the Slingshot advanced to Cincinnati finals.
During Cincinnati finals, the number of cradles was reduced to six. The obstacle eliminated 7 competitors this time, including Phillip Hucke, Mike Wright, and Jesse Maurer. With the exception of Maurer, every competitor who fell on this obstacle during Cincinnati finals had previously failed during Cincinnati qualifiers.
Other Season Appearances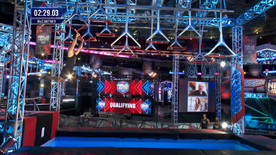 American Ninja Warrior 12
On American Ninja Warrior 12, the Slingshot appeared as the fifth obstacle during the first episode of qualifiers and the second episode of the semifinals. This time, the obstacle featured seven cradles to jump on.
It knocked out 10 of the 18 competitors who attempted it during the qualifiers, including Flip Rodriguez, Sandy Zimmerman, Seth Rogers, and Casey Suchocki. The Slingshot was again served as the cut-off for advancement to the semifinals in both the top 12 competitors and the top 3 women.
During the semifinals, five competitors fell on the obstacle: Alex Carson, Sean Bryan, Alex Nye, Tage Harrington, and Jeri D'Aurelio.
Other Appearances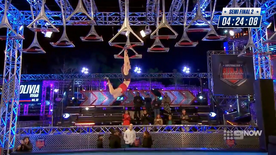 On Australian Ninja Warrior 4, the Slingshot (named as the Sling Shot) appeared as the fifth obstacle during the semifinals, and was proven to be the most brutal obstacle during the semifinals. The obstacle eliminated many top competitors such as Ashlin Herbert (making it the first time he did not qualify to the grand final) and Ben Polson (prior to achieving total victory on that season). In Semifinal 2, the obstacle became the cut-off for advancing to the grand final.
Competitors' Success Rate
All results based on the NBC broadcast and external information found
| ANW | Clears | Attempts | Percentage |
| --- | --- | --- | --- |
| ANW11 (qualifiers) | 14 | 30 | 46.67% |
| ANW11 (finals) | 15 | 22 | 68.18% |
| ANW12 (QF EP 1) | 8 | 18 | 44.44% |
| ANW12 (SF EP 2) | 17 | 22 | 81.48% |
| Total | 54 | 92 | 58.70% |
Trivia
External Links
Community content is available under
CC-BY-SA
unless otherwise noted.