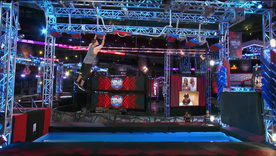 The Sideways is an obstacle, firstly introduced as the fifth obstacle during the fourth episode of qualifiers on American Ninja Warrior 12.
Competitors must swing sideways along three tilting boards, before rotating 90 degrees to grab a handle on a perpendicular board which would slide down a short track. Then, they must make there way across three more boards, very similar to the first three, before dismounting to the landing platform. This obstacle also added a rotating platform at the end before the landing platform, which makes this obstacle the first in American Ninja Warrior history to feature an automatic component. It took out seven competitors, including Karsten Williams, Meagan Martin, Kyle Schulze, Jeri D'Aurelio, and Sophia Oster.
The obstacle returned in the first episode of the semifinals, but the handle on the perpendicular board was removed, and competitors instead grabbed the board directly at the sides in a similar fashion to the Unstable Bridge or Wave Runner. Despite the obstacle taking out seven competitors in qualifiers, no competitor failed on it.
Other Season Appearances
American Ninja Warrior 13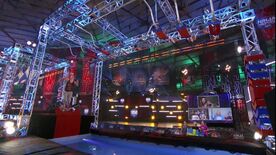 The Sideways returned as the fifth obstacle in the fifth episode of the qualifiers on American Ninja Warrior 13, with the same structure from the previous season's qualifiers.
It eliminated 18 competitors, exactly half of those who attempted it. Many notable veterans were among those who failed it, including Flip Rodriguez, Megan Rowe, Taylor Amann, Jamie Ross, Leif Sundberg, Andrew Yori, Donovan Metoyer, Marquez Green, Nathan Green, Ben Martin, Kyle Schulze (for the second year in a row), Sem Garay, Logan Broadbent, and Nick Hanson. The obstacle served as the cut-off for the top 30 competitors.
Competitors' Success Rate
All results based on the NBC broadcast and external information found
External Links