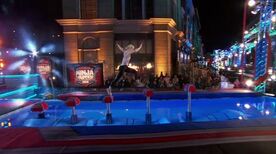 The Shrinking Steps is an obstacle, firstly introduced as the first obstacle during city qualifiers round on American Ninja Warrior 11, replacing the Floating Steps from the past 3 American Ninja Warrior seasons.
Competitors must run across 5 steps and then grab a rope to reach the landing platform (in a similar fashion to the Sonic Swing). The steps went progressively higher and smaller when the competitors ran on them.
In its first season appearance, the obstacle had taken out competitors such as Selena Laniel, Paige Chapman, Kavon Sadler, Annie Dudek, Kat Ratcliff, Carl Fantauzzo, Jessica Helmer, Jimmy Choi and John Loobey.
Other Appearances
Australian Ninja Warrior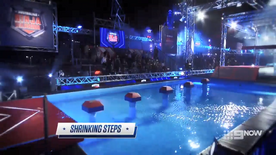 On Australian Ninja Warrior 5, the Shrinking Steps appeared as the first obstacle during the heats.
Ninja Israel
The Shrinking Steps would appear as the first obstacle of the qualifiers of Ninja Warrior Israel 3. The number of steps during its appearance would be reduced to four.
Competitors' Success Rate
All results based on the NBC broadcast and external information found
ANW
City/EP
Clears
Attempts
Percentage
ANW11
Los Angeles qualifiers
70
96
72.92%
Atlanta qualifiers
91
98
92.86%
Oklahoma City qualifiers
86
95
90.53%
Seattle-Tacoma qualifiers
92
96
95.83%
Baltimore qualifiers
88
99
88.89%
Cincinnati qualifiers
90
104
86.54%
Los Angeles finals
33
33
100%
Atlanta finals
34
34
100%
Oklahoma City finals
31
31
100%
Seattle-Tacoma finals
33
33
100%
Baltimore finals
34
34
100%
Cincinnati finals
31
31
100%
ANW12
QF EP 1
36
37
97.3%
QF EP 2
35
36
97.22%
QF EP 3
36
39
92.31%
QF EP 4
37
39
94.87%
SF EP 1
30
30
100%
SF EP 2
30
30
100%
Finals
27
27
100%
Women's Championship
18
18
100%
ANW13
QF EP 1
68
79
86.08%
QF EP 2
68
77
88.31%
QF EP 3
68
73
93.15%
QF EP 4
73
77
94.81%
QF EP 5
77
78
98.72%
SF EP 1
39
39
100%
SF EP 2
41
41
100%
SF EP 3
40
41
97.56%
SF EP 4
38
38
100%
Total
1,474
1,583
93.11%
External Links