Sandy Zimmerman is a P.E. teacher and mother of three who has competed on three seasons of American Ninja Warrior.
Her husband, Charles Zimmerman, has competed on American Ninja Warrior 10, and her children have competed in American Ninja Warrior Junior.
American Ninja Warrior 8
Sandy first competed on American Ninja Warrior 8 in Los Angeles. Her run was all cut, but on her submission video for ANW 9, it was revealed that she failed Tick Tock.
American Ninja Warrior 9
Sandy returned in Los Angeles for American Ninja Warrior 9. Her qualifying run was digested, but it showed that she failed the Cannonball Drop and did not advance to the city finals.
American Ninja Warrior 11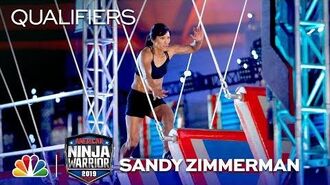 Sandy returned for American Ninja Warrior 11 in Seattle/Tacoma. In qualifying, she finally made it past the second obstacle, this time being the Lunatic Ledges. She went on to become the first competitor of the night to get past the Lightning Bolts, and later scaled the Warped Wall on her second attempt, thus becoming the first mom in American Ninja Warrior history to hit a buzzer. She placed 13th overall and 2nd among the women to move on to the city finals.
On her first appearance in the city finals, she put up yet another strong run on the course, making it as far as the eighth obstacle, the Floating Monkey Bars, before falling. However, she was on the bubble by the time Jessie Graff made it to the same obstacle, and at the end of the round, just missed out on the national finals, placing 14th overall and 3rd among the women.
Although she just barely missed out on advancing, she was a tester for Stage One, being shown in the second episode of Stage One as she tested the seventh obstacle, the Diving Boards.
Trivia
During ANW 11's Tacoma qualifiers, she revealed on broadcast that won a judo championship at the age of 12, having a background in martial arts. In a coincidental timing, her tournament actually happened exactly 30 years ago on the exact day of the qualifying round (May 11) in the exact same location, the Tacoma Dome.
Community content is available under
CC-BY-SA
unless otherwise noted.