Saito Tomoyuki (齋藤 知幸), later known simply as Tomoyuki (知幸), is a Model and former Muscle Musical member who has competed on SASUKE eight times. He also competed in the first three VIKING tournaments. He shown a great potential as he usually make it deep into the stage in both SASUKE and VIKING, but most of his runs ended in him timing out.
SASUKE Career
He first appeared in SASUKE 10. In a digested performance, he was shown struggling on Rope Climb with three seconds left (possibly halted by Tarzan Rope) and eventually timing out. However, this means he was sixth best on the tournament, as he is the closest one to the red button and become only one of ten to clear Soritatsu Kabe in that tournament.
His Tarzan Rope's struggles continue when he fail on it in another digested performance during SASUKE 12, as well as failing it on SASUKE 13 Trials, placing him at 32nd. However, this seems enough to impress the producers and they decide to invite him to the actual tournament. However, he was cut in the tournament's broadcast, although it is known he fail Soritatsu Kabe for the first time.
He would train hard to increase his speed and this seems will paid off in SASUKE 14, when he had almost 30 seconds left for Rope Climb. However, he was very slow climbing it and eventually timing out once more, this time late by about 0.2 seconds.
He then had hiatus to compete in VIKING (see below), before returning in SASUKE 16. He finally avenge his past defeats and cleared First Stage, however, he become one of seven victims of Metal Spin in Second Stage. He will then return in SASUKE 18 and 19, however, both of his runs are cut from broadcasts, though it is known he fail Flying Chute on both tournaments.
He will then had hiatus once more and returning ten tournaments later at SASUKE 29. In yet another digest performance, he is shown to once again timed out, this time at Ni Ren Soritatsu Kabe. He hasn't competed since then.
VIKING Career
He also competed in the first three VIKING tournaments. In the first tournament, he got a high number, #72 (VIKING 1 only had 80 competitors), however, despite a good pace, he stumbled by Parley and failing it after answering 47 + 59 with 108.
He was shocked by his performance and then go to learn Math intensively. This paid off as he finally clear Parley in VIKING 2 (even taking time to clapping for his victory). Despite the struggle on later obstacles, he will clear First Marine Stage. However, Rope Maze in Second Adventure Stage was proven to be too strong for him and he failed there.
In VIKING 3, he once again struggled with Parley, eventually failing there once more. He then not competed in VIKING 4 and with it being the last VIKING tournament, he never get another shot of revenge at Parley once more.
Away from SASUKE and VIKING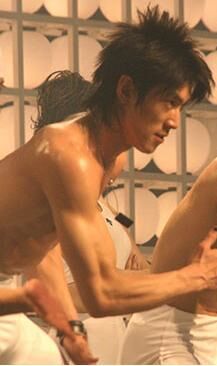 Beside SASUKE 10 and 29, whenever he is competing, he was a member of Muscle Musical. Due to the split occured inside Muscle Musical in 2007, he left the group to join PADMA, a group resulted from Muscle Musical's split.
He also competed in four Geinojin Sportsman No. 1 tournaments, finishing twice as Runner-Up.
Results
SASUKE
VIKING
| VIKING | # | Result | Notes |
| --- | --- | --- | --- |
| 1 | 72 | Failed Parley (First Marine Stage) | Answer 47 + 59 with 108. |
| 2 | 54 | Failed Rope Maze (Second Adventure Stage) | |
| 3 | 51 | Failed Parley (First Marine Stage) | Answer 83 + 79 with 172. |