SASUKE All-Stars (サスケオールスターズ) are a group of competitors formerly considered by TBS and the fans as the most likely to achieve success on the course. They were often given the highest numbers (#96 and above) as a result (though in more recent tournaments some have received lower, more standard placements). They also do external events together, such as the Maguro Festival and even VIKING.
History
The term "SASUKE All-Stars" was first coined all the way back in the Navi of SASUKE 6, with the title given to competitors who were considered by many as the most likely to achieve success in SASUKE.
During the program, thirteen competitors were listed as All-Stars, those being (in alphabetical order):

They were considered All-Stars at this point mainly due to their success in previous SASUKE appearances, as well as in other tournaments like Sportsman and Olympics.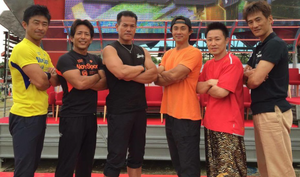 However, by the time of SASUKE 9, most of the members either retired or didn't live up to expectations while competing on SASUKE, leaving only six active members: Akiyama, Shane, Takeda, Yamada, Yamamoto, and Yusa. However, Shane would also retire from SASUKE by the end of the tournament, leaving All-Stars with only four active members. But, following a breakout performance in the same tournament, Nagano Makoto was unveiled as a new member of SASUKE All-Stars in SASUKE 10. Yusa would also retire after SASUKE 14. However, one additional competitor, Shiratori Bunpei, would be added as the last member of All-Stars in the same tournament due to his notable success in the then-most-recent two tournaments. Thus, SASUKE All-Stars consisted of, in total, fifteen members (counting from the first time the term was coined), although TBS and fans now officially use the term referring only to the six members who were active as of SASUKE 14 onwards.
Out of all fifteen members, Akiyama Kazuhiko and Nagano Makoto were the only two to achieve Kanzenseiha, doing so in SASUKE 4 and SASUKE 17, respectively.
Following the events of SASUKE 28 (the first tournament since Monster9's liquidation), SASUKE All-Stars were officially disbanded as a group and were thought to be forbidden from returning to further competitions; both of these changes were reversed in the events leading up to SASUKE 29, although Akiyama chose to remain retired. Since then, Nagano also retired in SASUKE 32, albeit returning six tournaments later in SASUKE 38. Despite the group being considered officially as "Former All-Stars" starting in SASUKE 29, the "Former" part of the title disappeared as the tournament progressed.
Out of 39 SASUKE tournaments, never have all fifteen present and former members of SASUKE All-Stars competed together in a tournament. If counting only the main six All-Stars, they have competed together on only seven occasions, being SASUKE 9, 11, 12, and 14 to 17. However, all six were present together during SASUKE 24 and 32.
Main Members
Below are the profiles of the main six members of All-Stars, listed by the time of their debut:
A Training Gym Owner and former Gas Station Manager that is best known for his flawless attendance record, having competed in every SASUKE since the beginning. Due to his #7 bib in the first tournament, he had the honour of being the first All-Stars to run the course. He is also the only person to have attempted the first and second version of Final Stage. During his career in gas station, he can be seen wearing his trademark gas station uniform shirt and cap (always with Esso/Mobil branding); he has only competed without it twice (first and fourth tournaments). He continues to compete to this day.
Appearances
Best
Worst
Status
First
Last
SASUKE 1
SASUKE 39
Failed Tsuna Nobori (Final Stage)
SASUKE 3
Failed Rolling Hill (First Stage)
SASUKE 31
Competing
A former Propane Tank Delivery Driver and the oldest of the All-Stars, he dedicated his life to SASUKE after the factory shut down and he lost his job. He is also one of only two All-Stars (along with Yamamoto Shingo) to have competed since SASUKE 1. He has "retired" from SASUKE on four separate occasions (after SASUKE 8, SASUKE 16/17, SASUKE 24, and SASUKE 28), but returned each time nonetheless. He was given the nickname "Mr. SASUKE" because he was once thought to be the most likely competitor to clear all four stages, but hasn't cleared First Stage since SASUKE 12. Overall he has competed 30 times, third most among the All-Stars. He was once barred from competing following SASUKE 30 in 2014, but the ban was officially overturned prior to SASUKE 33 in 2017, the 20th year Anniversary of Sasuke, allowing Yamada to compete once more. Additionally, he has trained a team of protégés nicknamed "Yamada Gundan" or "Black Tigers" since SASUKE 29 in 2013. He would still compete if he feel he was ready, as proven in SASUKE 38 when he return for yet another run.
Appearances
Best
Worst
Status
First
Last
SASUKE 1
SASUKE 39
Failed Tsuna Nobori (Final Stage)
SASUKE 3
Failed Quad Steps (First Stage)
SASUKE 39
Semi-Retired
A former Crab Fisherman and the first All-Stars to wore #100, doing so in SASUKE 2. He is also the first man to ever achieve Kanzenseiha, having done so in SASUKE 4. He has not been able to repeat his success, however, due in part to an eye condition known as Degenerative Rectinosis that has plagued him for years. Overall he has competed 20 times and has been officially retired since SASUKE 28 in 2012.
Appearances
Best
Worst
Status
First
Last
SASUKE 2
SASUKE 28
Kanzenseiha
SASUKE 4
Failed Godantobi (First Stage)
SASUKE 9
Retired
A former Firefighter from Gifu Prefecture and currently a Gym owner. He is best known for his incredibly consistent performances. He currently holds a SASUKE record, having thirteen appearances in the Third Stage, seven of which were consecutive (SASUKE 11 to SASUKE 17). He can be seen usually wearing his trademark orange firefighter pants and dark blue shirt (since changing career, he is dressed in all black). However, he hasn't made it to Final Stage yet. Overall he has competed 31 times (which is the second most among the competitors, only behind "Mr. Perfect Attendance" Yamamoto Shingo) and has quietly announced his retirement following the events of SASUKE 38 in 2020.
Appearances
Best
Worst
Status
First
Last
SASUKE 5
SASUKE 38
Failed Pipe Slider (Third Stage)
SASUKE 12 and 17
Failed Rolling Hill (First Stage)
SASUKE 31
Retired
A Fisherman and currently the Captain of the 50th Konpira Maru. He is the second man to ever achieve Kanzenseiha, having done so in SASUKE 17, after barely missing it in SASUKE 12 by 0.11 seconds. He has a record of reaching Final Stage five times (three of those times being consecutive) and was seen as likely to repeat his success even after his Kanzenseiha during the Shin-SASUKE era. He wears #100 most of the time (15 out of 39 tournaments). Overall he has competed 27 times, a number surpassed only by three of his fellow All-Stars: Yamada Katsumi (30 times), Takeda Toshihiro (31 times), and Yamamoto Shingo (39 times). Although he had been officially retired since SASUKE 32 in 2016, he won't refuse a possibility to return for Anniversary tournament(s) and due to COVID-19 pandemic, he returned faster than expected in SASUKE 38.
Appearances
Best
Worst
Status
First
Last
SASUKE 7
SASUKE 38
Kanzenseiha
SASUKE 17
Failed Jump Hang (First Stage)
SASUKE 10
Failed Jumping Spider (First Stage)
SASUKE 26
Semi-Retired
A former Triple Jumper and Civic Employee in his home village of Inba, Chiba Prefecture in the Health and Services department. He is also known for building obstacles in his backyard (over eleven of them), which prompt many competitors to visit his home to train on this "Shiratori Shrine" (however, in 2009, it has been demolished). He has competed the least of the All-Stars, only 12 times due to chronic back and neck pains that have continued to plague him for years. Despite having only competed once since SASUKE 21, he is not officially retired and has not ruled out the possibility of returning should his health permit it, although this is unlikely.
Appearances
Best
Worst
Status
First
Last
SASUKE 9
SASUKE 30
Failed Tsuna Nobori (Final Stage)
SASUKE 12
Failed Jumping Spider (First Stage)
SASUKE 18
Failed Jump Hang Kai (First Stage)
SASUKE 30
Semi-Retired
Results
Gallery
Yamamoto Shingo
Yamada Katsumi
Akiyama Kazuhiko
Takeda Toshihiro
Nagano Makoto
Shiratori Bunpei
All-Stars