Intro
The 9th competition, official name: SASUKE2002春 (literally Sasuke 2002 Spring) was the fifth competition since Akiyama Kazuhiko's victory in SASUKE 4. It was remembered most for its redesigned Third Stage, featuring perhaps the most iconic incarnation of the Cliffhanger, the introduction of the new Rumbling Dice and Lamp Grasper, and as the first tournament where future SASUKE All-Star Nagano Makoto made his name. This was also future SASUKE All-Star Shiratori Bunpei's first tournament, although he failed at the Soritatsu Kabe in the First Stage.
The First Stage remained unchanged since SASUKE 8, however, this tournament was noteworthy for the worst performance from a SASUKE All-Star, where Akiyama Kazuhiko failed at the very first obstacle of the First Stage, the Godantobi. He was the first SASUKE All-Star to fail at the very first obstacle of the First Stage (which would happen again in SASUKE 31, where both Yamamoto Shingo and Takeda Toshihiro failed at the very first obstacle of the First Stage, the Rolling Hill, and in SASUKE 39, where Yamada Katsumi failed the Quad Steps.) The results of the First Stage were incredibly similar to that of the previous tournament, since only 7 competitors finished the First Stage, with a difference of only one finisher.
The Second Stage's time limit received a cut of 20 seconds, which eventually eliminated Iketani Naoki and Yamada Katsumi (due to losing too much time removing the tapes from his shoes before attempting the Spider Walk). It also nearly timed out Nakayama Kinnikun, who fell on the Spider Walk just as his time was about to expire.
The modifications to the Third Stage showed, defeating All-Stars Takeda Toshihiro and Yamamoto Shingo early on, and eliminating Nakata Daisuke as well. Nagano Makoto, however, was able to reach the very end of the stage, failing only at the final jump of the Pipe Slider, cementing his place as a firm favorite for the future.
First Stage
Obstacles
① Godantobi 五段跳び
② Rolling Maruta ローリング丸太
③ Ōdama 大玉
④ Jump Hang ジャンプハング
⑤ Soritatsu Kabe そり立つ壁
⑥ Tarzan Rope ターザンロープ
⑦ Rope Climb ロープクライム
Time Limit: 77 seconds
Results
Second Stage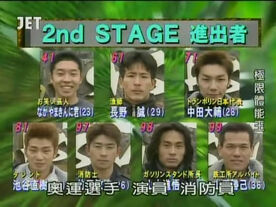 Obstacles
① Chain Reaction チェーンリアクション
↓ Brick Climb ブリッククライム
② Spider Walk スパイダーウォーク
③ Goren Hammer 5連ハンマー
④ Gyakusō Conveyor 逆走コンベアー
⑤ Wall Lifting ウォールリフティング
Time Limit: 80 seconds
Results
| Number | Name (Age) | Profile | Result | Notes |
| --- | --- | --- | --- | --- |
| 41 | Nakayama Kinnikun (23) | Comedian | ② Spider Walk スパイダーウォーク | |
| 61 | Nagano Makoto (29) | Miyazaki Fisherman | Clear (02.28 seconds left) | |
| 71 | Nakata Daisuke (28) | Sydney Olympics Trampoline Squad Member | Clear (11.38 seconds left) | |
| 81 | Iketani Naoki (28) | Monster Box World Record Holder/1997 Horizontal Bar All Japan Championship Winner | ⑤ Wall Lifting ウォールリフティング | Time Out. First Wall. His time ran out when he finished the Gyakuso Conveyor. |
| 97 | Takeda Toshihiro (26) | Firefighter | Clear (05.08 seconds left) | |
| 98 | Yamamoto Shingo (27) | Gas Station Director | Clear (11.69 seconds left) | Fastest Stage 2 clear of the tournament. |
| 99 | Yamada Katsumi (36) | Part Time Iron Worker | ⑤ Wall Lifting ウォールリフティング | Time Out. Second Wall. He spent 17 seconds pulling tape off his shoes and putting on the spray before the Spider Walk. |
| | Total | 7 Attempts | 4 Clears | |
Third Stage
Obstacles
① ^Rumbling Dice ランブリングダイス
② Body Prop ボディプロップ
③ ^Lamp Grasper ランプグラスパー
④ *Cliffhanger Kai クリフハンガー改
⑤ Pipe Slider パイプスライダー
^ Denotes New Obstacle
* Denotes Obstacle Modification
Results
| Number | Name (Age) | Profile | Result | Notes |
| --- | --- | --- | --- | --- |
| 61 | Nagano Makoto (29) | Miyazaki Fisherman | ⑤ Pipe Slider パイプスライダー | First to beat the Rumbling Dice, Altered Cliffhanger and Lamp Grasper. Failed Jump. |
| 71 | Nakata Daisuke (28) | Sydney Olympics Trampoline Squad Member | ③ Lamp Grasper ランプグラスパー | 3rd lamp. |
| 97 | Takeda Toshihiro (26) | Firefighter | ③ Lamp Grasper ランプグラスパー | Recovered but fell moments later. |
| 98 | Yamamoto Shingo (28) | Gas Station Director | ① Rumbling Dice ランブリングダイス | He completed the main part of the obstacle, but landed poorly on the platform and fell off. Last Man Standing. |
| | Total | 4 Attempts | 0 Clears | |
External Links