Intro
The 6th Competition, official name: SASUKE2000秋 (literally SASUKE 2000 Fall) is the second tournament after Akiyama Kazuhiko's kanzenseiha and the first tournament that he competed in since then.
In the First Stage, the first 82 competitors failed, a record which still stands until today. The Jump Hang was particularly deadly, eliminating over 50 competitors. Hatakeda Yoshiaki was the first competitor to reach the top support of the Jump Hang and the only competitor in history to do that with both of his hands. He eventually went on to be the first competitor to clear the First Stage that day. Yamamoto Shingo, who went the furthest in SASUKE 5, unexpectedly failed at the Rolling Maruta. This tournament also saw the return of Akiyama Kazuhiko, but he surprisingly failed at the Jump Hang, which would start a series of failures that would last in SASUKE 11.
The First and Third Stages remained unchanged, but the Second Stage added the Narrow, which replaced the Tackle Machine. All five who cleared the First Stage wound up advancing to the Third Stage, making it the first tournament to have a 100% Second Stage completion rate, with the second one would be in SASUKE 32.
In the Third Stage, 3 out of 5 competitors (Takeda Toshihiro, Shane Kosugi, and Kane Kosugi) failed at the Body Prop, and Hatakeda Yoshiaki failed at the Cliffhanger. The best finish was by Yamada Katsumi, who failed at the Pipe Slider, as he reached the landing mat but tipping to the side and falling off.
First Stage
Obstacles
① Maruta Nobori 丸太登り
② Rolling Maruta ローリング丸太
③ Yureru Hashi 揺れる橋
④ Jump Hang ジャンプハング
⑤ Soritatsu Kabe そり立つ壁
⑥ Tarzan Rope ターザンロープ
⑦ Rope Climb ロープクライム
Time Limit: 75 seconds
Results
Second Stage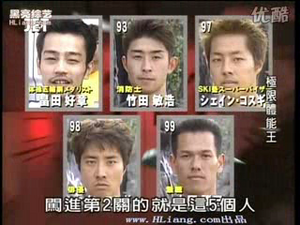 Obstacles
① ^Narrow ナロー
② Spider Walk スパイダーウォーク
④ Gyakusō Conveyor 逆走コンベアー
⑤ Wall Lifting ウォールリフティング
^ Indicates New Obstacle
Time Limit: 50 Seconds
Results
| Number | Name (Age) | Profile | Result | Notes |
| --- | --- | --- | --- | --- |
| 83 | Hatakeda Yoshiaki (28) | Barcelona Olympics Bronze Medal Gymnast | Clear (05.6 seconds left) | First to beat Narrow. Fastest time on the Second Stage. |
| 93 | Takeda Toshihiro (25) | Firefighter | Clear (03.1 seconds left) | |
| 97 | Shane Kosugi (24) | Supervisor at the Sho Kosugi Institute | Clear (04.8 seconds left) | |
| 98 | Kane Kosugi (25) | Actor | Clear (02.5 seconds left) | |
| 99 | Yamada Katsumi (34) | Unemployed | Clear (04.9 seconds left) | Digest. |
| | Total | 5 Attempts | 5 Clears | |
Third Stage
Obstacles
① Propeller Untei プロペラうんてい
② Body Prop ボディプロップ
③ Arm Bike アームバイク
④ Cliffhanger クリフハンガー
⑤ Pipe Slider パイプスライダー
Results
External Links