Intro
The fourth tournament, official name: SASUKE1999秋 (literally SASUKE 1999 Autumn), is statistically the most successful tournament in SASUKE history, in which many records were set.
Past finalists Yamamoto Shingo, Ōmori Akira, and Yamada Katsumi were given the three highest start positions (#98, #99, and #100, respectively), foreshadowing the numbering system of the SASUKE All-Stars. However, both Yamamoto and Ōmori were shockingly beaten in First Stage. Other competitors with history of strong performance, such as Yoshizaki Hiroaki and Kane Kosugi, were also given higher numbers.
First Stage saw an amazing 37 competitors cleared the stage, the most ever in SASUKE history. The previous record was 34, set in SASUKE 2. 16 years old Suzuka Ryūgo became the youngest competitor to clear First Stage, with the record still stand until today.
Spider Walk caused lots of problems in Second Stage, eliminating many competitors. In all, the stage claimed 26 competitors, another SASUKE record. Still, 11 competitors were able to make it to Third Stage, again another record in SASUKE history.
In Third Stage, two new obstacles were introduced: Arm Bike and Cliffhanger. The latter was proven to be a vicious addition in the stage, eliminating half of the competitors who attempted it, while Pipe Slider eliminating all but one competitor, Akiyama Kazuhiko, who was very close to failing after he almost fell into the muddy drink. Luckily, he managed to hold on to the red platform, hold himself up and clear Third Stage. All in all, yet another record was set, with 10 competitors failed in Third Stage.
In his only Final Stage appearance, Akiyama scaled the 15-metre Tsuna Nobori in just 24 seconds, becoming the first ever competitor to achieve Kanzenseiha in SASUKE. His Final Stage's time remaining was a record until SASUKE 27.
First Stage
Obstacles
① Maruta Nobori 丸太登り
② *Rolling Maruta ローリング丸太
③ Yureru Hashi 揺れる橋
④ Maruta Kudari 丸太下り
⑤ Sosoritatsu Kabe そそり立つ壁
⑥ *Tarzan Rope ターザンロープ
⑦ Rope Climb ロープクライム
Time Limit: 60 seconds
* Denotes Modified Obstacle
Results
Number
Name (Age)
Profile
Result
Notes
1
Atarashii Ichirō (28)
Fitness Instructor
Clear
All-Cut. Mentioned in broadcast.
2
Toyoshima Kumiko (19)
Japan U-19 National Lacrosse Player
① Maruta Nobori 丸太登り
3
Asaoka Hiroyuki (28)
Elementary School Teacher
Clear
All-Cut. Mentioned in broadcast.
4
Kubota Jun (28)
Surf Shop Manager
② Rolling Maruta ローリング丸太
The log stopped rolling just after he got on. He tried to get on again but fell off.
8
Terada Nao (19)
Miss Tokyo 1999 Runner-Up
① Maruta Nobori 丸太登り
11
Takahashi Hiroki (27)
Advertising Agency Worker
④ Maruta Kudari 丸太下り
13
Hirano Yukio (25)
Certified Electrician
② Rolling Maruta ローリング丸太
Digest 1-1.
14
Takemoto Hiroaki (27)
Golf Turf Management
Clear
All-Cut. Mentioned in broadcast.
16
Kobayashi Takuji (29)
Former Boxer/Worker
② Rolling Maruta ローリング丸太
Digest 1-2.
17
Nagai Nobuyuki (29)
Rice Cracker Artisan
① Maruta Nobori 丸太登り
20
Yoshida Kenichi (22)
Lunch box Delivery Man
Clear
All-Cut. Mentioned in broadcast.
22
Miyazawa Kazutaka (23)
Kyoto University Law Faculty Fourth Year
Clear
All-Cut. Mentioned in broadcast.
26
Ōno Miki (25)
Clothing Sales Clerk
① Maruta Nobori 丸太登り
28
Aizawa Shinichi (23)
High Jump World Record Holder of 14 Years Old
Clear
All-Cut. Mentioned in broadcast.
31
Iijima Toyohisa (23)
Former GSDF Personnel
② Rolling Maruta ローリング丸太
35
Takimoto Haruo (28)
Ranger
Clear
All-Cut. Mentioned in broadcast.
37
Harley Saito (31)
LLPW Singles Champion
① Maruta Nobori 丸太登り
39
Kusano Hayato (23)
Former Motorcycle Gang Chief Commander
① Maruta Nobori 丸太登り
40
Miura Eiichi (31)
Construction Worker
Clear (09.53 seconds left)
41
Nakamura Masami (19)
Second Year Student at Nippon Sport Science University
② Rolling Maruta ローリング丸太
Digest 2-1.
43
Kawashima Takayuki (20)
Chinese Food Restaurant Employee/SASUKE 1 Finalist/Fifth in World Junior Tumbling Championship
Clear
All-Cut. Mentioned in broadcast.
44
Satō Hiroyuki (28)
Talent
② Rolling Maruta ローリング丸太
Digest 2-2.
45
Nishihama Masao (24)
Kyoto University Engineer Faculty Student
Clear
All-Cut. Mentioned in broadcast.
47
Nakata Ken (30)
Sports Trainer
Clear
All-Cut. Mentioned in broadcast.
48
Ishijima Kenichi (30)
Construction Worker
Clear
All-Cut. Mentioned in broadcast.
51
Tatsukawa Tomihiro (35)
Office Worker
④ Maruta Kudari 丸太下り
52
Matsushima Shinji (28)
Sports Manufacturer Worker
Clear
All-Cut. Mentioned in broadcast.
53
Hashidate Takashi (26)
Food Company Worker
Clear
All-Cut. Mentioned in broadcast.
54
Suzuka Ryūgo (16)
Youngest Competitor/First Year High School Student
Clear
All-Cut. Youngest competitor to clear the First Stage. Mentioned in broadcast.
55
Kobayashi Shigeki (30)
Pub Manager
Clear
All-Cut. Mentioned in broadcast.
56
Yamauchi Takashi (18)
Funabashi Private High School Student
Clear
All-Cut. Mentioned in broadcast.
57
Kawahara Yasuhiro (20)
Japan U-19 National Lacrosse Team
③ Yureru Hashi 揺れる橋
Digest 3-1.
58
Miyazawa Haruhisa (30)
House Painter
② Rolling Maruta ローリング丸太
All-Cut. External Information.
61
Kizaki Satoshi (25)
Sandlot Baseball Player
③ Yureru Hashi 揺れる橋
Digest 3-2.
62
Unknown
Unknown
Unknown
All-Cut. Wore black Martial Arts outfit.
63
Tsutsui Kazuhide (23)
Harima Town Office Worker
③ Yureru Hashi 揺れる橋
Digest 3-3.
64
Satō Shūsuke (25)
Talent
Clear
All-Cut. Mentioned in broadcast.
65
Morita Junpei (19)
Tokai University Student
Clear
All-Cut. Mentioned in broadcast.
68
Yamamoto Tatsuya (28)
Previous Finalist/Carpenter
② Rolling Maruta ローリング丸太
All-Cut. External Information.
70
Kondo Masato (25)
DJ/Former University Football Player
Clear
All-Cut. Mentioned in broadcast.
71
Ueda Takuyu (36)
Internet Service Provider/Free Climber
Clear
All-Cut. Mentioned in broadcast.
73

Kanzaki Kōichi

(37)
Firefighter (Former Rescue Group Member)
Clear (05.9 seconds left)
Middle-Cut.
75
Shigeno Susumu (26)
19 Years in Judo
Clear (02 seconds left)
Digest 4-1.
76
Nagahama Hiroyuki (30)
Car Sheet Metal Worker
Clear
All-Cut. Mentioned in broadcast.
77
Eda Norihito (28)
NTT East Division Rugby Club
Clear (02 seconds left)
Digest 4-2.
78
Araki Takuji (25)
Pro Lifesaver
Clear
Digest 4-3.
79
Fukushima Katsushige (32)
COLORS Comedy Group's Leader
Clear
All-Cut. Mentioned in broadcast.
81
Iketani Naoki (25)
Monster Box World Record Holder (23 Boxes)/Winner of the 1997 All-Japan Championship/Winner of Sportsman No. 1 XIV
Clear (14.23 seconds left)
82
Itō Tadao (27)
Frozen Food Warehouse Worker
Clear
All-Cut. Mentioned in broadcast.
83
Kashiwagi Naoto (27)
Forestry
② Rolling Maruta ローリング丸太
84
Tsukamoto Eriko (19)
Japan U-19 National Lacrosse Player
② Rolling Maruta ローリング丸太
85
Kujirai Yasutoshi (31)
Pro Lifesaver
⑦ Rope Climb ロープクライム
Middle-Cut. Time Out.
86
Akiyama Kazuhiko (26)
Former Crab Fisherman/Hokkaido High School for the Blind
Clear (20.92 seconds left)
87
Satō Taka (25)
Mountain Guide
Clear
All-Cut. Mentioned in broadcast.
88
Ken Yasuda (28)
Body Builder/1999 Mr. Japan
③ Yureru Hashi 揺れる橋
Middle-Cut.
89
Endō Seiichi (45)
Oldest Competitor
② Rolling Maruta ローリング丸太
Digest 5-1.
90
Hatakeyama Takanori (24)
Former WBA Super Featherweight Champion
② Rolling Maruta ローリング丸太
Digest 5-2.
91
Fukayama Tadanori (35)
Professional Bodyguard/Former Member of French Foreign Legion
Clear (00.08 seconds left)
93
Saeki Masahi (20)
GSDF Personnel
Clear (05.7 seconds left)
Middle-Cut.
94
Travis Allen Schroeder (26)
Diver
Clear (22.71 seconds left)
First Stage's Fastest Clear.
95
Yoshizaki Hiroaki (23)
Tokyo University Gradudate School/Former Gymnastics Club
Clear
All-Cut. Mentioned in broadcast.
96
Shane Kosugi (23)
Actor
⑦ Rope Climb ロープクライム
Middle-Cut. Time Out.
97
Kane Kosugi (25)
Actor/Competitor on Geinojin Sportsman No. 1
Clear (14.0 seconds left)
98
Yamamoto Shingo (25)
Previous Finalist/Gas Station Worker
③ Yureru Hashi 揺れる橋
99
Ōmori Akira (31)
Previous Finalist/Comedian
② Rolling Maruta ローリング丸太
Fell into the water, then the log fell off the track and hit his head.
100
Yamada Katsumi (33)
Previous Finalist/Propane Tank Delivery Driver
Clear (06.7 seconds left)
Total
100 Attempts
37 Clears
Second Stage
Obstacles
① Spider Walk スパイダーウォーク
↓ Ugokukabe 動く壁
② Spider Climb スパイダークライム
③ Goren Hammer 5連ハンマー
④ Gyakusō Conveyor 逆走コンベアー
⑤ Wall Lifting ウォールリフティング
Time Limit: 50 seconds
Length: 65.5 metres
Results
| Number | Name (Age) | Profile | Result | Notes |
| --- | --- | --- | --- | --- |
| 1 | Atarashii Ichirō (28) | Fitness Club Instructor | ④ Gyakusō Conveyor 逆走コンベアー | Time Out. |
| 3 | Asaoka Hiroyuki (28) | Chigasaki City Elementary School Teacher | Clear (03.5 seconds left) | |
| 14 | Takemoto Hiroaki (27) | Golf Course Turf Management | Unknown | All-Cut. |
| 20 | Yoshida Kenichi (22) | Lunch Box Delivery Man | ③ Goren Hammer 5連ハンマー | Middle-Cut. |
| 22 | Miyazawa Kazutaka (23) | Kyoto University Law Faculty Fourth Year | Unknown | All-Cut. |
| 28 | Aizawa Shinichi (23) | High-Jump World Record Holder of 14 Years Old | Unknown | All-Cut. |
| 35 | Takimoto Haruo (28) | Ranger | Unknown | All-Cut. |
| 40 | Miura Eiichi (31) | Construction Worker | Clear | All-Cut. Mentioned in broadcast. |
| 43 | Kawashima Takayuki (20) | Chinese Food Restaurant Employee/SASUKE 1 Finalist/Fifth in World Junior Tumbling Championship | Clear | All-Cut. Mentioned in broadcast. |
| 45 | Nishihama Masao (24) | Kyoto University Engineer Faculty Student | Unknown | All-Cut. |
| 47 | Nakata Ken (27) | Sports Trainer | ↓ Ugokukabe 動く壁 | |
| 48 | Ishijima Kenichi (30) | Construction Worker | Unknown | All-Cut. |
| 52 | Matsushima Shinji (28) | Sports Shoe Designer | ① Spider Walk スパイダーウォーク | Digest 6-1. |
| 53 | Hashidate Takashi (26) | Food Company Worker | ① Spider Walk スパイダーウォーク | Digest 6-2. |
| 54 | Suzuka Ryūgo (16) | Youngest Competitor/First Year High School Student | ⑤ Wall Lifting ウォールリフティング | All-Cut. Third Wall. External Information. |
| 55 | Kobayashi Shigeki (30) | Pub Manager | ③ Goren Hammer 5連ハンマー | Digest 6-3. |
| 56 | Yamauchi Takashi (18) | Funabashi Private High School Student | ① Spider Walk スパイダーウォーク | Digest 6-4. |
| 64 | Satō Shūsuke (25) | Talent | Clear (03.07 seconds left) | Shown as 03.1 seconds left on the screen. |
| 65 | Morita Junpei (19) | Tokai University Student | Unknown | All-Cut. |
| 70 | Kondo Masato (25) | DJ/Former University Football Player | ② Spider Climb スパイダークライム | |
| 71 | Ueda Takuyu (36) | Internet Service Privider/Free Climber | Clear | All-Cut. Mentioned in broadcast. |
| 73 | Kanzaki Kōichi (37) | Firefighter | Unknown | All-Cut. |
| 75 | Shigeno Susumu (26) | 19 Years in Judo | Unknown | All-Cut. |
| 76 | Nagahama Hiroyuki (30) | Car Sheet Metal Worker | ① Spider Walk スパイダーウォーク | Digest 7-1. |
| 77 | Eda Norihito (28) | NTT East Division Rugby Club | ① Spider Walk スパイダーウォーク | Digest 7-2. |
| 78 | Araki Takuji (25) | Pro Lifesaver | ② Spider Climb スパイダークライム | |
| 79 | Fukushima Katsushige (32) | COLORS Comedy Group's Leader | ② Spider Climb スパイダークライム | Middle-Cut. |
| 81 | Iketani Naoki (25) | Monster Box World Record Holder (23 Boxes)/Winner of the 1997 All-Japan Championship/Winner of Sportsman No. 1 XIV | Clear (02.52 seconds left) | Shown as 02.8 seconds left on the screen. |
| 82 | Itō Tadao (27) | Frozen Food Warehouse Worker | ③ Goren Hammer 5連ハンマー | Middle-Cut. |
| 86 | Akiyama Kazuhiko (26) | Former Crab Fisherman/Hokkaido High School for the Blind | Clear (08.52 seconds left) | Shown as 07.4 seconds left on the screen. The timer on the set stopped after Akiyama stepped on the red platform, but the timer on the screen didn't stop until the smoke appears. Fastest Second Stage's Clear. |
| 87 | Satō Taka (25) | Mountain Guide | Unknown | All-Cut. |
| 91 | Fukayama Tadanori (35) | Professional Bodyguard/Former Member of French Foreign Legion | ↓ Ugokukabe 動く壁 | |
| 93 | Saeki Masahi (20) | GSDF | ① Spider Walk スパイダーウォーク | |
| 94 | Travis Allen Schroeder (26) | Diver | Clear (07.7 seconds left) | |
| 95 | Yoshizaki Hiroaki (23) | Tokyo University Gradudate School/Former Gymnastics Club | Clear (06.90 seconds left) | Middle-Cut. |
| 97 | Kane Kosugi (25) | Actor/Competitor on Geinojin Sportsman No. 1 | Clear (02.3 seconds left) | |
| 100 | Yamada Katsumi (33) | Previous Finalist/Propane Tank Delivery Driver | Clear (06.05 seconds left) | Shown as 05.8 seconds left on the screen. |
| | Total | 37 Attempts | 11 Clears | |
Third Stage
Obstacles
① *Pole Jump ポールジャンプ
② Propeller Untei プロペラうんてい
③ ^Arm Bike アームバイク
④ ^Cliffhanger クリフハンガー
⑤ *Pipe Slider パイプスライダー
^ Denotes New Obstacle
* Denotes Modified Obstacle
Results
| Number | Name (Age) | Profile | Result | Notes |
| --- | --- | --- | --- | --- |
| 3 | Asaoka Hiroyuki (28) | Chigasaki City Elementary School Teacher | ⑤ Pipe Slider パイプスライダー | Failed Jump. First to beat Arm Bike and Cliffhanger. |
| 40 | Miura Eiichi (31) | Construction Worker | ⑤ Pipe Slider パイプスライダー | Lost his grip at end after the pipe slid back. |
| 43 | Kawashima Takayuki (20) | Chinese Food Restaurant Employee/SASUKE 1 Finalist/Fifth in World Junior Tumbling Championship | ④ Cliffhanger クリフハンガー | Middle-Cut. |
| 64 | Satō Shūsuke (25) | Talent | ① Pole Jump ポールジャンプ | Course Out. Lost balance after clearing the obstacle. |
| 71 | Ueda Takuyu (36) | Internet Service Provider/Free Climber | ④ Cliffhanger クリフハンガー | Middle-Cut. |
| 81 | Iketani Naoki (25) | Monster Box World Record Holder (23 Boxes)/Winner of the 1997 All-Japan Championship/Winner of Sportsman No. 1 XIV | ⑤ Pipe Slider パイプスライダー | Middle-Cut. Lost his grip while trying to rest on the pipe. |
| 86 | Akiyama Kazuhiko (26) | Former Crab Fisherman/Hokkaido High School for the Blind | Clear | |
| 94 | Travis Allen Schroeder (26) | Diver | ⑤ Pipe Slider パイプスライダー | Disqualified. Pulled the pipe off the track. Completed the stage. First American to clear Cliffhanger. |
| 95 | Yoshizaki Hiroaki (23) | Tokyo University Gradudate School/Former Gymnastics Club | ④ Cliffhanger クリフハンガー | Digest. Too short, had to jump to reach the ledge. |
| 97 | Kane Kosugi (25) | Actor/Competitor on Geinojin Sportsman No. 1 | ④ Cliffhanger クリフハンガー | |
| 100 | Yamada Katsumi (33) | Previous Finalist/Propane Tank Delivery Driver | ④ Cliffhanger クリフハンガー | |
| | Total | 11 Attempts | 1 Clear | |
Final Stage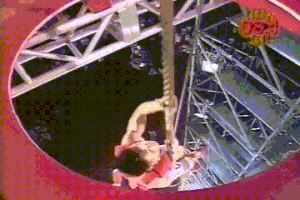 Obstacles
① Tsuna Nobori 綱登り (15m)
Time Limit: 30 seconds
Results
Number
Name (Age)
Profile
Result
Notes
86
Akiyama Kazuhiko (26)
Former Crab Fisherman/Hokkaido High School for the Blind
Kanzenseiha
(05.89 seconds left)
Shown as 06.0 seconds left on the screen. First to achieve Kanzenseiha. Last Man Standing. Record for most time left in a Kanzenseiha until SASUKE 27.
Total
1 Attempt
1 Clear