Intro
The 20th Competition, official name: 新SASUKE2008春 第20回記念大会 (literally Shin-Sasuke 2008 Spring 20th Anniversary Tournament), is the third tournament since Nagano Makoto's kanzenseiha in SASUKE 17, and the 20th SASUKE tournament (not to be confused with SASUKE 33 and SASUKE 34, which were held to celebrate 20 years anniversary since its first tournament held back in 1997).
Preliminary trials were held before this tournament. The SASUKE 20 Trials had four representatives and the United States had three. To celebrate this historic tournament, the numbering system went from #1901-#2000, similar to SASUKE 10.
Despite the course being almost identical to SASUKE 19 (with a few minor changes), only 3 out of 100 competitors managed to beat the First Stage, the second worst in SASUKE history (along with SASUKE 5). Many competitors failed at the Jumping Spider and Half Pipe Attack.
In the Second Stage, the results were mixed. Okuyama Yoshiyuki failed at the Stick Slider, when his pipe got disconnected from the tracks. Levi Meeuwenberg had a bit of trouble in the Wall Lifting, as his foot got injured by getting it stuck on the third wall, but he cleared the stage with an amazing 38.5 seconds left, a SASUKE record. The second competitor to achieve kanzenseiha, Nagano Makoto, shocked many when he failed at the Downhill Jump.
The Last Man Standing of this tournament, Levi Meeuwenberg, failed at the Shin-Cliffhanger. This run made him the second American to be the Last Man Standing in a SASUKE tournament (after Kane Kosugi in SASUKE 8).
First Stage
Obstacles
① Rokudantobi 六段跳び
② Log Grip ロッググリップ
③ Pole Maze ポールメイズ
④ *Jumping Spider ジャンピングスパイダー
⑤ *Half-Pipe Attack ハーフパイプアタック
⑥ Soritatsu Kabe そり立つ壁
⑦ *Flying Chute フライングシュート
⑧ Tarzan Rope ターザンロープ
⑨ Rope Ladder ロープラダー
Time Limit: 120 seconds
Length: 120m
^ Denotes New Obstacle
* Denotes Obstacle Modification
Results
Second Stage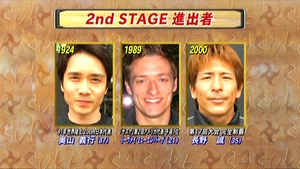 Obstacles
① Downhill Jump ダウンヒルジャンプ
② Salmon Ladder サーモンラダー
③ Stick Slider スティックスライダー
④ ^Swing Ladder スイングラダー
⑤ Metal Spin メタルスピン
⑥ Wall Lifting ウォールリフティング
Time Limit: 90 seconds
^ Denotes New Obstacle
* Denotes Obstacle Modification
Results
| Number | Name (Age) | Profile | Result | Notes |
| --- | --- | --- | --- | --- |
| 1924 | Okuyama Yoshiyuki (37) | 1991 World Athletics 200m Sprinter for Japan | ③ Stick Slider スティックスライダー | Stick fell off of the tracks due to a flaw in design. |
| 1989 | Levi Meeuwenberg (21) | U.S. #1 Representative | Clear (38.5 seconds left) | First to beat Swing Ladder. Second Stage Time Record. Injured foot at Wall Lifting. |
| 2000 | Nagano Makoto (35) | SASUKE 2006 Fall Kanzenseiha | ① Downhill Jump ダウンヒルジャンプ | Lost Balance. |
| | Total | 3 Attempts | 1 Clear | |
Third Stage
Obstacles
① Arm Ring アームリング
② *Kudari Lamp Grasper 下りランプグラスパー
③ Devil Steps デビルステップス
④ Shin-Cliffhanger 新クリフハンガー
⑤ Jumping Bars ジャンピングバー
⑥ Sending Climber センディングクライマー
⑦ Spider Flip スパイダーフリップ
⑧ Final Ring ファイナルリング
^ Denotes New Obstacle
* Denotes Obstacle Modification
Results
External Links