Intro
The 18th Competition, official name: 新SASUKE2007春 (literally Shin-SASUKE 2007 Spring), is the first tournament since Nagano Makoto's kanzenseiha in SASUKE 17.
Like in SASUKE 5, the course was significantly altered to increase the difficulty. However, the course and difficulty were so significantly altered, that a new era of SASUKE was born, Shin-SASUKE (literally "New SASUKE").
For the sake of fairness, a 1200-meter run was conducted before the tournament, allowing competitors to choose their own number.
The new First Stage was much longer than the previous tournament, as the time limit was increased to 130 seconds, the longest in SASUKE history at that time (until SASUKE 28's Second Stage at 135 seconds). Every obstacle in the First Stage was brand new, save for the Tarzan Jump (which was renamed as the Tarzan Rope). Because of the increased difficulty and unfamiliarity of the obstacles, the results in this tournament were vastly worse than the previous tournament, as only six competitors cleared, the worst since SASUKE 10. Also, the mats were changed from black in color to red. At 15 years old, future SASUKE champion Morimoto Yūsuke made his SASUKE debut, although he fell at the Jumping Spider.
In the Second Stage, only the Metal Spin returned and was modified, and every other obstacle was new. The real killer was a new obstacle, the Salmon Ladder, as it eliminated half of the six remaining competitors. The remaining three competitors cleared the new Second Stage to move on to the new Third Stage.
Half of the Third Stage obstacles were brand new. The Shin-Cliffhanger eliminated the remaining three competitors. Nagano Makoto made it the furthest but got disqualified on the Shin-Cliffhanger, making it the shortest end to a tournament until that point.
First Stage
Obstacles
① ^Rope Glider ロープグライダー
② ^Log Grip ロッググリップ
③ ^Pole Maze ポールメイズ
④ ^Jumping Spider ジャンピングスパイダー
⑤ ^Bungee Bridge バンジーブリッジ
⑥ ^Great Wall グレートウォール
⑦ ^Flying Chute フライングシュート
⑧ Tarzan Rope ターザンロープ
⑨ ^Rope Ladder ロープラダー
Time Limit: 130 seconds
^ Denotes New Obstacle
* Denotes Obstacle Modification
Results
Number
Name (Age)
Profile
Result
Notes
1
Hiraoka Akifumi (32)
Pro Snowboarder
① Rope Glider ロープグライダー
2
Kosugi Ryūichi (35)
Comedian "Black Mayonnaise"
① Rope Glider ロープグライダー
Injured his shoulder in the dismount of the Rope Glider.
3
HERYON (36)
Korea's Top Comedian
① Rope Glider ロープグライダー
Disqualified for letting go of the rope in the starting point.
4
Unknown
Unknown
① Rope Glider ロープグライダー
All Cut.
5
Unknown
Unknown
① Rope Glider ロープグライダー
All Cut.
6
Aoki Yasuo (50)
Sculptor
① Rope Glider ロープグライダー
7

Little Giant Baba

(34)
Wrestling Comedian
① Rope Glider ロープグライダー
All Cut.
8
Unknown
Unknown
① Rope Glider ロープグライダー
All Cut.
9
Chōshū Koriki (36)
Wrestling Comedian
② Log Grip ロッググリップ
First to beat the Rope Glider.
10
Kuramochi Minoru (59)
"Edokko" Tavern Manager
① Rope Glider ロープグライダー
11

Mike

(30)
Roppongi Club Guard
② Log Grip ロッググリップ
Digest 1-1.
12
Nomura Masaki (54)
Actor
② Log Grip ロッググリップ
13
Harashima Masami (44)
Hang Glider Man
① Rope Glider ロープグライダー
14

Suzuki Hirotsugu

(35)
Fisherman
Unknown
All Cut. Failed Rope Glider or Log Grip.
15
Torisawa Katsuhide (34)
Former Weightlifter
② Log Grip ロッググリップ
16

Kobayashi Mari

(20)
Gravure Idol
① Rope Glider ロープグライダー
Digest 1-2.
17

Sid

(29)
Host "E-Style"
② Log Grip ロッググリップ
Digest 1-3.
18
Nagasawa Hiroaki (30)
All Japan Tumbling Champion
② Log Grip ロッググリップ
All Cut.
19

Fujiwara Kazuhiro

(29)
Comedian
② Log Grip ロッググリップ
Digest 1-4.
20
Noguchi Norihiko (35)
Hair Dresser
③ Pole Maze ポールメイズ
First to beat the Log Grip.
21
Dan Yoji (31)
2007 Tokushima Prefecture Strongman Champion
③ Pole Maze ポールメイズ
22
Yasube (36)
Japan's only Yoneya Locker
① Rope Glider ロープグライダー
All Cut.
23

Inomoto Takafumi

(29)
Comedian
② Log Grip ロッググリップ
Digest 2-3.
24

Koshi Keiji

(22)
Fourth Year University Student
④ Jumping Spider ジャンピングスパイダー
First to beat the Pole Maze.
25
Matsumoto Yoshinari (41)
University Teacher
② Log Grip ロッググリップ
Digest 2-4.
26
Lee En-Chih (32)
Pro Rock Climber
④ Jumping Spider ジャンピングスパイダー
27

Noda Toshihiko

(27)
Japan's Bench Press Record Holder
① Rope Glider ロープグライダー
Digest 2-1.
28

Tsuji Yuka

(32)
Martial Arts Strongest Women
① Rope Glider ロープグライダー
29
I Katu Darumika (34)
Steeplejack
Unknown
All Cut. Failed an obstacle before Jumping Spider.
30

Hazama Kanpei

(57)
Comedian/Triathelete
① Rope Glider ロープグライダー
31

Tanigawa Yukiko

(41)
Housewife
② Log Grip ロッググリップ
Digest 3-1.
32

Miyagi Masahide

(37)
Karate
Unknown
All Cut. Failed an obstacle before Jumping Spider.
33

Fushimi Toshiaki

(31)
Athens Olympics Silver Medalist
② Log Grip ロッググリップ
Middle Cut.
34
Jacob Jones (30)
American Steeplejack
④ Jumping Spider ジャンピングスパイダー
Using his One Foot to Jump.
35
TERU (30)
Gymnast
① Rope Glider ロープグライダー
Digest 3-2.
36

Ishimine Yoshio

(61)
2006 Track and Field Event Winner
② Log Grip ロッググリップ
Middle Cut.
37
Lance Tarvend (32)
Kindergarten English Teacher
④ Jumping Spider ジャンピングスパイダー
First Attempt. Course Out. Made it to the Great Wall originally, but it was discovered that he hit the mat in front of the trampoline. He didn't know that this was illegal, and he was granted a second Stage One attempt.
37
Lance Tarvend (32)
Kindergarten English Teacher
② Log Grip ロッググリップ
Digest 3-3. Second Attempt.
38

Akami Chihiro

(29)
Former Jockey
Unknown
All Cut. Failed an obstacle before Jumping Spider.
39
Ishimaru Kenjiro (53)
Actor/Narrator
① Rope Glider ロープグライダー
40

Hada Yoku

(31)
Guitar Samurai
① Rope Glider ロープグライダー
41
Sakai Rie (16)
Pro Kickboxer
Unknown
All Cut. Failed an obstacle before Jumping Spider.
42

Ogiwara Satoshi

(46)
Ministry Staff
Unknown
All Cut. Failed an obstacle before Jumping Spider.
43
Yoneda Yusuke (23)
SASUKE2006秋 Trial Representative
④ Jumping Spider ジャンピングスパイダー
44
Kobayashi Shinji (35)
Transport and Industrial Waste
⑦ Flying Chute フライングシュート
All Cut. First to beat the Jumping Spider, Bungee Bridge, and Great Wall.
45

Yamashita Shinji

(25)
Security Guard
⑥ Great Wall グレートウォール
Middle Cut. Time Out.
46
Miyake Ayako (31)
KUNOICHI Kanzenseiha Three Consecutive Tournaments
④ Jumping Spider ジャンピングスパイダー
All Cut.
47

Takahashi Yasuhiko

(21)
"Sunset's Backstage Pass" Equestria Girls Narrator
④ Jumping Spider ジャンピングスパイダー
Digest 4-1.
48
Suzuki Naohiro (30)
Sports Instructor
⑨ Rope Ladder ロープラダー
Time Out. First to beat the Flying Chute and Tarzan Rope.
49

Nokubo Naoki

(25)
"Secret of the Ruby Reef" Winx Club Narrator/Reporter
① Rope Glider ロープグライダー
Digest 4-3.
50

Oyasu Yoshiteru

(44)
Self-Defense Forces Paratrooper
Unknown
All Cut. Failed an obstacle before Flying Chute.
51

K Taro

(31)
DJ Mystery Mask
④ Jumping Spider ジャンピングスパイダー
Digest 4-2.
52

Makino Tsukasa

(35)
Self-Proclaimed "Most Powerful Businessmen"
③ Pole Maze ポールメイズ
53

Satou Tsuyoshi

(25)
Ibaraki University, Gymnastics Department
⑥ Great Wall グレートウォール
Digest 5-3, Time Out.
54

Suda Riyuuta

(29)
Capoeira Instructor
④ Jumping Spider ジャンピングスパイダー
55
Matsuyuki Orakio (29)
Comedian
② Log Grip ロッググリップ
Digest 5-2.
56
Fujinami Koji (35)
Zoo Keeper
⑨ Rope Ladder ロープラダー
Time Out.
57

Andou Makoto

(26)
Salaryman
④ Jumping Spider ジャンピングスパイダー
Digest 5-1.
58

Watanabe Kazunari

(33)
World Armwrestling Champion
① Rope Glider ロープグライダー
All Cut.
59

Nagasawa Hideaki

(32)
Construction Worker
④ Jumping Spider ジャンピングスパイダー
Digest 6-1.
60
Nagasaki Takamasa (18)
Nagasaki Shunsuke's Brother/Trampolinist
Clear (16.07 seconds left)
First to beat the Rope Ladder and Shin-SASUKE's First Stage.
61
Yamamoto Shingo (32)
Gasoline Stand Area Manager/Only Person with Perfect SASUKE Attendance Record
⑦ Flying Chute フライングシュート
62

Antonio Koinoki

(35)
Wrestling Comedian
Unknown
All Cut.
63

Shirota Masashi

(19)
Waseda Barbell Club
① Rope Glider ロープグライダー
All Cut.
64

Yamada Yuuya

(26)
Hulahoop Record Holder
④ Jumping Spider ジャンピングスパイダー
Digest 6-2.
65
Tomoyuki (27)
Tokai University Former Karate Captain
⑦ Flying Chute フライングシュート
All Cut.
66

Kikuchi Ryouta

(19)
Airport Cargo Service
Unknown
All Cut.
67
Katayama Keitaro (31)
Muscle Musical Member
Unknown
All Cut.
68

Kazuhisa Ogawa

(21)
Tokyo University Gymnastics Department
② Log Grip ロッググリップ
Digest 6-3.
69

Matsuoka Nobutoshi

(30)
Firefighter
Unknown
All Cut.
70
Washimi Yuuji (29)
Former International Motocross Star
Clear (09.37 seconds left)
71

Iizuka Akira

(28)
Judo
Unknown
All Cut.
72
Kawashima Takayuki (27)
2003 All Japan Tumbling Champion/SASUKE 1 Finalist
⑥ Great Wall グレートウォール
Time Out.
73
Yamada Katsumi (41)
Ironworker
⑨ Rope Ladder ロープラダー
Time Out.
74
Nocchi (43)
Dangerous/Yamada Katsumi Impersonator
① Rope Glider ロープグライダー
Digest 7-1.
75
Slipi Kais (27)
Steeplejack
Unknown
All Cut.
76

Takeda Texas

(29)
Comedian
Unknown
All Cut.
77
Kato Masafumi (26)
GSDF/First in the 1200m Race
② Log Grip ロッググリップ
78

Ino Nobuhisa

(26)
Unknown
Unknown
All Cut.
79

Yoshida Tomohiro

(26)
Acrobat
⑦ Flying Chute フライングシュート
Digest 7-4.
80

Masamori Daichi

(29)
Planning and Management of A Museum Exhibition
④ Jumping Spider ジャンピングスパイダー
Digest 7-2.
Satô Hiromichi (38)
NHK Television Host
⑦ Flying Chute フライングシュート
No number given.
81
Eshakari Porandi (39)
Persian Carpet Craftsman
④ Jumping Spider ジャンピングスパイダー
Digest 7-3.
82

Negishi Kazuki

(21)
Ministry of Science and Engineering, Waseda University
④ Jumping Spider ジャンピングスパイダー
All Cut.
83
Andy Ologun (23)
Bobby's Younger Brother, K-1 Fighter
① Rope Glider ロープグライダー
84

Konya Junichi

(31)
Unknown
Unknown
All Cut.
85
Misaki Yoshihisa (46)
Four Time National Sports Festival Boxing and Gymnastics Team Member
Unknown
All Cut.
86

Kidachi Jo

(32)
Farmer
Unknown
All Cut.
Takeda Toshihiro (31)
Gifu Firefighter
Clear (08.9 seconds left)
No number given, around 86th person to run.
87

Kojima Isao

(66)
Oldest competitor
Unknown
All Cut.
88

Noguchi Yuu

(31)
Office Worker
Unknown
All Cut.
89

Shibayama Kousuke

(24)
Equestria Girls Comedy Trio
Unknown
All Cut.
90

Kato Kyōichi

(19)
Comedian
Unknown
All Cut.
91
Morimoto Yusuke (15)
Youngest Competitor
④ Jumping Spider ジャンピングスパイダー
92
Kadota Masayuki (28)
Former Lacrosse Player
⑦ Flying Chute フライングシュート
Digest 7-5.
93

Tanigawa Eiji

(33)
Father of Two Children Attending School
Unknown
All Cut.
94

Scott Kekaski

(24)
Active G.I.
④ Jumping Spider ジャンピングスパイダー
95
Shiratori Bunpei (39)
Inba Village, Chiba Prefecture, Office Worker
④ Jumping Spider ジャンピングスパイダー
Failed Spider Walk portion of the obstacle.
96
Nagano Makoto (34)
Fisherman/Captain of 28th Konpira Maru/SASUKE 2006 Fall Grand Champion
Clear (23.25 seconds left)
Fastest First Stage Clear of the Tournament.
97
Nagasaki Shunsuke (19)
2008 Beijing Olympic Complementary Player
Clear (17.80 seconds left)
98
Takahashi Kenji (30)
Transportation Industry
Clear (13.68 seconds left)
Middle Cut.
99
Kojima Daisuke (26)
All Japan Life Saver Boat Race Championship/Third in the 1200m Race
⑥ Great Wall グレートウォール
All Cut. Time Out.
100
Kume Ryouta (22)
Marathon Runner/Second in the 1200m Race
③ Pole Maze ポールメイズ
Total
102 Attempts
6 Clears
Second Stage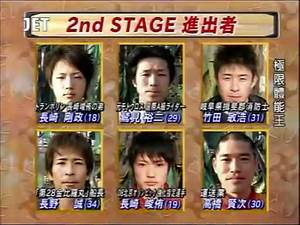 Obstacles
① ^Downhill Jump ダウンヒルジャンプ
② ^Salmon Ladder サーモンラダー
③ ^Stick Slider スティックスライダー
④ ^Net Bridge ネットブリッジ
⑤ *Metal Spin メタルスピン
⑥ ^Shoulder Walk ショルダーウォーク
Time Limit: 95 seconds
^ Denotes New Obstacle
* Denotes Obstacle Modification
Results
Third Stage
Obstacles
① Arm Ring アームリング
② *Arm Bike アームバイク
③ ^Curtain Swing カーテンスイング
④ ^Shin-Cliffhanger 新クリフハンガー
⑤ *Jumping Bars ジャンピングバー
⑥ *Climbing Bars クライミングバー
⑦ ^Spider Flip スパイダーフリップ
⑧ ^Final Ring ファイナルリング
^ Denotes New Obstacle
* Denotes Obstacle Modification
Results
| Number | Name (Age) | Profile | Result | Notes |
| --- | --- | --- | --- | --- |
| 96 | Nagano Makoto (34) | Fisherman/Captain of 28th Konpira Maru/SASUKE 2006 Fall Grand Champion | ④ Shin-Cliffhanger 新クリフハンガー | Disqualified. Course Out. Grabbed the top of the obstacle while traversing to the third ledge. First to beat Curtain Swing. |
| 97 | Nagasaki Shunsuke (19) | 2008 Beijing Olympic Complementary Player | ④ Shin-Cliffhanger 新クリフハンガー | Tried to use his long arms to clear the gap without jumping. |
| 98 | Takahashi Kenji (30) | Transportation Industry | ④ Shin-Cliffhanger 新クリフハンガー | Last Man Standing. |
| | Total | 3 Attempts | 0 Clears | |
External Links