Intro
The seventeenth tournament, official name: SASUKE2006秋 (literally SASUKE 2006 Autumn), was the thirteenth tournament since the first Kanzenseiha achieved by Akiyama Kazuhiko. It was a historic tournament in the history of SASUKE, as Nagano Makoto became only the second competitor to ever achieve Kanzenseiha.
First Stage had two new obstacles added, Maruta Zaka and Circle Slider. The time limit was only 85 seconds, the lowest since SASUKE 13. Preliminary trials were held for this tournament, including the Bus Tour Trial (one representative), SASUKE 17 Trials (eight representatives), Professionals Trial (two representatives), and Taiwan Trials (one representative). Leading the qualifiers were Adachi Yūta and Lee En-Chih, who both cleared the First Stage. In the end, 11 competitors cleared First Stage.
In Second Stage, Balance Tank from SASUKE 15 returned after replaced by Delta Bridge in the previous tournament, however it did not cause much threat to the competitors. Metal Spin continued to be the most difficult obstacle in the stage, eliminating Lee and surprisingly Yamada Kōji, who was the first competitor in the previous tournament to beat Devil Balanço, leaving eight competitors to advance to Third Stage.
Third Stage had minor modifications on some obstacles, most notably Devil Balanço after Nagano's accident in the previous tournament. Takeda Toshihiro was once again denied a spot at Final Stage, when he failed the jump on Pipe Slider once more. Two competitors cleared Third Stage for the first time since SASUKE 13: Nagasaki Shunsuke (who became the first competitor to clear the Third Stage since its redesign in SASUKE 14) and Nagano Makoto (for the fourth time in his SASUKE apparances), marking the first time since SASUKE 12 that more than one competitor made it to the Final Stage.
At 19 years old, Nagasaki Shunsuke became the second youngest competitor to advance to Final Stage (after Kawashima Takayuki in SASUKE 1 at 18 years old), but was slow on Spider Climb and timed out on Tsuna Nobori. However, Nagano's training finally paid off as he blaze through the tower and defeating Final Stage with 2.56 seconds left, achieving only the second Kanzenseiha in history.
First Stage
Obstacles
① Rokudantobi 六段跳び
② ^Maruta Zaka 丸太坂
③ Sandan Rolling Maruta 三段ローリング丸太
④ Cross Bridge クロスブリッジ
⑤ ^Circle Slider サークルスライダー
⑥ Jump Hang ジャンプハング
⑦ Soritatsu Kabe そり立つ壁
⑧ Tarzan Jump ターザンジャンプ
⑨ *Rope Climb ロープクライム
Time Limit: 85 seconds
^ Denotes New Obstacle
* Denotes Modified Obstacle
Results
Number
Name (Age)
Profile
Result
Notes
1
Tamukai Ryūkō (33)
GSDF
④ Cross Bridge クロスブリッジ
All-Cut. First to clear Maruta Zaka.
2
Katano Takeshi (33)
Diving Instructor
⑤ Circle Slider サークルスライダー
Failed Jump.
3
Matsuda Rei (48)
Chainsaw Artist
② Maruta Zaka 丸太坂
4
Kawase Yoshifumi (28)
Tokyo Stock Exchange Worker
⑤ Circle Slider サークルスライダー
Grabbed ring but failed landing.
6
Murase Makoto (36)
CoCo Ichibanya Curry House
⑦ Soritatsu Kabe そり立つ壁
Time Out. First to clear Circle Slider.
10
Neko Hiroshi (29)
Comedian
③ Sandan Rolling Maruta 三段ローリング丸太
11
Tsutsumi Kentaro (28)
Second Place in Construction Worker Trials
⑤ Circle Slider サークルスライダー
Failed Jump.
12
Kuzaka Shinji (40)
Master Brewer
⑤ Circle Slider サークルスライダー
Digest 1-1. Failed Jump.
14
Masado Mutsuo (43)
Seiyu Takaido East Shop Staff
⑤ Circle Slider サークルスライダー
Digest 1-2. Failed Jump.
15
Ito Daisuke (25)
Pyrotechnician Apprentice
⑤ Circle Slider サークルスライダー
Digest 1-3. Failed Jump.
17
Fukushima Yuki (19)
First Place in Bus Tour Trials
④ Cross Bridge クロスブリッジ
18
Inoue Masaki (27)
Athens Olympics Silver Medalist
⑥ Jump Hang ジャンプハング
Foot skimmed the water as he climbed down.
19
Unknown
Unknown
⑤ Circle Slider サークルスライダー
All-Cut. Wore worker clothes. External Information.
21
Tanahashi Hiroshi (29)
Professional Wrestler, IWGP Heavyweight champion at the time
③ Sandan Rolling Maruta 三段ローリング丸太
22
Suzuki Minoru (38)
Professional Wrestler
③ Sandan Rolling Maruta 三段ローリング丸太
Middle-Cut.
23
Charles Chen (31)
Actor/Taiwan Representative
③ Sandan Rolling Maruta 三段ローリング丸太
All-Cut. Shown on JET broadcast. Slipped off of landing platform.
29
Aoki Yasuo (49)
Sculptor
① Rokudantobi 六段跳び
29A
Nanjou Hanako (26)
Talent
① Rokudantobi 六段跳び
Digest 2-1.
30
Kuramochi Minoru
Manager of Edokko Tavern
③ Sandan Rolling Maruta 三段ローリング丸太
All-Cut. Shown on a SASUKE Mania episode.
30A
Unknown
Unknown
④ Cross Bridge クロスブリッジ
Shown on a SASUKE Mania episode. Wore camouflage.
30B
Bernard Ackah (34)
Comedian
① Rokudantobi 六段跳び
Digest 2-2.
31
Harashima Masami
Hang Glider Man
① Rokudantobi 六段跳び
All-Cut. Disqualified. Made it to Cross Bridge, however used a disallowed shortcut on the Rokudantobi which disqualified him. Shown on a SASUKE Mania episode.
32
Hayashida Akira (57)
Pet Trainer
⑤ Circle Slider サークルスライダー
Middle-Cut. Failed Jump.
35
Nomura Masaki (53)
Actor
④ Cross Bridge クロスブリッジ
Time Out. Digest.
39
Tada Tatsuya (14)
High School Student
⑨ Rope Climb ロープクライム
All-Cut. Time Out. External Information.
40
Ishimaru Kenjiro (52)
Actor and Narrator
⑨ Rope Climb ロープクライム
Time Out.
43
Hasegawa Momo (19)
Talent
① Rokudantobi 六段跳び
Digest 2-3.
44
Akira Tetsunori (37)
Actor
⑦ Soritatsu Kabe そり立つ壁
Digest 3-2.
45
Harada Kazutoshi (50)
Recycling Company Worker
⑤ Circle Slider サークルスライダー
Digest 4-2. Failed Jump.
46
Fushimi Toshiaki (30)
Athens Olympics Silver Medalist
⑥ Jump Hang ジャンプハング
Digest 4-1. Failed Jump.
47
Kenzaki Junya (24)
Host
② Maruta Zaka 丸太坂
Digest 3-1.
48
Misaki Yoshihisa (45)
Junior High School Teacher
⑤ Circle Slider サークルスライダー
All-Cut.
51
Honma Kota (16)
First Year High School Student
Clear (04.97 seconds left)
Second youngest competitor ever to complete First Stage, behind Suzuka Ryūgo.
52
Unknown
Firefighter
⑥ Jump Hang ジャンプハング
All-Cut. Shown during the Opening.
53
Unknown
Unknown
Unknown
All-Cut. Wore white shirt and pants.
54
Unknown
Unknown
Unknown
All-Cut. Wore black shirt and pants.
55
Nagasawa Hidenori
Jaguar Mechanic
⑦ Soritatsu Kabe そり立つ壁
All-Cut. Time Out. Injured. External Information.
57
Unknown
Unknown
Unknown
All-Cut. Wore white shirt and black pants.
58
Oshiro Naoichirou (24)
Model
① Rokudantobi 六段跳び
Digest 4-3.
59
Unknown
Unknown
② Maruta Zaka 丸太坂
All-Cut. Shown on a SASUKE Mania episode.
61
Yamaguchi Takeshi (33)
SASUKE Trials #8 Representative/Truck Driver
③ Sandan Rolling Maruta 三段ローリング丸太
62
Ito Hiromasa (23)
SASUKE Trials #7 Representative/Stuntman
⑨ Rope Climb ロープクライム
Time Out.
63
Yamasaki Buntoku (26)
SASUKE Trials #6 Representative/Six Year Construction Company Worker
⑦ Soritatsu Kabe そり立つ壁
Digest. Time Out.
64
Kawahara Takuya (19)
SASUKE Trials #5 Representative/Gymnast
⑦ Soritatsu Kabe そり立つ壁
Digest. Time Out.
65
Nakahara Yorimasa (29)
SASUKE Trials #4 Representative/Sugar Manufacturing Company Worker for Four Years
⑥ Jump Hang ジャンプハング
Digest. His foot skimmed the water when he run the downward part of Jump Hang's net.
66
Tomioka Hotaka (22)
SASUKE Trials #3 Representative/Personal Trainer
⑥ Jump Hang ジャンプハング
His foot skimmed the water when he run the downward part of Jump Hang's net.
67
Adachi Yūta (26)
SASUKE Trials #2 Representative/Teacher
Clear (02.31 seconds left)
68
Washimi Yūji (29)
SASUKE Trials #1 Representative/Former International Motocross Star
⑦ Soritatsu Kabe そり立つ壁
Time Out.
70
Akiyama Kimihiro (28)
Scallop Fisherman/Brother of Akiyama Kazuhiko
Unknown
All-Cut. Shown standing at the Start Line prior to Akiyama Kazuhiko's run.
71
Akiyama Kazuhiko (33)
Only Man to Achieve Kanzenseiha
⑤ Circle Slider サークルスライダー
Failed Jump.
72
Unknown
High School Student
⑤ Circle Slider サークルスライダー
Shown on a SASUKE Mania episode.
74

Endo Osamu

(51)
Crane Operator
③ Sandan Rolling Maruta 三段ローリング丸太
All-Cut. External Information.
75
Miyake Ayako (30)
Only Woman to Achieve Kanzenseiha on KUNOICHI
③ Sandan Rolling Maruta 三段ローリング丸太
All-Cut. External Information.
79
Unknown
Unknown
① Rokudantobi 六段跳び
Shown on a SASUKE Mania episode.
80
Unknown
Unknown
Unknown
All-Cut. Wore red shirt and black pants.
81
Shiratori Bunpei (39)
Inba Village, Chiba Prefecture Office Worker
Clear (11.53 seconds left)
82
Yoneda Yusuke (23)
First Place in Construction Worker Trials
⑦ Soritatsu Kabe そり立つ壁
Time Out.
83
Haryu Norio
Former J-League Announcer
⑨ Rope Climb ロープクライム
All-Cut. Time Out.
84
Hiraoka Akifumi (32)
Professional Snowboarder
③ Sandan Rolling Maruta 三段ローリング丸太
Digest 5-2.
86
Paul Anthony Terek (26)
Athens Olympics Decathlete/USA Representative
Clear (04.47 seconds left)
He reached the top of the Jump Hang with his right hand.
87
Nagasaki Shunsuke (19)
Trampoline Player
Clear (17.67 seconds left)
First Stage's Fastest Clear.
89

Yasutoku Takeshi

(20)
Professional Inline Skater
⑦ Soritatsu Kabe そり立つ壁
Digest 5-1. Time Out.
91
Takeda Toshihiro (31)
Gifu Prefecture Firefighter
Clear (13.37 seconds left)
92
Lee En-Chih (32)
Professional Rock Climber/Taiwan Representative
Clear (03.43 seconds left)
93

Michelle Shannon

(30)
Circus Performer
③ Sandan Rolling Maruta 三段ローリング丸太
All-Cut. External Information.
95
Yamada Koji (32)
Firefighter with 3% Body Fat
Clear (16.08 seconds left)
Digest.
96
Nakata Daisuke (32)
Professional Trampoline Player
Clear (05.58 seconds left)
Digest.
98
Yamamoto Shingo (32)
Gasoline Stand Area Manager
Clear (12.08 seconds left)
Middle-Cut.
99
Nagano Makoto (34)
Captain of the 28th Konpira Maru
Clear (12.48 seconds left)
100
Yamada Katsumi (40)
Part Time Ironworker
⑦ Soritatsu Kabe そり立つ壁
Time Out. Was atop the obstacle when time expired.
Total
100 Attempts
11 Clears
Second Stage
Obstacles
① Chain Reaction チェーンリアクション
↓ Brick Climb ブリッククライム
② Spider Walk スパイダーウォーク
③ Balance Tank バランスタンク
④ Metal Spin メタルスピン
⑤ Wall Lifting ウォールリフティング
Time Limit: 65 seconds
Results
| Number | Name (Age) | Profile | Result | Notes |
| --- | --- | --- | --- | --- |
| 51 | Honma Kota (16) | First Year High School Student | ② Spider Walk スパイダーウォーク | Rushed the downward part and slipped. |
| 67 | Adachi Yūta (26) | SASUKE Trials #2 Representative/Teacher | Clear (06.74 seconds left) | |
| 81 | Shiratori Bunpei (39) | Inba Village, Chiba Prefecture Office Worker | Clear (09.55 seconds left) | |
| 86 | Paul Anthony Terek (26) | Athens Olympics Decathlete/USA Representative | Clear (02.72 seconds left) | |
| 87 | Nagasaki Shunsuke (19) | Trampoline Player | Clear (10.89 seconds left) | Middle-Cut. |
| 91 | Takeda Toshihiro (31) | Gifu Prefecture Firefighter | Clear (13.84 seconds left) | Digest. Second Stage's Fastest Clear. |
| 92 | Lee En-Chih (32) | Professional Rock Climber/Taiwan Representative | ④ Metal Spin メタルスピン | |
| 95 | Yamada Koji (32) | Firefighter with 3% Body Fat | ④ Metal Spin メタルスピン | Middle-Cut. |
| 96 | Nakata Daisuke (32) | Professional Trampolinist | Clear (03.3 seconds left) | Injure his hand on Metal Spin. |
| 98 | Yamamoto Shingo (32) | Gasoline Stand Area Manager | Clear (12.05 seconds left) | Digest. |
| 99 | Nagano Makoto (34) | Captain of the 28th Konpira Maru | Clear (09.90 seconds left) | |
| | Total | 11 Attempts | 8 Clears | |
Third Stage
Obstacles
① Arm Ring アームリング
② Body Prop ボディプロップ
③ Curtain Cling カーテンクリング
④ Cliffhanger Kai クリフハンガー改
⑤ Jumping Bars ジャンピングバー
⑥ Climbing Bars クライミングバー
⑦ *Devil Balanço デビルブランコ
⑧ *Pipe Slider パイプスライダー
* Denotes Modified Obstacle
Results
| Number | Name (Age) | Profile | Result | Notes |
| --- | --- | --- | --- | --- |
| 67 | Adachi Yūta (26) | SASUKE Trials #2 Representative/Teacher | ② Body Prop ボディプロップ | |
| 81 | Shiratori Bunpei (39) | Inba Village, Chiba Prefecture Office Worker | ② Body Prop ボディプロップ | |
| 86 | Paul Anthony Terek (26) | Athens Olympics Decathlete/USA Representative | ④ Cliffhanger Kai クリフハンガー改 | |
| 87 | Nagasaki Shunsuke (19) | Trampoline Player | Clear | Youngest to clear Third Stage since Akiyama Kazuhiko's Kanzenseiha. |
| 91 | Takeda Toshihiro (31) | Gifu Prefecture Firefighter | ⑧ Pipe Slider パイプスライダー | Failed Jump. First competitor with 10+ Third Stage attempts. |
| 96 | Nakata Daisuke (32) | Professional Trampoline Player | ① Arm Ring アームリング | Injured. |
| 98 | Yamamoto Shingo (32) | Gasoline Stand Area Manager | ② Body Prop ボディプロップ | Second competitor with 10+ Third Stage attempts. |
| 99 | Nagano Makoto (34) | Captain of the 28th Konpira Maru | Clear | |
| | Total | 8 Attempts | 2 Clears | |
Final Stage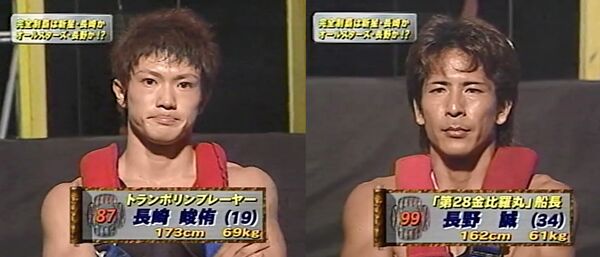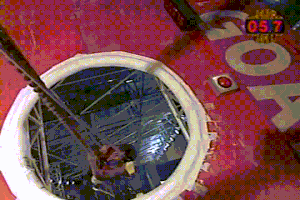 Obstacles
① Spider Climb スパイダークライム (12.5m)
② Tsuna Nobori 綱登り (10m)
Time limit: 30 seconds
Results
Number
Name (Age)
Profile
Result
Notes
87
Nagasaki Shunsuke (19)
Trampoline Player
② Tsuna Nobori 綱登り
Time Out. About 18 metres up.
99
Nagano Makoto (34)
Captain of the 28th Konpira Maru
Kanzenseiha
(02.56 seconds left)
Second competitor to achieve Kanzenseiha. Last Man Standing.
Total
2 Attempts
1 Clear
External Links