Intro
The 16th Competition, official name: SASUKE2005冬 (literally SASUKE 2005 Winter) is the third and final tournament held in 2005. Officially, it was the only tournament to have the "winter" label.
In the First Stage, three new obstacles were introduced, the Rokudantobi, Rope Reverse, and Reverse Fly. Also, for the first time ever, there was a time limit difference for competitors in the First Stage, as normal competitors were given 100 seconds to complete it, while under 18, over 50, and/or female competitors were given 105 seconds to complete it. However, the success of this tournament was the best since Akiyama Kazuhiko's kanzenseiha in SASUKE 4, with an incredible 16 competitors cleared the stage, including 8 consecutive clears from #89 to #96.
In the Second Stage, the Delta Bridge replaced the Balance Tank from the previous tournament (although the Balance Tank would later replace the Delta Bridge in the next tournament). The redesigned Metal Spin was proven to be much brutal than the previous tournament, taking out 7 out of the 15 competitors who attempted it. The field was cut in half to eight.
In the Third Stage, the Arm Rings replaced the Rumbling Dice from the previous tournament. The results were slightly better, as the Devil Balanço was finally beaten by both Yamada Koji and Shiratori Bunpei. At 38 years old, Shiratori became the oldest competitor to go the furthest out of all the 100 competitors, surpassing Yamada Katsumi in SASUKE 10 at 36 years old. This was the only time Shiratori made it the furthest of the SASUKE All-Stars. However, for the third straight tournament, no one made it to the Final Stage.
First Stage
Obstacles
① ^Rokudantobi 六段跳び
② Sandan Rolling Maruta 三段ローリング丸太
③ Cross Bridge クロスブリッジ
④ Jump Hang ジャンプハング
⑤ ^Rope Reverse ロープリバース
⑥ ^Reverse Fly リバースフライ
⑦ Soritatsu Kabe そり立つ壁
⑧ Tarzan Jump ターザンジャンプ
⑨ *Rope Climb ロープクライム
Time Limit: 100 seconds (105 seconds for competitors under 18, over 50, and/or female competitors)
Length: 101.2 m
^ Denotes New Obstacle
* Denotes Modified Obstacle
Results
Second Stage
Obstacles
① Chain Reaction チェーンリアクション
↓ Brick Climb ブリッククライム
② Spider Walk スパイダーウォーク
③ ^Delta Bridge デルタブリッジ
④ *Metal Spin メタルスピン
⑤ Wall Lifting ウォールリフティング
Time Limit: 66 seconds
^ Denotes New Obstacle
* Denotes Modified Obstacle
Results
| Number | Name (Age) | Profile | Result | Notes |
| --- | --- | --- | --- | --- |
| 39 | Nagasawa Hidenori (40) | Jaguar Mechanic | ④ Metal Spin メタルスピン | First to beat Delta Bridge. |
| 51 | Tomoyuki (26) | Model | ④ Metal Spin メタルスピン | |
| 66 | Takahashi Kenji (29) | Transportation Industry | Clear (11.4 seconds left) | Fastest Second Stage clear of the tournament. |
| 71 | Akiyama Kazuhiko (32) | Only Person to Achieve Kanzenseiha | ④ Metal Spin メタルスピン | |
| 73 | Kameyama Masashi (26) | Plumber | ④ Metal Spin メタルスピン | Middle Cut. |
| 86 | Izumiyama Yūta (22) | Sprinter, Hosei University | ③ Delta Bridge デルタブリッジ | Digest. |
| 89 | Nagasaki Shunsuke (18) | 2005 Trampoline World Cup Team Member | Clear (08.19 seconds left) | |
| 90 | Iketani Naoki (32) | Monster Box World Record Holder | Clear (04.75 seconds left) | Middle Cut. |
| 91 | Yamada Koji (32) | Gujo County Firefighter | Clear (11.08 seconds left) | Middle Cut. |
| 92 | Kobayashi Shinji (34) | Transport and Industrial Waste | ④ Metal Spin メタルスピン | Middle Cut. |
| 93 | Kobayashi Masaaki (30) | Juku Sports Management | ④ Metal Spin メタルスピン | Digest. |
| 94 | Paul Hamm (23) | Athens Olympics Individual Gold Medalist in Gymnastics | ④ Metal Spin メタルスピン | |
| 95 | Jordan Jovtchev (32) | Athens Olympics Silver Medalist in Gymnastics | Clear (02.25 seconds left) | |
| 96 | Shiratori Bunpei (38) | Inba Village, Chiba Prefecture, Office Worker | Clear (08.53 seconds left) | |
| 98 | Takeda Toshihiro (30) | Gifu Firefighter | Clear (04.34 seconds left) | Middle Cut. |
| 100 | Nagano Makoto (33) | Fisherman/Captain of the 28th Konpira Maru | Clear (06.91 seconds left) | |
| | Total | 16 Attempts | 8 Clears | |
Third Stage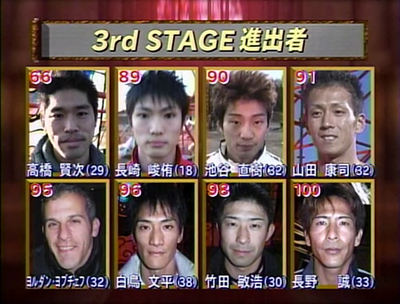 Obstacles
① ^Arm Rings アームリング
② Body Prop ボディプロップ
③ Curtain Cling カーテンクリング
④ Cliffhanger クリフハンガー
⑤ *Jumping Bars ジャンピングバー
⑥ Climbing Bars クライミングバー
⑦ Devil Balanço デビルブランコ
⑧ Pipe Slider パイプスライダー
^ Denotes New Obstacle
* Denotes Modified Obstacle
Results
| Number | Name (Age) | Profile | Result | Notes |
| --- | --- | --- | --- | --- |
| 66 | Takahashi Kenji (29) | Transportation Industry | ④ Cliffhanger クリフハンガー | First to beat Arm Rings. |
| 89 | Nagasaki Shunsuke (18) | 2005 Trampoline World Cup Team Member | ④ Cliffhanger クリフハンガー | |
| 90 | Iketani Naoki (32) | Monster Box World Record Holder | ② Body Prop ボディプロップ | |
| 91 | Yamada Koji (32) | Gujo County Firefighter | ⑧ Pipe Slider パイプスライダー | After struggling on the Devil Balanço, he reached the Pipe Slider but fell before he could begin moving the pipe. First to beat Devil Balanço. |
| 95 | Jordan Jovtchev (32) | Athens Olympics Silver Medalist in Gymnastics | ④ Cliffhanger クリフハンガー | |
| 96 | Shiratori Bunpei (38) | Inba Village, Chiba Prefecture, Office Worker | ⑧ Pipe Slider パイプスライダー | Failed Jump. |
| 98 | Takeda Toshihiro (30) | Gifu Firefighter | ④ Cliffhanger クリフハンガー | Middle Cut. |
| 100 | Nagano Makoto (33) | Fisherman/Captain of the 28th Konpira Maru | ⑦ Devil Balanço デビルブランコ | Tried to grab the Pipe Slider bar, but he missed and the bar moved away from him. Last Man Standing. |
| | Total | 8 Attempts | 0 Clears | |
External Links