Intro
The 15th Competition, official name: SASUKE2005真夏 (literally SASUKE 2005 Midsummer) is the first tournament held during the summer and the eleventh tournament since Akiyama Kazuhiko's kanzenseiha. Temperatures during the tournament reached 34 degrees Celsius (93 degrees Fahrenheit), causing a greater effect on stamina, which caused several Soritatsu Kabe time outs. Because of the heat, Shiratori Bunpei suffered from heat exhaustion, causing him to miss when he was supposed to run the First Stage. Instead, he went after Nagano Makoto's (#100) run. Only seven competitors completed the First Stage, the lowest number since SASUKE 10.
In the Second Stage, there was a great success, as the first six competitors cleared. The last competitor to attempt the Second Stage, Nagano Makoto, failed at the Metal Spin.
No changes were made into the Third Stage from the previous tournament. Despite not being 100% in physical condition, 2 All-Stars (Shiratori Bunpei and Takeda Toshihiro) made the furthest. Takeda, who was suffering from a right shoulder injury, was the Last Man Standing for the first and only time in his career.
First Stage
Obstacles
① ^Hurdle Jump ハードルジャンプ
② Butterfly Wall バタフライウォール
③ Sandan Rolling Maruta 三段ローリング丸太
④ Cross Bridge クロスブリッジ
⑤ Jump Hang ジャンプハング
⑥ Nejireta Kabe ねじれた壁
⑦ Soritatsu Kabe そり立つ壁
⑧ Tarzan Jump ターザンジャンプ
⑨ Rope Climb ロープクライム
Time Limit: 95 seconds
^ Denotes New Obstacle
Results
Second Stage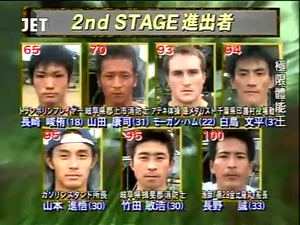 Obstacles
① Chain Reaction チェーンリアクション
↓ Brick Climb ブリッククライム
② Spider Walk スパイダーウォーク
③ Balance Tank バランスタンク
④ Metal Spin メタルスピン
⑤ Wall Lifting ウォールリフティング
Time Limit: 65 seconds
Results
| Number | Name (Age) | Profile | Result | Notes |
| --- | --- | --- | --- | --- |
| 65 | Nagasaki Shunsuke (18) | 2005 Trampoline World Cup Team Member | Clear (02.1 seconds left) | |
| 70 | Yamada Koji (31) | Gujo County Firefighter | Clear (03.4 seconds left) | Digest. |
| 93 | Morgan Hamm (22) | Athens Olympics Silver Medalist in Group Gymnastics | Clear (04.8 seconds left) | Digest. |
| 94 | Shiratori Bunpei (37) | Inba Village, Chiba Prefecture, Office Worker | Clear (04.0 seconds left) | |
| 95 | Yamamoto Shingo (30) | Gasoline Stand Area Manager/SASUKE Perfect Attendance | Clear (10.1 seconds left) | Digest. Fastest Second Stage clear of the tournament. |
| 96 | Takeda Toshihiro (30) | Gifu Firefighter | Clear (08.4 seconds left) | Digest. |
| 100 | Nagano Makoto (30) | Miyazaki Prefecture Fisherman | ④ Metal Spin メタルスピン | |
| | Total | 7 Attempts | 6 Clear | |
Third Stage
Obstacles
① Rumbling Dice ランブリングダイス
② Body Prop ボディプロップ
③ Curtain Cling カーテンクリング
④ Cliffhanger クリフハンガー
⑤ Jumping Bars ジャンピングバー
⑥ Climbing Bars クライミングバー
⑦ Devil Balanço デビルブランコ
⑧ Pipe Slider パイプスライダー
Results
| Number | Name (Age) | Profile | Result | Notes |
| --- | --- | --- | --- | --- |
| 65 | Nagasaki Shunsuke (18) | 2005 Trampoline World Cup Team Member | ④ Cliffhanger クリフハンガー | |
| 70 | Yamada Koji (31) | Gujo County Firefighter | ⑤ Jumping Bars ジャンピングバー | Sixth Bar. Middle Cut. |
| 93 | Morgan Hamm (22) | Athens Olympics Silver Medalist in Group Gymnastics | ③ Curtain Cling カーテンクリング | Middle Cut. |
| 94 | Shiratori Bunpei (37) | Inba Village, Chiba Prefecture, Office Worker | ⑥ Climbing Bars クライミングバー | |
| 95 | Yamamoto Shingo (30) | Gasoline Stand Area Manager/SASUKE Perfect Attendance | ② Body Prop ボディプロップ | Digest. |
| 96 | Takeda Toshihiro (30) | Gifu Firefighter | ⑦ Devil Balanço デビルブラン/⑧ Pipe Slider パイプスライダー | Last Man Standing. Used his feet on the Climbing Bars. |
| | Total | 6 Attempts | 0 Clears | |
External Links