Intro
The 1st tournament, (officially,「究極のサバイバルアタックSASUKE」) (Kyuukyoku no Sabaibaruatakku SASUKE; literally Ultimate Survival Attack SASUKE), was the first ever SASUKE tournament, held in 1997, and aired as a special on Kinniku Banzuke. It was the only indoor tournament in SASUKE history, held at Tokyo Bay NK Hall.
Several recurring competitors made their first appearance here, including two future SASUKE All-Stars: Yamamoto Shingo and Yamada Katsumi. Other strong competitors emerged, such as Ōmori Akira, Hasegawa Ken, Miura Eiichi and Kane Kosugi. Not all, however, would stick around SASUKE all that long despite their seemingly high skill level.
Results-wise, 23 competitors cleared the First Stage, which was the sixth most clears in the First Stage, with SASUKE 34 (24 clears), SASUKE 27 (27 clears), SASUKE 30 (27 clears), SASUKE 2 (34 clears), and SASUKE 4 (37 clears) being the tournaments with higher clears in the First Stage than SASUKE 1. At 44 years old, Inoue Kiyomi became the oldest competitor to clear the First Stage. His record still stands today.
Six competitors cleared the Second Stage, while four cleared the Third Stage, including Kawashima Takayuki, who is the youngest ever to do so at 18 years old. However, no one was close to achieving kanzenseiha.
First Stage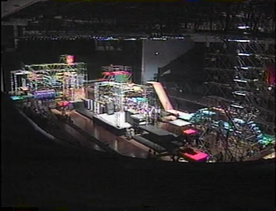 Obstacles
① Taki Nobori 滝登り
② Burasagari Maruta ぶら下がり丸太
③ Taki Kudari 滝下り
④ Sosoritatsu Kabe そそり立つ壁
⑤ Yureru Hashi 揺れる橋
⑥ Maruta Kudari 丸太下り
⑦ Free Climbing フリークライミング
⑧ Kabe Nobori 壁登り
Time Limit: 70 seconds
Length: 74.8 m
Results
Number
Name (Age)
Profile
Result
Notes
1
Tanaka Tomokazu (21)
Office Worker/Stage 3 Karate
⑦ Free Climbing フリークライミング
Time Out. First to attempt SASUKE, and first to beat the Taki Nobori, Burasagari Maruta, Taki Kudari, Sosoritatsu Kabe, Yureru Hashi and Maruta Kudari.
2
Yano Shinichi (24)
Ito Ham Huskies Runningback
Clear (02.2 seconds left)
First to beat Free Climbing and Kabe Nobori. First to clear SASUKE's First Stage.
3
Miyajima Kazuya (16)
Chigasaki High School Basketball Club Captain
⑤ Yureru Hashi 揺れる橋
Digest 1-1.
4
Iwasawa Ayako (17)
Chigasaki High School Volleyball Club Vice Captain
① Taki Nobori 滝登り
Digest 1-2. First woman to attempt SASUKE.
5
Hirata Ryojiro (17)
Rikkyo High School Wrestling Club Captain
⑤ Yureru Hashi 揺れる橋
Digest 1-3.
6
Asayama Hiroshi (18)
Rikkyo High School Track and Field Club Captain
③ Taki Kudari 滝下り
Digest 1-4.
7
Yamamoto Shingo (23)
Gas Station Worker
Clear (29.0 seconds left)
8

Kawamura Takehiko

(24)
Trucker
⑦ Free Climbing フリークライミング
Digest 2-1. Time Out.
9

Okada Takashi

(26)
Amateur Kickboxer
③ Taki Kudari 滝下り
Digest 2-2.
10

Iwasaki Tokumasa

(21)
Toyo University kickboxing Club
③ Taki Kudari 滝下り
Digest 2-3.
11

Sugaya Seigou

(21)
Toyo University Kickboxing Club
⑦ Free Climbing フリークライミング
Digest 2-4. Time Out.
12

Isoda Hiromasa

(21)
Tokyo Science University Rugby Club
⑧ Kabe Nobori 壁登り
Digest 2-5. Time Out.
13

Mitani Takuya

(22)
Tokyo Science University Rugby Club
③ Taki Kudari 滝下り
Digest 2-6.
14

Kasamatu Nobuyuki

(27)
Actor
① Taki Nobori 滝登り
Digest 2-7.
15

Matuyama Tatsu

(18)
Tokyo University lacrosse Club
⑦ Free Climbing フリークライミング
Digest 2-8. Time Out.
16

Hasegawa Seiichi

(30)
Class "A" snowboard instructor
① Taki Nobori 滝登り
Digest 2-9.
17

Komiya Riki

(27)
Snowboard importer
③ Taki Kudari 滝下り
Digest 2-10.
18
Yamamoto Yoshihito (24)
Truck Driver
Clear (18.8 seconds left)
Digest 2-11.
19

Kida Naoyuki

(23)
Gakushuin University Rugby Club Former Captain
⑦ Free Climbing フリークライミング
Digest 2-12. Time Out.
20

Takubo Kazuo

(20)
Gakushuin University Rugby Club
⑦ Free Climbing フリークライミング
Digest 2-13. Time Out.
21

Morita Daisuke

(22)
Gakushuin University soccer team former captain
③ Taki Kudari 滝下り
Digest 2-14.
22
Sakamoto Takashi (30)
Japan Action Club member
Clear (06.0 seconds left)
23

Fuse Shuzo

(35)
Snowboard school principal
⑦ Free Climbing フリークライミング
Digest 3-1. Time Out.
24
Ogasawara Takashi (29)
Former Motorcycle racer
③ Taki Kudari 滝下り
Digest 3-2.
25
Wakae Kazuo (29)
Free Climbing instructor
Clear (08.3 seconds left)
Digest 3-3.
26

Mito Hajime

(33)
Fitness gym instructor
⑧ Kabe Nobori 壁登り
Digest 3-4. Time Out.
27
Atarashii Ichirō (26)
Fitness gym instructor
⑧ Kabe Nobori 壁登り
Digest 3-5. Time Out.
28

Takezaki Ryo

(22)
Sophia University handball Club
③ Taki Kudari 滝下り
Digest 3-6.
29

Wada Naomi

(21)
Sophia University Shorinji Kempo Club Captain
③ Taki Kudari 滝下り
Digest 3-7.
30

Saitoh Minoru

(19)
Sophia University cheerleader
⑦ Free Climbing フリークライミング
Digest 3-8. Time Out.
31
Ōta Yūsuke (23)
Tsukuba University Swimming Club
Clear (01.8 seconds left)
Digest 3-9.
32

Shimogayachi Takuya

(23)
Professional kickboxer
③ Taki Kudari 滝下り
Digest 3-10.
33

Sasa Keisuke

(20)
Suruga University soccer Club
③ Taki Kudari 滝下り
Digest 3-11.
34

Kaneko Takayuki

(22)
Chuou University Third Year Student
⑧ Kabe Nobori 壁登り
Digest 3-12. Time Out.
35

Terauchi Hajime

(20)
Meiji Gakuin University Skiing Circle
③ Taki Kudari 滝下り
Digest 3-13.
36

Murayama Ryoei

(24)
Meiji Gakuin University Skiing Circle
③ Taki Kudari 滝下り
Digest 3-14.
37

Urusizaki Akiyoshi

(20)
Tokyo Science University Soccer Club
③ Taki Kudari 滝下り
Digest 3-15.
38

Yamada Masahiro

(20)
Rikkyo University Soccer Club
② Burasagari Maruta ぶら下がり丸太
Digest 3-16.
39

Shinozuka Masashi

(22)
Goldsmith
① Taki Nobori 滝登り
Digest 3-17.
40
Miura Eiichi (29)
Construction Worker
Clear (26.2 seconds left)
41
Okajima Kōsei (30)
Wholesaler
⑧ Kabe Nobori 壁登り
Digest 4-1. Time Out.
42

Ichinose Akiko

(21)
Tokyo Women's University Hockey Club
① Taki Nobori 滝登り
Digest 4-2.
43
Koyama Shuichiro (19)
Yokohama National University Yacht Club
Clear (01.3 seconds left)
Digest 4-3. He timed out albeit pressing the buzzer, but was rectified to have completed the stage on time.
44

Uedana Hiroshi

(30)
Office Worker
⑧ Kabe Nobori 壁登り
Digest 4-4. Time Out.
45

Kurokawa Toshiyuki

(22)
Bartender
① Taki Nobori 滝登り
Digest 4-5.
46

Sugaya Yasuyuki

(23)
Part-time Worker
① Taki Nobori 滝登り
Digest 4-6.
47
Araki Motoharu (21)
Tokyo Medical College Skiing Club
Clear (09 seconds left)
Digest 4-7.
48
Tatsukawa Tomihiro (33)
Office Worker
③ Taki Kudari 滝下り
49
Kawashima Takayuki (18)
Sixth in the 1995 Acro Gymnastics World Championship
Clear (11 seconds left)
Digest 5-1.
50

Shigematsu Hideki

(28)
Commercial Lighting Industry
⑦ Free Climbing フリークライミング
Digest 5-2. Time Out.
51

Yukawa Takahiro

(22)
Waseda University Basketball Circle
③ Taki Kudari 滝下り
Digest 5-3.
52

Kudo Takayuki

(20)
Waseda University Basketball Circle
① Taki Nobori 滝登り
Digest 5-4.
53

Yumigari Makoto

(23)
Amateur Boxer
③ Taki Kudari 滝下り
Digest 5-5.
54
Miyagi Hidekazu (22)
Amateur Boxer
Clear (33.0 seconds left)
Digest 5-6. Fastest First Stage clear of the tournament.
55

Kamiyama Shun

(18)
Amateur Boxer
③ Taki Kudari 滝下り
Digest 5-7.
56

Ōhashi Katsuhide

(23)
Waseda University Kendo Circle
③ Taki Kudari 滝下り
Digest 5-8.
57

Sakai Hidetaka

(21)
Waseda University Kendo Club
③ Taki Kudari 滝下り
Digest 5-9.
58

Ōnuma Kimio

(36)
Carpenter
② Burasagari Maruta ぶら下がり丸太
Digest 5-10.
59
Iijima Toyohisa (21)
JSDF Personell
Clear (19.4 seconds left)
60

Yamada Kunihiro

(29)
Chitose Hill High School baseball club Manager
① Taki Nobori 滝登り
Digest 6-1.
61

Ishii Yoshinobu

(29)
Talent
① Taki Nobori 滝登り
Digest 6-2.
62

Hasebe Kei

(23)
International Budo University Track and Field Club
③ Taki Kudari 滝下り
Digest 6-3.
63

Yagi Kōsuke

(23)
Body Board Instructor
③ Taki Kudari 滝下り
Digest 6-4.
64
Tada Tomohiro (23)
Construction Worker
Clear (06 seconds left)
Digest 6-5.
65

Watanabe Katsusada

(23)
Barbecue Restaurant Employee
⑦ Free Climbing フリークライミング
Digest 6-6. Time Out.
66

Washizuka Masaharu

(19)
Professional Cyclist
① Taki Nobori 滝登り
Digest 6-7.
67

Ishikawa Shinji

(19)
Professional Cyclist
⑤ Yureru Hashi 揺れる橋
Digest 6-8.
68

Sakai Norihiro

(19)
Professional Cyclist
⑧ Kabe Nobori 壁登り
Digest 6-9. Time Out.
69

Unesema Hajime

(25)
Nikko Edo Wonderland Ninja
③ Taki Kudari 滝下り
Digest 6-10.
70

Ogai Tetsuo

(37)
Paraglider Salesperson
⑦ Free Climbing フリークライミング
Digest 6-11. Time Out.
71

Kinoshita Kimiaki

(34)
Bean jam seller
⑤ Yureru Hashi 揺れる橋
Digest 6-12.
72
Yō Takashi (20)
Toho Gakuen Junior College Student
Clear (18.5 seconds left)
Middle Cut.
73

Aida Shigeru

(25)
Toei Subway Staff
③ Taki Kudari 滝下り
Digest 7-1.
74

Aida Saburō

(23)
Construction Worker
① Taki Nobori 滝登り
Digest 7-2.
75

Ishikawa Makoto

(25)
Hitachi Rugby Club
③ Taki Kudari 滝下り
Digest 7-3.
76
Amoto Naoto (23)
Part Time Worker
Clear (07 seconds left)
Digest 7-4.
77

Yamane Kōichi

(22)
Toyo University Student
① Taki Nobori 滝登り
Digest 7-5. The foot got caught in-between the barrels when transiting.
78
Sugimoto Kazuhiro (20)
Tokyo Agriculture University Basketball Club
Clear (10 seconds left)
Digest 7-6.
79

Fujii Takuma

(19)
Kokushikan University Basketball Club
⑧ Kabe Nobori 壁登り
Digest 7-7. Time Out.
80

Kawakami Yukio

(22)
Keio University Skiing Circle
⑦ Free Climbing フリークライミング
Digest 7-8. Time Out.
81

Nakano Tatsuo

(32)
Professional Wrestler
① Taki Nobori 滝登り
82

Takemura Takeshi

(25)
Fitness Gym Instructor
① Taki Nobori 滝登り
Digest 8-1.
83

Mezaki Masahiro

(30)
Body Builder
① Taki Nobori 滝登り
Digest 8-2.
84

Tanaka Shigeru

(30)
1993 and 1995 World Handball Championships
③ Taki Kudari 滝下り
Digest 8-3.
85

Minagawa Tomoki

(23)
BBQ Restaurant Service
② Burasagari Maruta ぶら下がり丸太
Digest 8-4.
86

Asida Kazunori

(22)
Chuou University Swimming Club
③ Taki Kudari 滝下り
Digest 8-5.
87

Anzai Koichi

(20)
JSDF Personell
③ Taki Kudari 滝下り
Digest 8-6.
88
Inoue Kiyomi (44)
Surfer
Clear (15.2 seconds left)
Oldest person to clear the First Stage.
89
Kane Kosugi (22)
Action Star/Geinojin Sportsman No. 1
Clear (02.0 seconds left)
90
Satō Hisaya (25)
1997 All-Japan Giant Slalom Champion
Clear (28.3 seconds left)
91

Koyama Takashi

(22)
Office Worker
⑧ Kabe Nobori 壁登り
Time Out.
92
Yamada Katsumi (31)
Quick Muscle National Runner-up
Clear (05.9 seconds left)
Middle Cut.
93

Kokubu Ken

(22)
Tokyo Uniersity Shorinji Kempo Club
⑤ Yureru Hashi 揺れる橋
Digest 9.
94
Iketani Yukio (27)
Barcelona Olympic Silver Medalist in Gymnastics
Clear (29.2 seconds left)
95

Zhang Da-Yong

(27)
Physical Education Teacher
⑧ Kabe Nobori 壁登り
Digest 10-1. Time Out.
96
Hasegawa Ken (24)
Nikko Edo Wonderland Ninja
Clear (20 seconds left)
Digest 10-2.
97
Ōmori Akira (29)
Comedian
Clear (24.1 seconds left)
98

Ishikawa Masaya

(17)
Keio High School Alpine Club
⑧ Kabe Nobori 壁登り
Digest 11-1. Time Out.
99

Fukada Soichiro

(30)
Free Climber
③ Taki Kudari 滝下り
Digest 11-2.
100
Kawashima Hiroshi (27)
Former WBC Junior-bantamweight Class Champion
② Burasagari Maruta ぶら下がり丸太
Total
100 Attempts
23 Clears
Second Stage
Obstacles
① Spider Walk スパイダーウォーク
② Ugokukabe 動く壁
③ Spider Climb スパイダークライム
④ Goren Hammer 5連ハンマー
⑤ Gyakusō Conveyor 逆走コンベアー
⑥ Wall Lifting WALL LIFTING
Time Limit: 50 seconds
Length: 65.5 m
Results
Third Stage
Obstacles
① Pole Bridge ポールブリッジ
② Propeller Untei プロペラ雲梯
③ Hariyama 針山
Results
| Number | Name (Age) | Profile | Result | Notes |
| --- | --- | --- | --- | --- |
| 18 | Yamamoto Yoshihito (24) | Truck Driver | ① Pole Bridge ポールブリッジ | |
| 49 | Kawashima Takayuki (18) | Sixth in the 1995 Acro Gymnastics World Championship | Clear | First to beat the Pole Bridge, Propeller Untei and Hariyama. First to beat SASUKE's Third Stage. Youngest to clear Third Stage. |
| 72 | Yō Takashi (20) | Toho Gakuen Junior College Student | Clear | Middle Cut. |
| 89 | Kane Kosugi (22) | Action Star | ① Pole Bridge ポールブリッジ | |
| 96 | Hasegawa Ken (24) | Nikko Edo Wonderland Ninja | Clear | Middle Cut. |
| 97 | Ōmori Akira (29) | Comedian | Clear | |
| | Total | 6 Attempts | 4 Clears | |
Final Stage
Obstacles
① Tsuna Nobori 綱登り (15m)
Time Limit: 30 seconds
Results
External Links