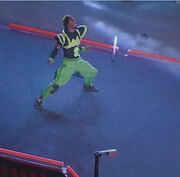 Ryoga Vee is an American competitor who has been participating in
G4
qualifiers since their inception but has never qualified for
SASUKE
. Recently, he has taken to the course wearing a red and black ninja outfit.
American Ninja Challenge
Ryoga Vee submitted video applications to all four American Ninja Challenge competitions. Despite becoming a fan favorite, he was not selected to compete in Japan.
American Ninja Warrior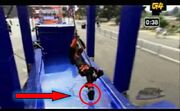 In American Ninja Warrior, Ryoga started strong, blazing through the Quintuple Steps. However, he didn't have enough momentum to reach the platform on the Rope Swing, failing to reach four times, mostly due to him climbing up instead of swinging to gain momentum. However, he managed to go back to the starting platform and try again, but on his second try, he extended his legs too early and his foot skimmed the water. He later did a bellyflop into the water after being DQ'd.
American Ninja Warrior 2
Ryoga came back for ANW2. Despite taking two tries to complete Rope Swing, he managed to exact revenge on the obstacle, but had a hard crash on the next obstacle, the Bridge of Blades, ending his run.
American Ninja Warrior 3
Ryoga returned for American Ninja Warrior 3, after receiving training from David Campbell. This paid off, as cleared the first three obstacles with ease and exacted revenge on the Bridge of Blades that took him out the previous season. However, he struggled on the Jump Hang due to his bulky costume and began to run out of strength on the Jumping Bars, causing him to fully extend his arms. As such, he was unable to get a firm grip on the final bar and came up short, plummeting into the water. It is also worth noting that his costume caused water to splash all over the dismount platform, affecting other competitors such as Andrew Karsen.
American Ninja Warrior 4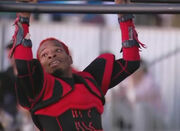 Ryoga returned once again for
American Ninja Warrior 4
. He struggled with the fifth obstacle, the
Pipe Slider
, holding on for over 48 seconds but ultimately failing the obstacle.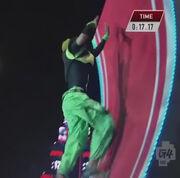 Despite failing the qualifier, Ryoga was selected to return as a one of the ten wildcard contestants. Breaking the tradition of red and black, he wore a green themed outfit to represent the Northwest region. He completed five obstacles until he timed out at the Warped Wall.
He didn't compete in American Ninja Warrior 5.
American Ninja Warrior 6
Ryoga returned two years later, it was known he was gonna compete from the American Ninja Warrior 6 Season Opener Special. He probably competed in Venice, but failed the Spinning Wheel. It is unknown since it was all cut.
| SASUKE | # | Result | Notes |
| --- | --- | --- | --- |
| ANW4 | 45 | Failed Warped Wall (First Stage) | Wildcard. Time out. |
Community content is available under
CC-BY-SA
unless otherwise noted.