Ruben Arellano is a real estate agent from San Diego, California. Arellano is originally from South Calexico, in which his family's roots, who are of Hispanic descent, resided at.
He is also known by his nickname, "Chivo" (which is Spanish for "mountain goat"). This nickname was given to him from his grandmother.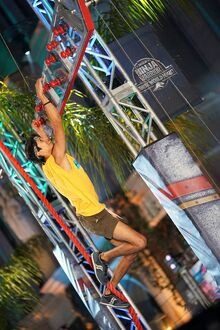 He made his debut in Los Angeles in ANW 10. He went through a good pace through most of the course, but became one of many to tumble on the Doorknob Drop. However, he managed to place 25th overall and move on to the city finals.
In the city finals, he failed the Spinning Bridge. His run to that point placed him 31st overall, which was not good enough to move on to the national finals.
Arellano made his second appearance in ANW 11, returning in Los Angeles. Despite being shown in the intro, his run was cut in qualifying, but he failed the normal 14.5' Warped Wall. However, he placed 14th at the end of the night and advanced to the city finals again. This is similar to Tyler Yamauchi in Orlando qualifier of ANW 7 when he was shown on the intro but the run was not shown. His run in the city finals was also not shown, but very briefly during the intro it was shown he failed the Salmon Ladder. He placed 23rd overall and he once again didn't move onto the national finals.
Community content is available under
CC-BY-SA
unless otherwise noted.