Rope Junction (ロープジャンクション) was a Third Stage obstacle that was introduced in SASUKE 24 to replace Kudari Lamp Grasper.
The obstacle consisted of six ropes (though seven ropes were announced): the first, second, fourth, and fifth ropes were made shorter to limit swing movement and alternate from left to right, while the third and sixth ropes were much longer and centered. In addition, the distance between the second and the third rope is 130 cm.
Competitors must cross all six ropes to make it to the landing platform (in a similar fashion with Tarzan Rope, although unlike Tarzan Rope, it was not allowed for competitors to skip a rope). They were also required to use the sixth rope to drop safely down to the resting platform. The obstacle was proven to be extremely easy, as all seven competitors who attempted it, could clear it with no trouble.
Competitor's Success Rate
All results based on the TBS broadcast and external information found.
| SASUKE | Clears | Attempts | Percentage |
| --- | --- | --- | --- |
| 24 | 7 | 7 | 100% |
| Total | 7 | 7 | 100% |
Other Appearances
American Ninja Warrior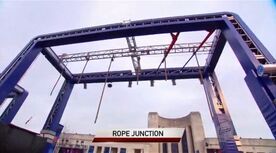 The Rope Junction appeared as the fifth obstacle on American Ninja Warrior 4 in Midsouth region. This time, the obstacle eliminated a fair number of competitors, including Richard King.
Ninja Warrior UK
On Ninja Warrior UK, the Rope Junction appeared as the fifth obstacle in Heat 3. However, the number of ropes was reduced to just three, and the obstacle was looked almost similar to the Rope Jungle.