Rope Glider (ロープグライダー) is an obstacle introduced in First Stage of SASUKE 18 as part of the course's renewal after Nagano Makoto's Kanzenseiha in the previous tournament, being placed as the first obstacle. Competitors must slide down a track holding onto a rope, letting go to land on a 3.5 metre-long mat floating in the water.
It was brutally hard as it eliminated the first five competitors who attempted it. It continued to take out competitors as the tournament progressed, with the competitors either missed the mat by letting go at the wrong moment or landing on the mat but sliding off it.
Due to the high velocity involved with the obstacle, it was proven to be extremely dangerous as five competitors were injured, with the most notable one being Comedian Kosugi Ryūichi, who suffered a shoulder injury that needed six months to heal. Because of the injuries, Rokudantobi was brought back in the following tournament.
Competitors' Success Rate
All results based on the TBS broadcast and external information found.
| SASUKE | Clears | Attempts | Percentage |
| --- | --- | --- | --- |
| 18 | 62 | 102 | 60.78% |
| Total | 62 | 102 | 60.78% |
Notes: There are only 99 competitors in SASUKE 18.
Other Appearances
American Ninja Warrior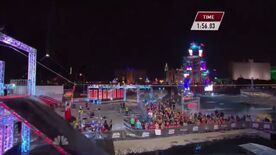 The Rope Glider appeared as the third obstacle in Stage One on American Ninja Warrior 5, replacing the Giant Swing from the previous season.
However, unlike in SASUKE 18 (where this obstacle was considered as brutal), the obstacle was proven to be very easy (likely due to the landing platform was made bigger than the one in SASUKE 18), as only one competitor (Camilo Brokaw) failed on this obstacle.
Therefore, it was replaced by far more brutal obstacle (the Silk Slider) on the next season.  
Competitors' Success Rate
All results based on the NBC broadcast and external information found.
| ANW | Clears | Attempts | Percentage |
| --- | --- | --- | --- |
| ANW5 | 71 | 72 | 98.61% |
| USA vs. Japan | 5 | 5 | 100% |
| Total | 76 | 77 | 98.70% |