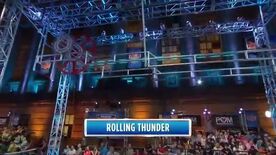 The Rolling Thunder is an obstacle, firstly introduced as the fifth obstacle on American Ninja Warrior 8 in Philadelphia. It consists of a giant wheel weighing 100 pounds, that must be rolled down a 25 feet track with two drops (similar to the Roulette Cylinder, except the wheel is much bigger and the track is much longer). During Philadelphia qualifiers, the wheel was divided into eight total sections, with every fourth section was covered entirely with a Plexiglas (for a total of two).
Competitors first had to jump off a mini-tramp to reach a waiting bar, and then transition to the giant wheel. Then, they had to roll the wheel all the way down the track to reach the landing platform. During Philadelphia finals, the obstacle was modified with three pieces of Plexiglas, instead of two, but the Plexiglas only half-covered the sections. This most likely made the obstacle easier, rather than harder, though it still posed a significant challenge.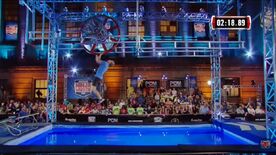 The obstacle was known for being an exceptionally intense endurance test on the upper body, as most competitors usually tired out midway to near the end of the track. This obstacle was ultimately the cut off for advancing to Philadelphia finals. Notable competitors who fell on the Rolling Thunder were Chris Wilczewski, Chris DiGangi, Mike Bernardo, Carl Fantauzzo, Michelle Warnky, Jesse Labreck, Allyssa Beird, Rachael Goldstein, Miles Avery, Brandon Pannell, Nick Kostreski, John Gowder Jr., Richard Shoemaker, and Yancey Quezada. Even some of the competitors that managed to complete the obstacle (e.g. Ryan Stratis, Jamie Rahn, Joe Moravsky, Jon Alexis Jr., Najee Richardson, Michael Torres, and Geoff Britten) were exhausted after finishing the obstacle.
A total of 32 competitors reached this obstacle, and only 9 competitors could get pass it, giving it almost a 72% knockout rate. However, among the 23 competitors who failed on this obstacle and still advanced to Philadelphia finals, four of them were female competitors (Michelle Warnky, Jesse Labreck, Allyssa Beird, and Rachel Goldstein). Those four female competitors made history as the largest number of female competitors advanced to city finals in a same region, and were referred to as The Fantastic Four.
The Rolling Thunder was just as difficult during Philadelphia finals. Though while only eight competitors fell on it, out of 25 competitors who attempted it, nearly every competitor was fatigued from this obstacle. Combined with the further obstacles on the back half of the course, it was one of the reasons why Philadelphia finals had zero finishers in total, which was a first in American Ninja Warrior history. Among the four female competitors who advanced to Philadelphia finals, three of them reached the obstacle and two of them failed (Michelle Warnky and Allyssa Beird), and Jesse Labreck made history as the first female competitor to complete the Rolling Thunder (who would later go on to make it to the ninth obstacle).
Other Season Appearances
American Ninja Warrior 9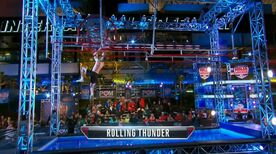 The Rolling Thunder returned as the fifth obstacle on American Ninja Warrior 9 in Daytona Beach, with minor modification for the placement of the Plexiglas pieces. However, the number of completion during Daytona Beach qualifiers doubled from Philadelphia qualifiers (18 competitors could complete it). Despite that, 14 competitors failed the obstacle, including Bree Widener, Lindsay Eskildsen, Steven Cen, Oscar Ramirez, Bootie Cothran, Faris Xero, and most notably, Jessie Graff. Even still, it was the furthest obstacle any female competitor could get to.
During Daytona Beach finals, fewer competitors had failed on this obstacle, in which it only took out 4 competitors: Bootie Cothran, Lindsay Eskildsen, Emily Durham, and Bree Widener. On the flipside, Jessie Graff (who failed on this obstacle during Daytona Beach qualifiers) was able to complete it, making her just the second female competitor to complete the Rolling Thunder (after Jesse Labreck during American Ninja Warrior 8's Philadelphia finals).
Competitors' Success Rate
All results based on the NBC broadcast and external information found
| ANW | Clears | Attempts | Percentage |
| --- | --- | --- | --- |
| ANW8 (qualifiers) | 9 | 32 | 28.13% |
| ANW8 (finals) | 17 | 25 | 68% |
| ANW9 (qualifiers) | 18 | 33 | 54.55% |
| ANW9 (finals) | 25 | 29 | 86.2% |
| Total | 69 | 119 | 57.98% |
External Links