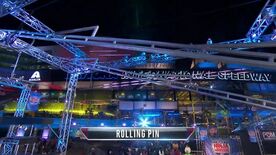 The Rolling Pin is an obstacle, firstly introduced as the second obstacle on American Ninja Warrior 9 in Daytona Beach.
Competitors must hold on to two red cylinders (the cylinders were similar as the ones used on the Battering Ram), which were placed to a bar. The bar was linked by a chain, and connected to a ring on each side, which would go down a track and must hold on to the landing platform to advance. The track had two drops, but the drops were placed unevenly between the left side and right sides of the track, in order to make the cylinders harder to hold on.
The Rolling Pin was proven to be moderately difficult, with many competitors being eliminated from the uneven drops on the track. During the Daytona Beach qualifiers, the obstacle took out 25 competitors, including Todd Bourgeois, Grace Sims, Halei Jo Fuller, and Jessica Clayton (who was instead disqualified for tapping the water at the end of the obstacle, despite reaching the landing platform)
However, during the Daytona Beach finals, it only took out one competitor, Adriane Alvord.
Other Appearances
Australian Ninja Warrior
On Australian Ninja Warrior 2, the Rolling Pin appeared as the second obstacle in Heat 3. However, the obstacle was called as the Rolling Pin to Bungee, and compared to the one used on American Ninja Warrior 9, the obstacle featured:
A long cylinder (rather than two short cylinders),
The same track as the Big Dipper, and
A bungee cord at the end of the track. Therefore, competitors must time their release from the cylinder to grab the bungee cord, and then built enough momentum to reach the landing platform.
Ninja Warrior Poland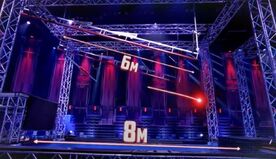 In Ninja Warrior Poland 2, the Rolling Pin appeared as the second obstacle in Heat 3 and Heat 5. In Heat 3, the obstacle eliminated 2 competitors.
Competitors' Success Rate
All results based on the NBC broadcast and external information found
| ANW | Clears | Attempts | Percentage |
| --- | --- | --- | --- |
| ANW9 (qualifiers) | 79 | 104 | 75.96% |
| ANW9 (finals) | 32 | 33 | 96.97% |
| Total | 111 | 137 | 81.02% |
External Links